THE BEST GOLF COURSES IN THE SOUTH OF FRANCE FOR GOLF HOLIDAYS
Including: Cannes-Mougins, Royal Mougins, Opio-Valbonne, Barbaroux, Cannes-Mandelieu & St. Endréol.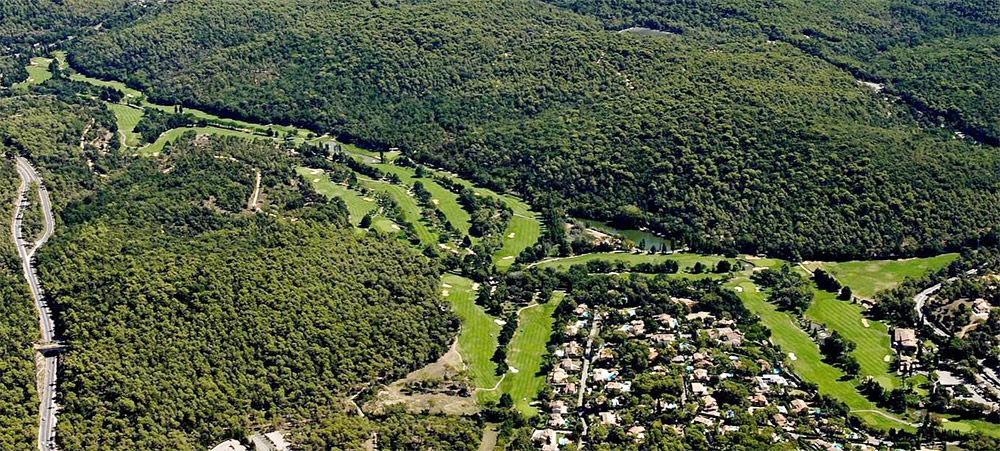 Cannes Mougins Architects: P. Alliss & D. Thomas (1978). 18 holes: 6,169m: par 72.
One of the few traditional Members' Clubs in the South of France dating from the 1930s, the course today is the result of a total makeover by Messrs. Alliss & Thomas. Set in the woodland just outside the town of Mougins, this is a traditional test of golf, thoroughly enjoyable without being 'tricked-up' in any way. The fine stone Clubhouse makes a magnificent centre-piece. Incidentally, Seve and Woosy are both on the European Open Honours Board in the Clubhouse.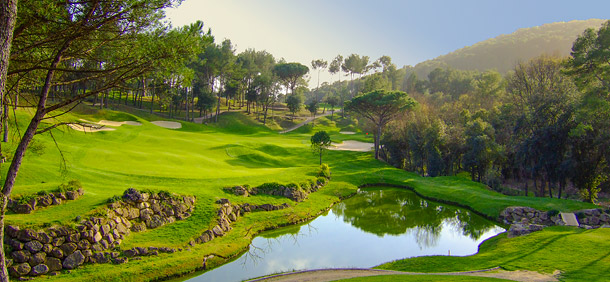 Royal Mougins Architect: R. Van Hagge (1982). 18 holes: 6,004m: par 71.
Home of the Cannes Open: so a true 'Championship' course with service to match. Spectacular holes that trace their path through luxurious villas, with slick roller-coaster Greens defended by huge white bunkers. N.B. Green fees include buggies and plenty of range balls.
Royal Mougins luxury hotel and spa now open on-site.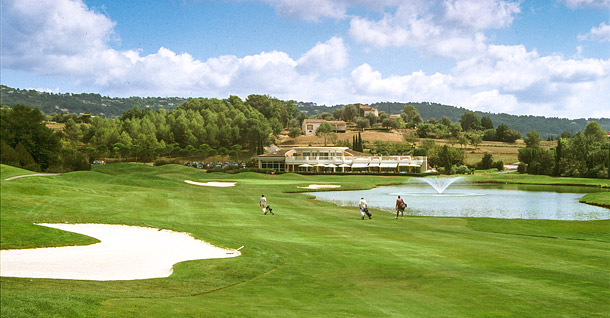 St. Donat Architect: R. Trent Jones Jnr. 18 holes: 6,031m: par 71.
A typical Trent Jones course, albeit modified by the terrain in places. Wends its way through gently sloping terrain, and around the pretty loops of the rivulet. Very welcoming to visitors, despite being very popular with local golfers at weekends.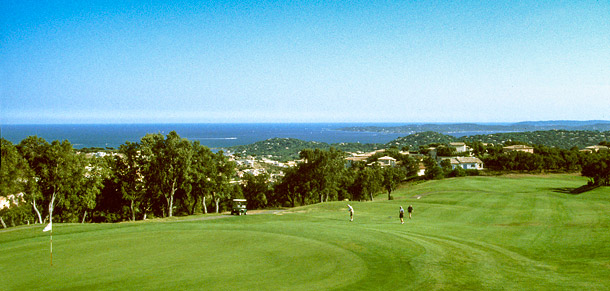 Ste. Maxime Architect: D. Harradine. 18 holes: 6,155m: par 71.
David Harradine has done very well with a tricky patch of land to work with: nine holes on the relative flat below the Clubhouse and the memorable back nine on the hill behind the Clubhouse and hotel that offers unequalled views out over the bay of St. Tropez and Ste. Maxime. Buggies are compulsory as they are definitely required for at least the homeward nine.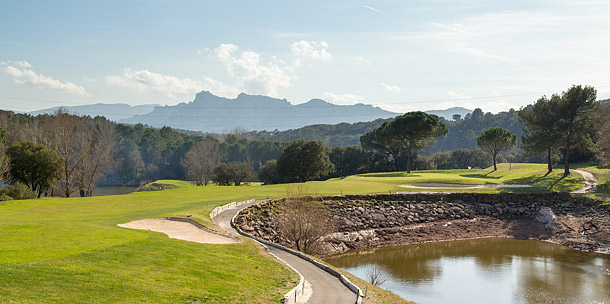 St. EndrEol Architect: M. Gayon. 18 holes: 5,789m: par 72.
A golf resort set back from the coast in the cool, pink hills where every hole is shaded by parasol pines to provide relief from the heat.  Spectacular holes that rise and fall through the first folds of the distant Alpilles.  Quite a strenuous walk so buggy worth considering.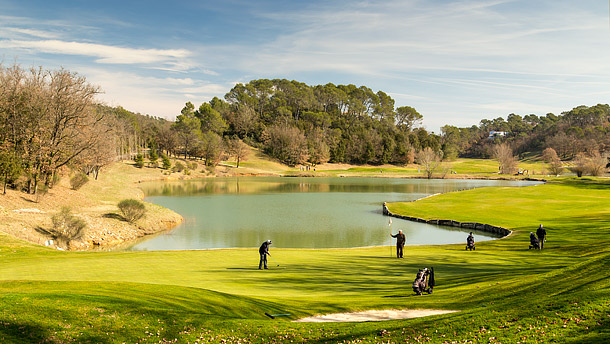 Barbaroux Architects: P. & P. Dye (1982). 18 holes: 6,053m: par 72.
The architects were given free reign to create a truly amazing course that will give anybody's game the acid test. Well worth the drive to get to these tantalising, tortuous holes.  But, if you head for the Back Tees, just remember - big golfers don't cry.
Afficionados of Barbaroux will appreciate the renovations to the on-site hotel.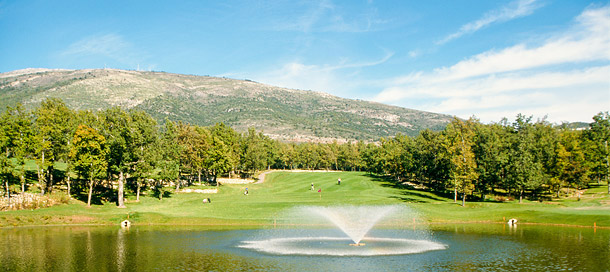 Grasse (Claux Amic) Architect : J-P. Fourès. 18 holes: 6,021m: par 72.
High above Cannes, tucked into the hillside just below Grasse. Grasse is a reasonably hilly course that offers some stunning viewpoints out across Cannes to the Mediterranean. The design of the course makes the most of the contours and is kept in very good order. One of the best golf courses on the Cote d'Azur but consider a buggy if you are adverse to inclines.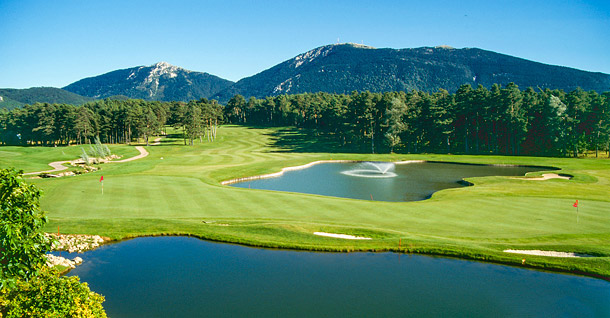 Chateau de Taulane Architect: G. Player. 18 holes: 6,423m: par 72.
The hiddenest of 'hidden gems' but once found it is never forgotten. This Gary Player course is tucked away on a high plateau at the end of a long winding road above Grasse. Worth a visit for the drive alone: the setting and layout being further reward for a little effort.
For the ultimate luxury golf hideaway take a look at the amazing Château de Taulane***** in our 'Golf Par Gold' section.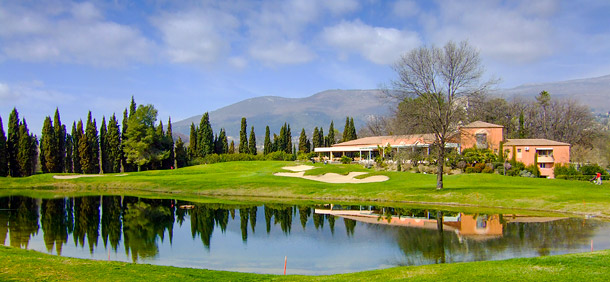 Grande Bastide Architect: C. Robinson. 18 holes: 6,105m: par 72.
Filling a large, shallow bowl just outside Grasse, Grande Bastide has a very North American feel to the style of the holes. Plenty of water and sand meet your eye you under the gaze of the overlooking hills. The course is fairly compact with holes running quite close together in places but this never seems to be a problem when out playing the course. A good value course - for the French Riviera.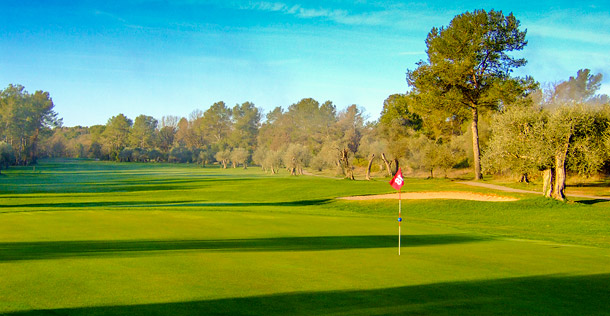 Opio Valbonne Architect: D. Harradine. 18 holes: 5,931m: par 72.
In the grounds of the Château de la Bégude, Opio Valbonne is an approachable course through fairly tight, hilly in a few places, woodland. Not as exacting as some maybe, but with a friendly, laid back, atmosphere and the charismatic appeals of a château Clubhouse. Another good value golf course for the South of France.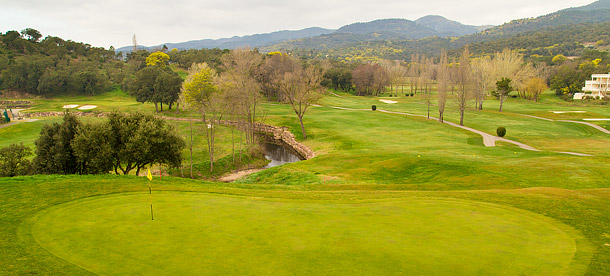 Riviera Architect: R. Trent Jones Snr. (1981). 18 holes: 5,369m: par 71.
A short, intricate and amusing layout, tucked away just behind Cannes Mandelieu G.C. (see below). A course from a more modern era that snakes along valleys and over the occasional hill with a meandering brook that adds to the golfing fun. Will be appreciated more by the tactician than the big-hitter; however the palatial plein air Clubhouse is sure to be appreciated by all!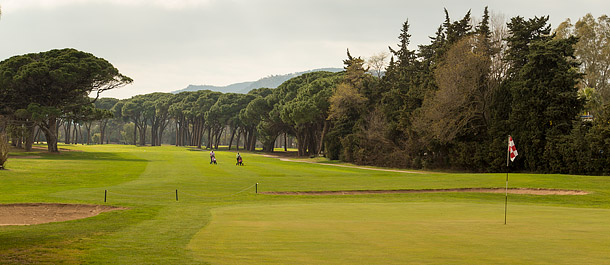 Cannes-Mandelieu Architect: H. Colt (1939). 18 holes: 5,520m: par 71.
The 'Grand Old Lady' of the Côte d'Azur on flat land under spreading parasol pines. Cannes Mandelieu is a game of four quarters with a river and railway line that split the course North-South and East-West. The railway is negotiated by bridge and the river by the ferryman - a very singular feature for any golf course! Probably best played in the Spring as it tends to suffer over the Summer months at the hands of 'irregular' golfers.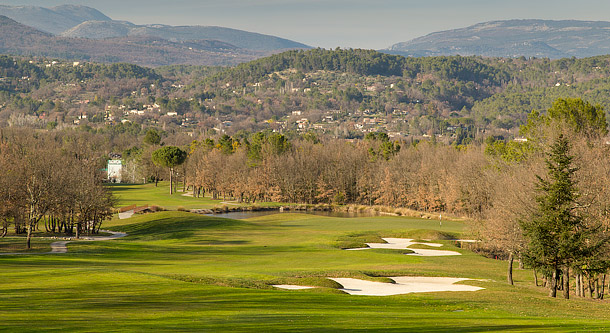 Terre Blanche - Chateaux Architect: D. Thomas (2005). 18 holes: 6,481m: par 72.
A very attractive course in the French Riviera hinterlands, surrounded by pine-clad hills and pretty Provençal villages. The course is a bold US style affair with big white bunkers spread liberally around the course. There is also a lot of water in play, especially around the flatter central section of the course below the original château (from whence the golf course gets its name). Some long trips between Greens and Tees so most play in a buggy (good idea).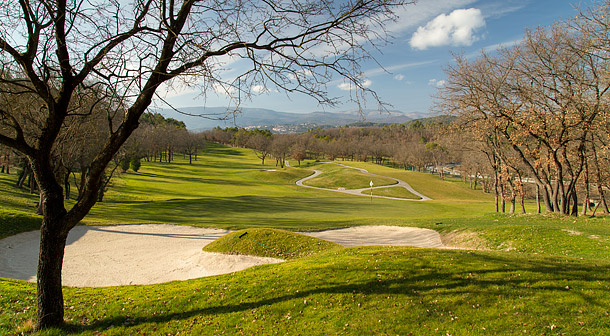 Terre Blanche - Riou Architect: D. Thomas (2005). 18 holes: 5,893m: par 72.
The 'Members' golf course at Terre Blanche, but you may play it if you are staying at the hotel. A much hillier prospect than the Château course, so a buggy is a must. The back nine starts with five steeply rising holes, however it makes for a lovely vista from the 18th Tee on the way back down. Elsewhere the holes twist and turn around the hillsides, with some big elevation changes: this a course that you need to know to get the most out of - but these lessons aren't cheap!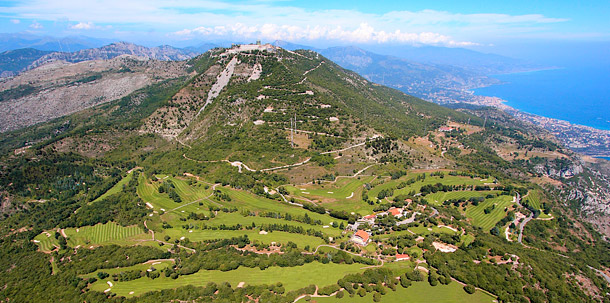 Monte Carlo Architect: W. Park (1911). 18 holes: 6,004m: par 71.
One of golf's great adventures with views to rival any golf course anywhere in the world. Monte Carlo Golf Club sits almost on top of Mont Agel (Mont Angel would be more appropriate being so close to heaven) and the drive up the snaking lane to the Clubhouse is an exhilarating start to your round! The holes themselves are comparatively level with some climbs and descents from Green to Tee. The overall course length in not too daunting but err from the straight and narrow and it's like playing Roulette... Great fun, delightful Clubhouse and spectacular scenery encompassing three countries. Monte Carlo is not to be missed if you are anywhere nearby.

Other courses to consider in the area:
Esterel
Architect: R. Trent Jones Snr.
18 holes: 5,921m: par 71.
A Trent Jones course that is best played out of season as it is attached to a large holiday residence so can be overrun at popular holiday times of the year.