THE BEST VERSAILLES GOLF COURSES FOR HOLIDAY AROUND PARIS
Including: Le Golf National (Ryder Cup 2018), Stade Français (Courson),
St. Germain, Racing Club & Fourqueux.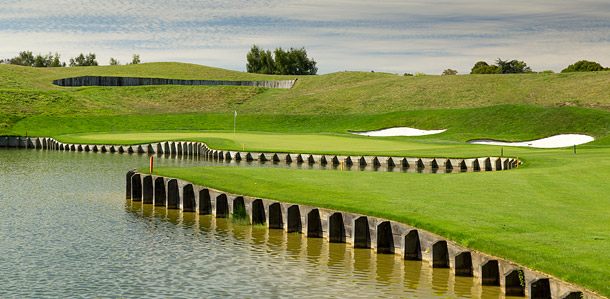 Golf National Paris - Albatros Arch: H. Chesneau & R. Von Hagge. 18 holes: 6,245m: par 71.
A course created close to Paris specifically to host the French Open and what an unrelenting test of golf it is! A blend of US target golf with glimmers of Scottish style links here and there. The climactic closing holes, which are predominantly aquatic, are set in a landscaped "stadium" with plenty of room on the surrounding banking for the galleries to look down on the golfing action. Almost unavoidably, being so close to Paris, the environs are less than picturesque. However, the golf course is a great test of golf with some unforgettable holes, particularly the opening and closing stretches. And don't forget that in 2018 Le Golf National will be the venue for a little competition called the Ryder Cup on its Albatros course.
Golf National Paris - Aigle
Arch: H. Chesneau & R. Von Hagge.
18 holes: 5,472m: par 71.
A less exacting alternative to the Albatros but good fun nevertheless with the full range of hazards to negotiate. There is also a 9-hole "Academy" course.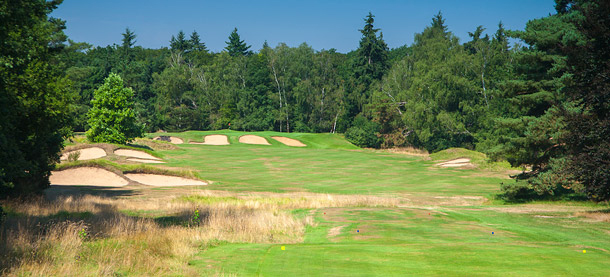 St. Germain Architect. H.S. Colt. 18 holes: 6,131m: par 72.
A traditional Harry Colt layout, i.e. intelligent fairway bunkering abounds and makes the course a far more strategic test than it might first appear. A woodland wonder tucked away in the depths of the ancient forest de St. Germain-en-Laye. Certainly one of France's finest golf courses and imperious Clubs; a course that you will want to play again (well worth one of France's most expensive Green-fees) - not least for the billiard table like Greens. Treat yourself!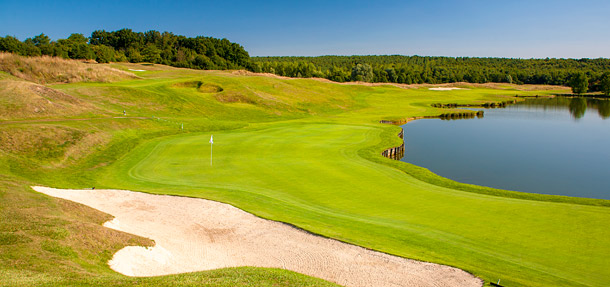 Courson (Stade Francais) Arch: R. Von Hagge. 4 x 9 holes: 6,184 to 6,557m*: par 72.
Shock and awe may well be the primary emotions you experience when you first discover the 36 out-of-this-world holes at Stade Français: golf courses like no other we have seen. Ringed by dense forest, enormous quantities of earth have been shifted to create a golfing landscape that is wild fantasy: a swirl of lakes, hills, valleys, hummocks and scallops creates a land sculpture that verges on modern art. This, along with excellent maintenance and a old manor farmhouse turned clubhouse, makes for an unforgettable golfing experience. *Unusually, the 36 holes are arranged in four distinct nines and are deployed in different combinations each day - to maximise member amusement.


Racing Club
A big Parisian multi-sports and leisure club with facilities for numerous activities dotted around Paris and a very well-to-do membership. La Boulie is their golf and tennis facility. With its lovely old Clubhouse (and fine restaurant) spreading through the 19th Century manorial farm buildings it's more like a sporting suburb of Versailles!
La Boulie (rACING cLUB) - lA Vallee Arch: P. Deschampes (1901). 18 holes: 5,918m: par 72.
Practically in the centre of Versailles, it is astounding to find this golfing paradise with 36 holes spreading through specimen forest, so close to the busy town. La Valleé is arguably the prettier of the two courses at La Boulie with delightful holes that roam up and down around the wooded hillsides. A fair bit of room off the Tee and no hidden dangers; an honest course. There are some lovely looking shots from elevated Tees or down to Greens ensconced in trees. The Clubhouse overlooks it all and provides a rather high-class venue for your post-match lunch.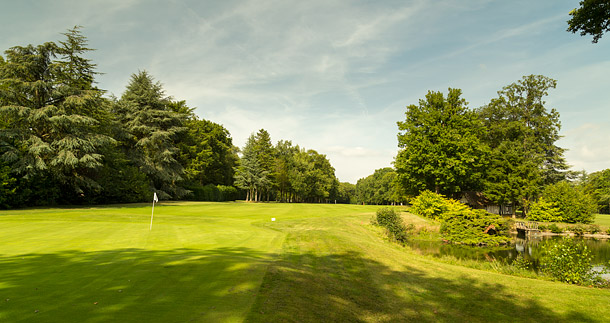 La Boulie (Racing Club) - lA Foret Arch: P. Deschampes (1901). 18 holes: 6,122m: par 72.
Very similar in style to La Vallée but a little longer and running over flatter land, with narrower Fairways and denser forest on all sides. La Forêt is tough test and has has some very intriguing holes not least two rather serious dog-legs (10th and 15th) that need to be negotiated with precision. Like the Vallée course there is a tiny splash of water in a couple of spots, more for decoration in truth.


Feucherolles Architect: J-M. Poellot. 18 holes: 6,348m: par 72.
A tract of land that is very fit for purpose - established woodland and gently rolling hills. On this canvas Jean-Marie Poellot has daubed a little masterpiece adding some large water features, most noticeably in front of the 9th-18th double-Green that backs onto the clubhouse.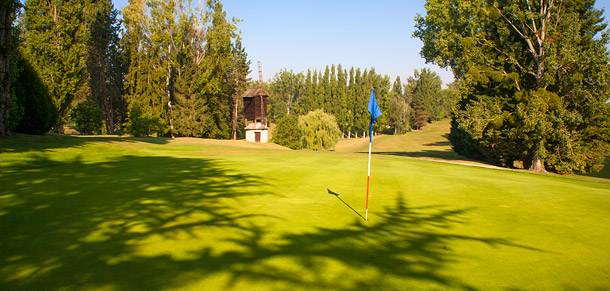 Fourqueux Architect: Macauley & Quenouille. 18 + 9 holes: 5,3768m: par 71.
One of Paris' oldest clubs with a real sense of tradition evident from the moment you enter. The land here is composed of many small hills so the holes are quite convoluted around the slopes and rises: a strenuous course that takes a bit of effort and a little getting to know. A further nine-holes, in similar style, could complete your day after a good lunch in the expansive clubhouse.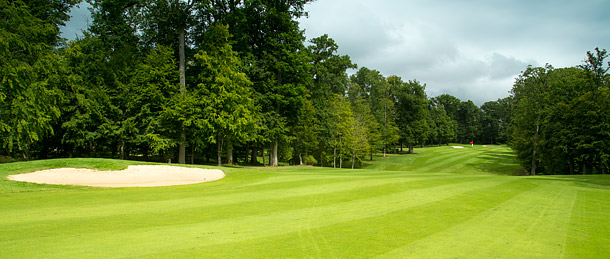 Les Yvelines Architect: B. Baker. 18 + 9 holes: 6,344m: par 72.
A woodland courses that has been well thought out to provide a variety of interesting holes over the gentle inclines in the deep forest. At its best (and cheapest!) in July and August - when the trees provide shade from the hot sun. The original Château today forms the inviting clubhouse and restaurant.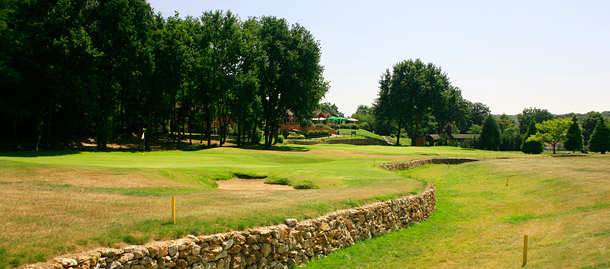 Forges les Bains Architect: M. Gayon. 18 holes: 5,780m: par 70.
A small club befitting the small spa town of Forges-les-Bains where visitors are always most welcome. The holes in front of the clubhouse (1,9,10,18) run up and over a pretty steep hill to a high plateau which holds the bulk of the holes (and unavoidably a couple of electricity pylons). Once up on the plateau, the course is a thoroughly enjoyable, unpretentious parkland affair, offering good value French golf.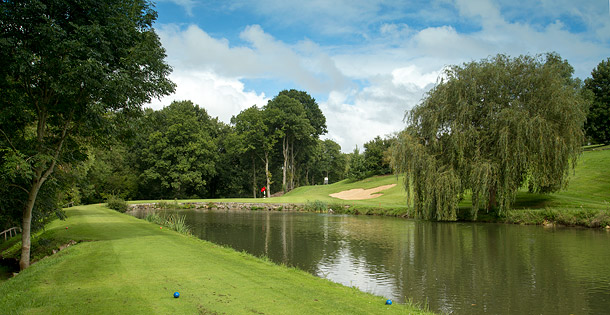 La Vaucouleurs - La Riviere Architect: M. Gayon. 18 holes: 5,630m: par 70.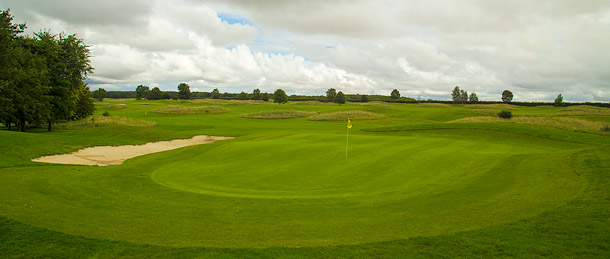 La Vaucouleurs - Les Vallons Architect: M. Gayon. 18 holes: 6,298m: par 73.
One club - two staggeringly different courses to the west of Versailles, but easily accessod via the A13 autoroute. A creat place for a 36-hole day with the variety of golf on offer. 'La Rivière' is a hilly parkland course with water hazards in play on the lower holes that criss-cross the river: 'Les Vallons' is more links-like (albeit inland!) complete with deep bunkers and tangling rough.