THE BEST COURSES FOR Bordeaux Wine & Golf HOLIDAYS
Including: Seignosse, Chiberta, Hossegor, Moliets, Arcangues, Makila & Real San Sebastien.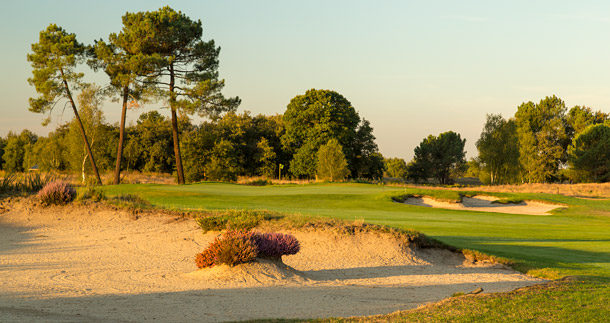 Golf du Medoc - Les ChAteaux Architect: B. Coore. 18 holes: 6,316m: par 71.
A surprising layout in many ways as it is almost pure home counties heathland. The terrain was once overrun with enormous gorse bushes which have now been uprooted to allow the heather to re-juvenate. Flat land that has been spiced up with the addition of some big water hazards. Host to the French Open in 2001 and to the French Seniors Open.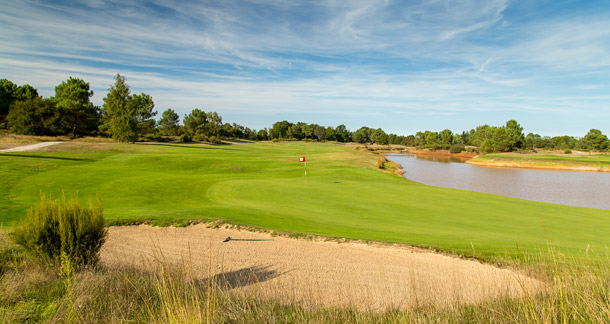 Golf du MEdoc - Les Vignes Architect: R. Whitman. 18 holes: 6,220: par 71.
A very similar design and terrain to Les Châteaux, although slightly tighter and with more water in play that creates some very memorable holes. On Les Vignes the gorse has escaped annihilation in many areas so there is quite a difference in appearance between the two courses at Médoc. The series of holes just over the road are particularly fine through a combination of gorse and tall pines.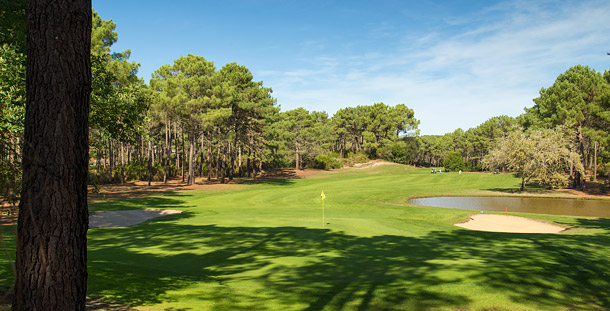 Lacanau Ocean Architect: A. Prat. 18 holse: 6,225m: par 72.
Eighteen beautiful holes that sit in near isolation from each other on the rising and falling sandy soil in the dense pines of the Forêt de Lacanau within earshot of the Atlantic Ocean. Narrow twisting Fairways and a splash of water makes Lacanau an enthralling layout: the quiet of the seaside pines makes it enchanting too. Lacanau would be one of the best-known courses in France if it wasn't for its slightly remote location: it's well worth a detour to discover it. A peaceful retreat, where there is also a small hotel, if you would like to stay and play twice? Or perhaps dip your toes in the ocean?


Bordeaux Pessac Architect: O. Brizon. 18 (+ 9 holes): 6,040m: par 72.
Another very well designed layout over level terrain through closely knit pines interspersed with some thought-provoking water hazards. A very fair test of golf, where a solid short game will lead to a good score. Close to Bordeaux airport - so perfect for a game on arrival or departure day.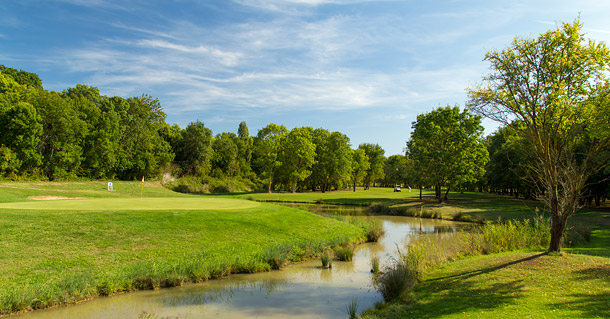 Margaux Architect: O. Dongradi (2006) 18 holes: 6,048m: par 71.
A recent addition to the Bordeaux golfing scene in the grounds of the Relais de Margaux hotel and spa. The established woodland of the Estate lends the course a maturity that belies its youth.
Possibly the toughest course in the region due to the diminutive Greens - so sure to test your up-and-down abilities.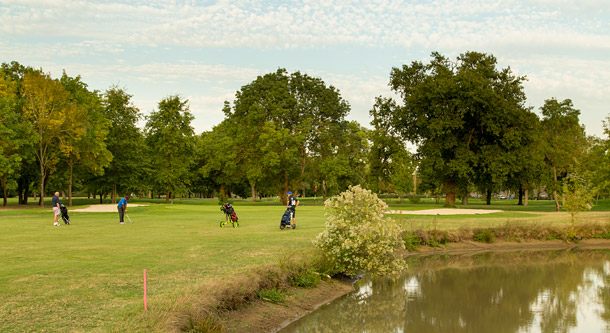 Bordeaux Lac - La Jalle Architect: A. Pratt 18 holes: 6,124m: par 72.
One of two easy-going golf courses at the always-busy Club of Bordeaux Lac - the closest to the town centre. Straightforward golfing over flat land with Fairways separated by avenues of established trees. A golf course that will be appreciated most by higher Handicappers or those fairly new to the game maybe, as they will be amongst like-minded golfers.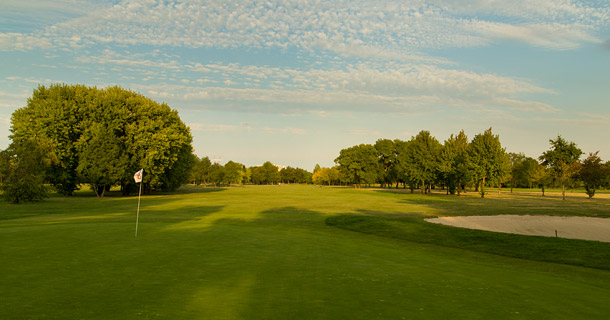 Bordeaux Lac - Les Etangs Architect: A. Pratt 18 holes: 6,191m: par 72.
The slightly more-demanding of the two courses as the name (Les Etangs = The Lakes) might suggest! Still running over the same level ground but with a lot more water in play.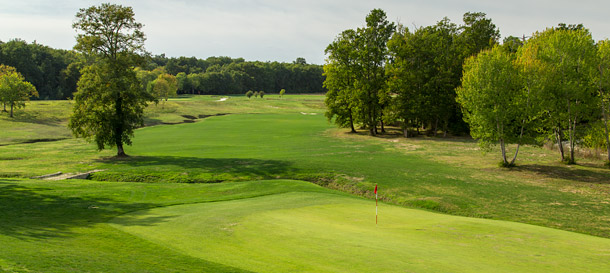 St. Emilion Architect: B. Coore (2016). 18 holes: 6,316m: par 71.
A very young golf course, located just outside St. Emilion, that is set to grow into one of the finest in France. The piece of land that had to work with is perfect for golf, gentle, heavily wooded, hills with hardly a building in sight or within earshot: the ideal place for an escapist round. The St. Emilion course winds around this verdant scenery with a good variety of shapes, widths and lengths of Fairways that, more often than not, lead to a small Green with plenty of break. The owners are disbursing their time, money, care and attention on their baby who is sure to mature rather nicely. Small Clubhouse (at the moment) that adds to the charm.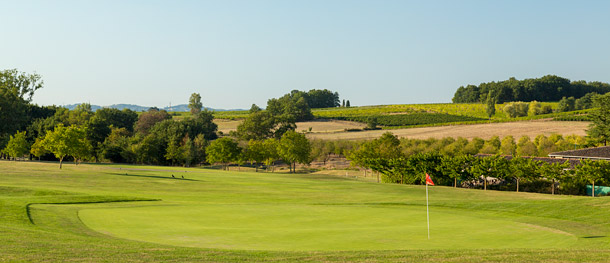 Chateau des Vigiers Architect: D. Steel. 18 + 9 holes: 6,195m: par 72.
For decades the Dordogne has been fabulously popular with holidaymakers for its wonderful climate, green rolling hills, rivers, gorges, ancient citadels and local specialities. The Château des Vigiers golf course encapsulates the charm and spirit of the Dordogne with a relaxing style of golf course entwined between vineyards, orchards, pasture and woodland: a bucolic cornucopia. Vigiers has three loops of nine holes, all very similar in style, clearly focused on relaxation rather than examining your golf in depth: and what's wrong with that?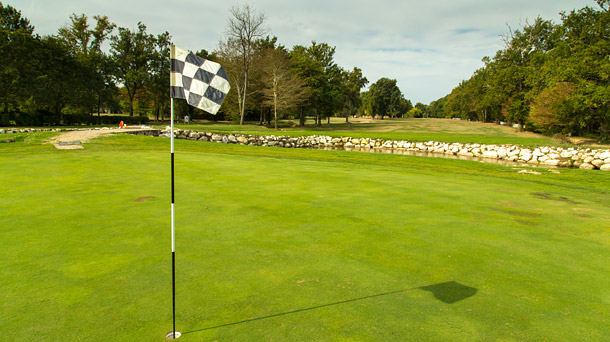 Bordeaux - Cameyrac Architect: J. Quénot (1972). 18 holes: 5,788: par 72.
One of Bordeaux's best kept secrets is the little Golf Club at Cameyrac tucked away on the northeastern outskirts of the city. This suburb of Bordeaux has a lot of rather nice houses and the course wends its way between the gardens with plenty of white picket fences screaming 'out-of-bounds'! In many ways the course has lain in a semi-dormant state since its inception. However, since 2015 it has been roused from its slumbers with considerable ameliorations: a stream, several ponds and some re-shaping to offer a much more entertaining and testing game of golf. Small Clubhouse, where the food is so good you will find the place crammed with locals at lunchtime!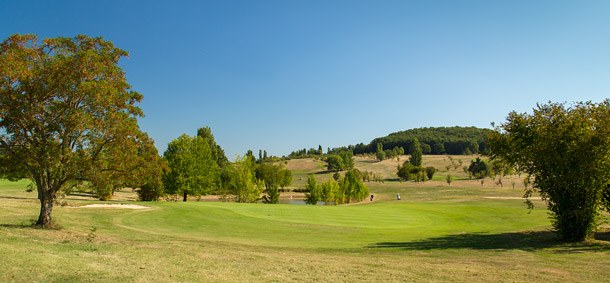 Villeneuve-sur-Lot Architect: R. Berthet (1987). 18 holes: 6,107m: par 72.
Not (quite) as mountainous as it looks on first sight from the small stone Clubhouse, Villeneuve-sur-Lot (or Castelnaud as it was previously known) is a naturally-styled course that follows the considerable contours of the Lot landscape. A small band of cheery locals keep the Club going from year-to-year but it is clear that they do not have a huge budget to play with. That said, it is a pretty spot and there are some testing holes out amongst the hills and valleys.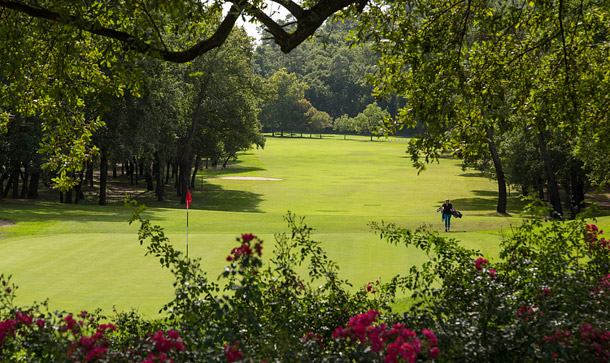 Arcachon Architect: C.R. Blandford. 18 holes: 4,784m: par 72.
A short, pretty course, ideal for holiday golf as flowers and shrubs abound. First two holes drop into a valley, last two scale the heights back to the friendly old clubhouse that has enjoyed a recent makeover and benefits from a new Pro-shop too. Plenty of water in play on the back-nine.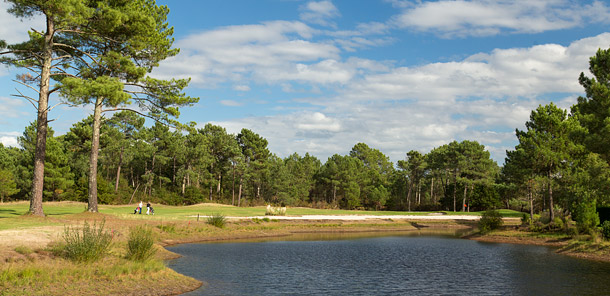 Gujan-Mestras Architect: A. Prat. 18 (+ 9 holes): 6,225m: par 72.
The closest thing you'll find to Florida in France! Towering pines, island greens, dazzling white sands. Well worth the trip to play this thoroughly enjoyable collection of very varied holes which will demand every shot in the book at some stage during your round. Clubhouse terrace overlooking the 18th lake is ideal for a relaxed lunch.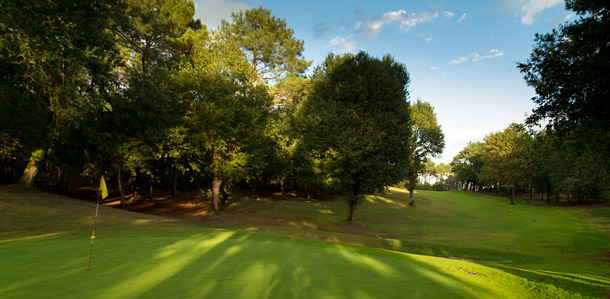 Biscarosse Architect: B. Coore. 18 + 9 holes: 6,316m: par 71.
Rather isolated to the South of Arcachon is the dense woodland course at Biscarosse. Developed in the eighties along with its central holiday apartment complex, it is aimed very much at holiday golfers. Out of season, there's hardly anybody around this neck of the woods. The holes work their way back and forth through the trees and up and down over a few hills. On the lewer parts you will find some water but the main obstacles are wooden ones. Slightly confusingly the Clubhouse is over at the nine-hole course: which in itself is a very good proposition.