The best golf courses for golfing holidays in northern Brittany
Including: Dinard, Pléneuf-Val-André, Château des Ormes, Le Tronchet & Granville.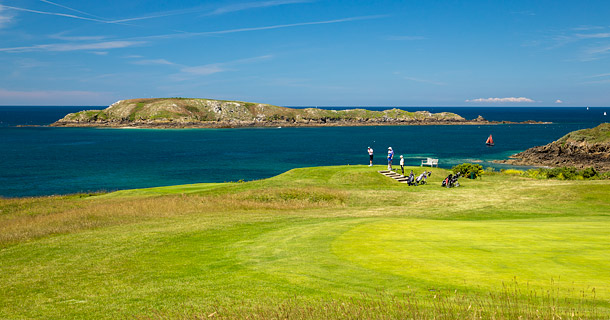 Dinard Architect: T. Dunn (1887). 18 holes: 5,276m: par 68.
The 2nd oldest course in France founded in 1887 and still one of the finest to be found - from both a golfing and a scenic point of view. The land runs around the coastline and the holes hug the rocky shoreline nearly all the way along: an absolute joy. Not long by today's graphite and titanium standards; but plenty tough enough if there's the lightest zephyr abroad. The original Clubhouse still stands and is in fine fettle having been lovingly looked after by generations. The food and welcome inside merely adds to the immense pleasure of a day at Dinard.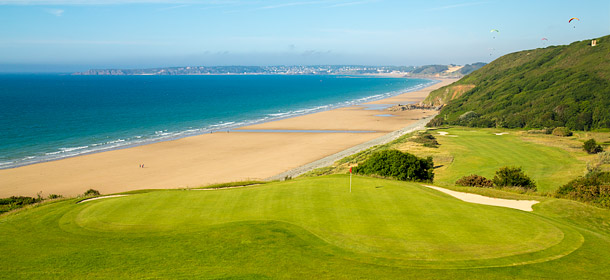 Pleneuf-Val-Andre Architect: A. Prat. 18 holes: 6,052m: par 72.
Without a shadow of a doubt the jewel in Brittany's (if not France's) crown. The course by itself would be a tremendous test of golf, a huge variety of holes, big rolling Greens and some serious elevation changes: allied with the simply stunning clifftop location it becomes a unique combination. A course that we have known for 15 years, but one that still takes our breath away: if it's not on your "must play" list, then it should be. The Clubhouse is very understated, (renovations are planned) but with a course this good - who cares!?!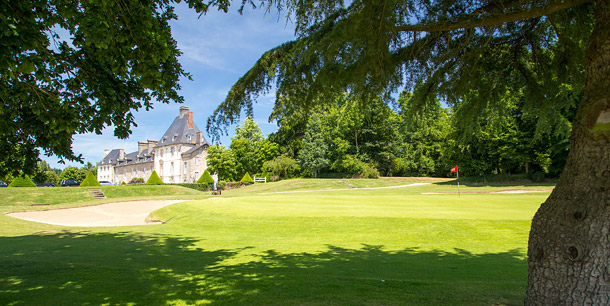 Chateau Des Ormes Architect: A. d'Ormesson. 18 holes: 6,013m: par 72.
Running through the ancient forest that surrounds the Château des Ormes, the course has been well planned and holes are generally isolated from one another once you enter the depths of the forest. Here and there a little water adds another dimension to the primarily arboreal golfing obstacles.
There is a two-star hotel on site and a camp site, so can be quite busy around the Clubhouse in the height of Summer; but usually it is a peaceful place.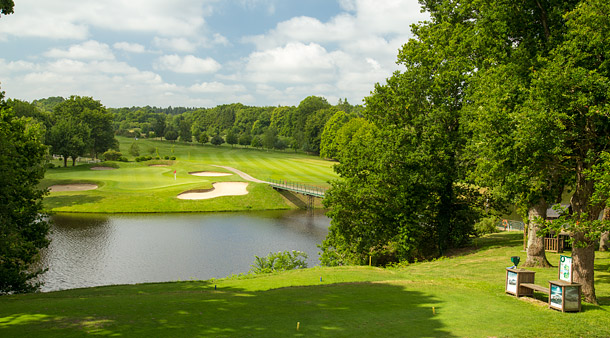 St. Malo (Le Tronchet) Architect: H. Chesneau. 18 holes (+9): 6,049m: par 72.
A lovely stretch of the Mesnil forest has been used to create a varied and interesting course, skirted predominantly by quiet countryside. The course has a river and lake that you will need to play over and around, but master those challenges and you could be on for a good score...
There is a very good little three-star hotel built around the Clubhouse, which now makes Le Tronchet a very nice little golf retreat, not far at all from the port of St. Malo.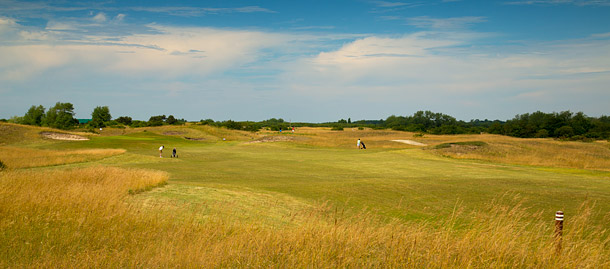 Granville Architect: H.S. Colt. 18 holes: 5,984m: par 72.
One of the very few links courses outside the British Isles. Granville has the perfect terrain for old school running golf - hard and fast Fairways and Greens with gentle dunes rippling across the course. The essential additions of revetted bunkers and a charming little Clubhouse completes the links landscape. Handily placed at the foot of the Normandy peninsula, en-route to the ports of Cherbourg and Caen.


Pen Guen (St. Cast) Architect: Deshuelles. 18 holes: 6,125m: par 72.
A short, twisty, seaside course where the accent is more upon relaxing and enjoying your game rather than a stern examination of your golfing skills. The course opens and closes between the cosy Clubhouse and the sandy beach; the middle holes climb up a fairly sizeable incline to the top section with its broad sea views. A fun course, but worth considering a buggy.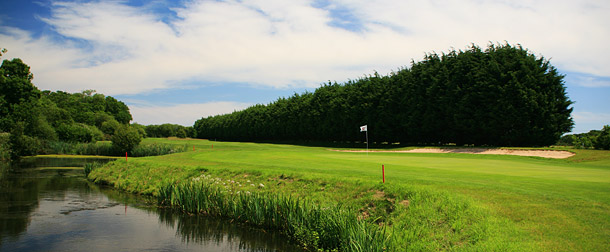 Sables d'Or Architect: A mystery Scotsman. 18 holes: 5,582m: par 71.
A course that has much improved over the last few years due to an injection of cash from its part privatisation. Still a fairly short course and with some holes that intertwine and an absurdly long walk from 12 to 13 (probably due to some local farming resistance) it is still an enjoyable course in the quiet of the countryside behind the golden sands of Fréhel. A few of the Greens are very small (the 8th is microscopic) but great progress has already been made and we are sure that this will continue. Now has a nice new Clubhouse as a result of the development of self-catering accommodation alongside the 18th Fairway.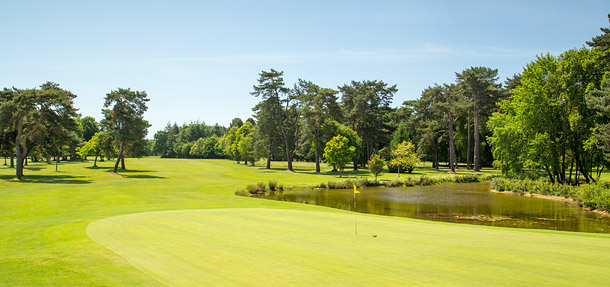 Ajoncs d'Or Architect: Deshuelles. 18 holes: 6,125m: par 72.
The "Golden Gorse". An easily walkable woodland course. Playable by all levels and you are assured of a warm welcome in the big new Clubhouse filled with locals. An ideal way to start your golfing week.