The best courses for golf holidays in Flanders
Including: Lille, Arras & Dunkerque.

Bondues Golf Club: Two outstanding (and very different) courses plus a gastro-château Clubhouse equals a lovely day out!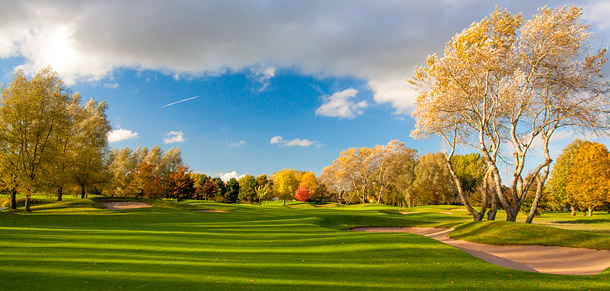 Bondues - Trent Jones Architects: R. Trent Joneses (Snr. & Jnr). 18 holes: 6,012m: Par 72.
Uniquely the only course which both Trent Jones, father & son, had a hand in, competing with one another over the front and back nines respectively. The result is a magnificent, American style layout (as you might imagine!), with big water hazards and huge sand traps in abundance!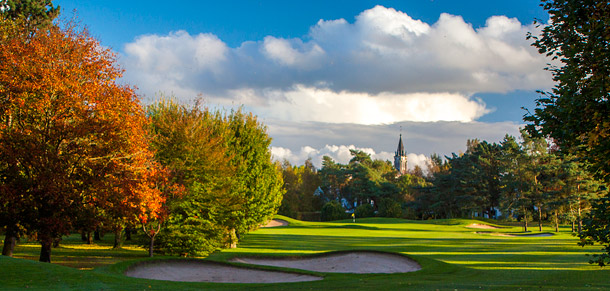 Bondues - Hawtree Architect: F. Hawtree. 18 holes: 6,260m: Par 73.
A gentler and in many ways more thoughtful design in the classic Fred Hawtree style. Groves of ancient oak and pine line every hole and water has been added, in moderation, here and there. Astute bunkering and diminutive greens will keep you both entertained and thinking all the way around - great fun!


Le Sart Architect: A. MacBeth. 18 holes: 5,724m: Par 71.
The pleasing sight of a gleaming white 18th Century château meets your eye as you step through the gates of Le Sart, welcome to the Clubhouse! The course is uniquely located practically in the centre of the city in the former estate and gardens of the château - a haven of golfing calm in the middle of a busy city. The course may not be the longest but is quite testing in places amongst the fully grown oaks and firs; the ideal venue to get your Lille golf tour off to a gentle start.

La Brigode Architect: B. Baker. 18 holes: 6,010m: Par 72.
A lovely tract of land in one of Lille's exclusive suburbs that offers a formidable parkland course meandering through towering oaks, across a few ponds and around some grandiose houses. An excellent golf course that vies with Bondues for pride of place in Lille's golfing heirarch; consequently having many Members, so best played on weekdays (or in August when they are all at the coast).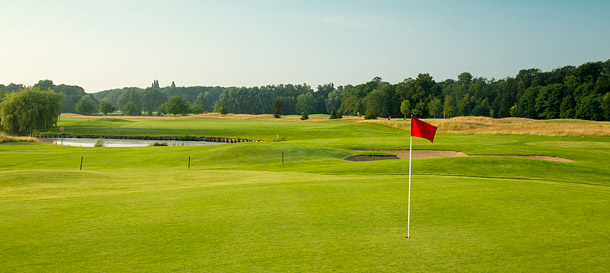 Thumeries-Moncheaux Architects: Boomer & Rossi. 18 holes: 5659m: Par 70.
A small, friendly Golf Club on the southern outskirts of Lille with a very local and welcoming Membership and a highly enjoyable golf course - that you may not have heard about?!? The course alternates between woodland with its attendant arboreal dangers and more open areas where tall grasses and deep water are the problems to avoid. Level going and a cunning design make for a very enjoyable round of golf centered on the small Clubhouse where you will be made most welcome.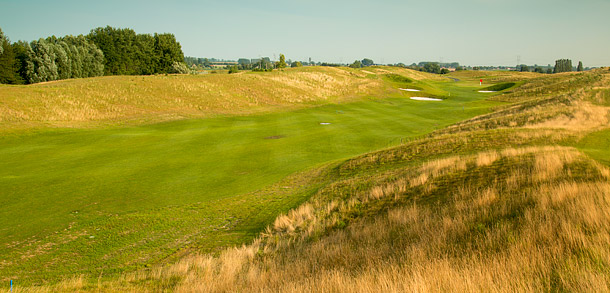 Merignies Architect: M. Gayon. 18 holes: 6,264m: Par 72.
A new residential golf development just south of Lille that opened its Fairways in 2013. Three loops of nine holes are now in play with 18 holes (Marque + Valutte) of good modern style golf twixt water and sand that wind their way between the new houses and 9 holes on slightly higher ground that are much more links-like as the earth has been summoned into dune-esque hummocks to define the route of each hole. It seems unlikely that properties will be added to this latter 9 (Rupilly). The Club also has good practice facilities around its red brick Clubhouse.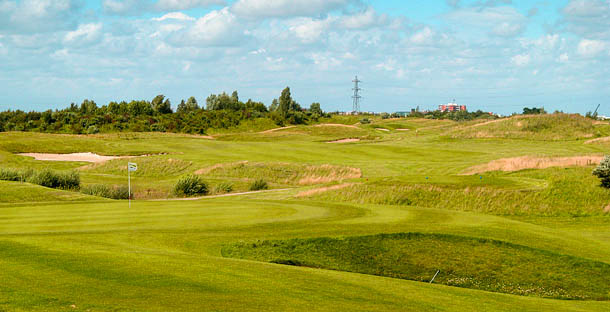 Lille Metropole Architect: J-C Cornillot (1996). 18 holes: 6,072m: Par 72.
Don't be fooled by the appearance of the Club on arrival, behind the municipal driving range and basic Clubhouse lurks a golf course of some quality! The land here is open and devoid of trees, so sensibly a links style course was imagined with some earthwork to provide suitable rolling terrain. It has matured into a surprisingly good golf course given its proximity to the centre of Lille.


Arras Architect: J-C. Cornillot. 18 holes: 6,117m: Par 72.
A varied course wending in part along the valley of the river Scarpe with some rather tight holes to begin with then rising briskly and broadening out (thankfully!) onto the hillside above. The 18th back down to the funky Clubhouse is a suitable climax to the round. 9-hole course too for a leisurely afternoon round.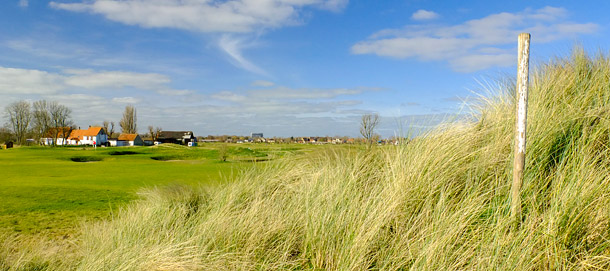 Koksijde Architect: J. Pern. 18 holes: 6,020m: par 72.
On the French/Belgian border, not far from Dunkirk, Koksijde Golf ter Hille is a new development that is clearly well-funded. The flat terrain here has been drained into omnipresent lagoons, canals and ponds that border practically every hole! In between the water, the sandy Fairways and firm Greens have a very linksy feel, further enhanced by the creation of dunes sewn with Marram grass. Clubhouse is exceptional too, making Koksijde a tremendous addition to the growing number of golf courses in North Belgium (and France).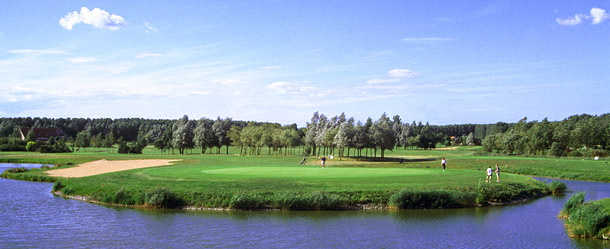 Dunkerque Architect: R. Berthet. 18 holes: 5710m: Par 71.
More than a little interesting: a popular public course with 18 traditional parkland holes running through the woods and around some small lakes plus a recently added and rather avant-garde nine hole extension. The new holes are strikingly angular and designed to reflect the town's ancient fortifications - a unique design that always causes much debate!
Conveniently placed for a stop on the way to or from the Channel ports and welcoming to visitors at weekends (barring Club competitions).

Vert Parc


Architect: P. Simon.




18 holes: 6,242m: Par 73.

A recent design, fairly long with plenty of water hazards - particularly on the back nine. Old Manor House that has now been converted into the Clubhouse (there are also four rooms). Funding seems limited so course maintenance sadly quite variable although the new owners are making a good fist of it.

Palingbeek


Architect: B. Baker (1992).




18 holes: 6,159m: par 72.

Over the border into Belgium, Palingbeek hides in bucolic isolation. Indeed, the substantial Palingbeek Clubhouse seems a little incongruous amongst the pastoral setting in Flanders' fields.
The course itself has made good use of the land's gentle slopes and existing trees. Although some holes run adjacently there are also plenty of quiet corners to contemplate the meaning of life or that last slippery four footer...