THe best courses for golf holidays in La Baule & La Bretesche
Including: La Baule, La Bretesche, Pornic & St. Jean de Monts.

Golf at La Baule Golf Club
La Baule is, without question, the premier golf resort on the Atlantic coast of France. The old Peter Alliss course has been split into two with nine new holes added to each loop creating two outstanding 18 hole layouts: plus another full-length 9-hole course.
Add to this the quintessential French golf course around the magnificent Chateau de La Bretesche and you have a golf destination par excellence!

La Baule - Rouge Architects: P. Alliss & D. Thomas (1994). 18 holes: 5,981m: par 72.
The Rouge course starts in front of the Clubhouse and the first five holes play through mature woodland. The middle nine holes are more American in style around the hotel with more water, and some impressive bunkering in play. The closing holes are back into the original woodland and play around the lake and finish under the appreciative gaze of those on the 19th verandah.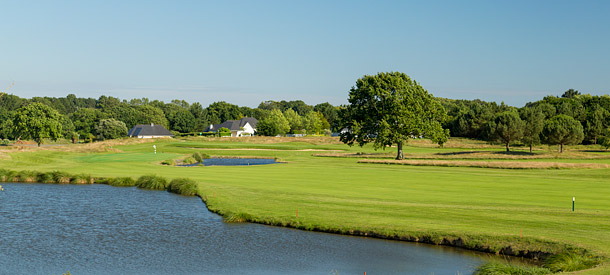 La Baule - Bleu Architects: P. Alliss & M. Gayon (1998). 18 holes: 6,301m: par 72.
A short walk to the first Tee beside the extensive practice facilities to start. Then the Bleu course leads you through the forest and out into the open where nine new holes are arguably the most eye-catching stretch at La Baule with trees replaced with fearsome water hazards and intricate bunkering. A very good test of golf indeed!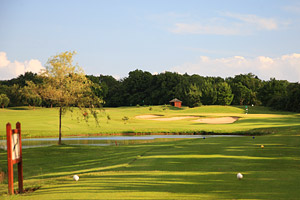 La Baule - Vert
Architect: M. Gayon
9 holes: 3,013m: par 36

A full length 9-hole course that is no "walk in the park" - with full size hazards too! All your shots will be tested on this varied selection of holes on the opposite shore of the lake to the 'Bleu' course.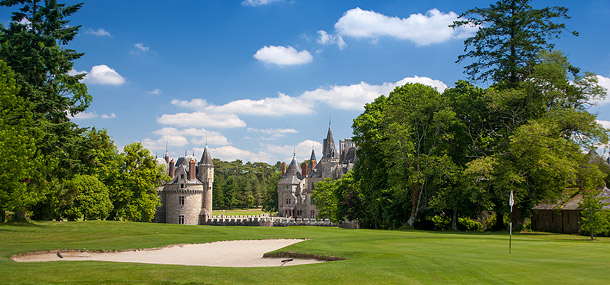 La Bretesche Architect: B. Baker (1967). 18 holes: 6,015m: par 72.
A truly majestic course amidst the deep dark forest and blazing rhododendrons of the fairy-tale Château de la Bretesche.  As you stroll through the narrow corridors of green, enjoy the tranquillity, the birdsong and the glimpses of the spectacular chateau on its deep still lake as you play around in the ancient hunting grounds of 'Les Ducs de Bretagne'.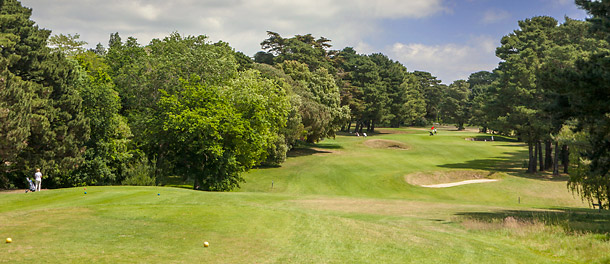 Pornic Architect: M. Gayon (1988). 18 holes: 6,112m: par 72.
Away down the coast Pornic has some similarities to La Baule in that its original woodland nine-holes that date from 1912, were expanded in the 1980s with nine new holes (quite linksy with their rippled fairways) and some aquatic hazards added to make a varied and entertaining whole.

St. Jean de Monts Architect: Y. Bureau. 18 holes: 5,962m: par 72.
A mixture of tough, tight holes through the pines and round the lake (including possibly the toughest opening hole in golf?); followed by a pure links back-nine section bordering the seashore. Admittedly a bit of a drive from La Baule (an hour at least) but in our opinion, well worthy of the excursion to take on this tough test.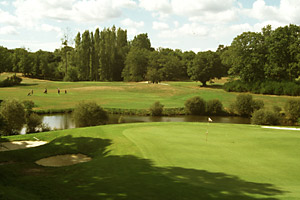 Savenay
Architect: M. Gayon.
18 holes: 6,339m: par 73.
A straightforward parkland layout, that provides quiet uncomplicated golfing in a rural setting. Some hills to negotiate and a river that creates some golfing problems on the lower section of the course.
A sensible option for an alternative, less challenging, course as it is closer to La Baule and La Bretesche than either Pornic or St. Jean de Monts Golf Clubs.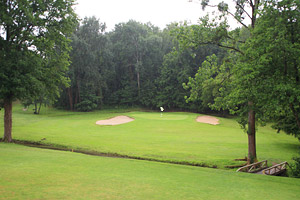 Nantes Vigneux
Architect: F. Pennink (1921).
18 holes: 5,851m: par 72.
A fairly long drive from La Baule to the 'old course' of Nantes on thickly wooded, hilly terrain. Plenty of blind shots and some sloping Fairways.
A small river comes into play on a few holes on the lower section of the course. Not an overly taxing golf course but a pretty rural setting. Frank Pennink was an esteemed golf course architect; perhaps his original design has been simplified and softened here at the behest of the Members...

Guerande Architect: E. Le Breton (2004). 18 holes: 4,903m: par 68.
A fairly new, short course close to the old town of Guerande. Designed by its owner, Eric Le Breton a local golf Pro, it offers a very rustic challenge with many twists and turns to the layout. No pushover though as the Greens are tiny and shaped liked upturned saucers, the rough is long and there are some ponds and ditches to avoid too. Flat terrain so easy to walk, albeit with a couple of long walks from Green to Tee: consider a 36-hole day interspersed with a good lunch in the friendly little Clubhouse.