THE BEST Deauville hotels for GOLF HOLIDAYS and golfing breaks
Including: Hotel du Golf Deauville, Trouville, Honfleur & Rouen.

Hotel du Golf Deauville****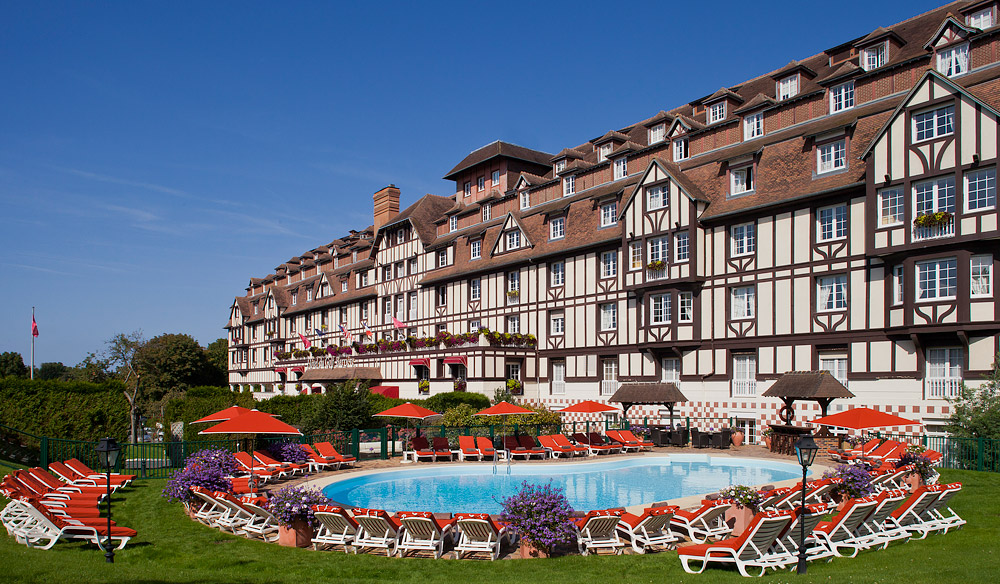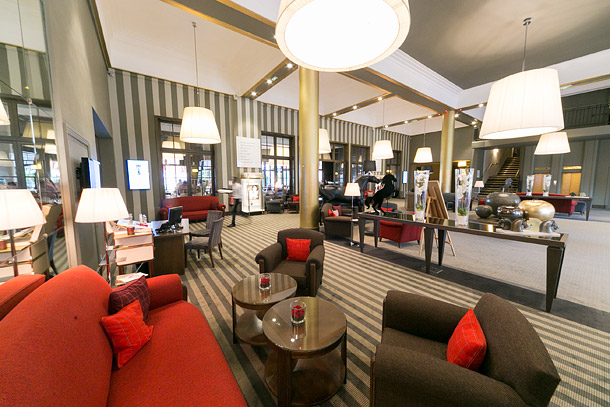 Dominating the Normandy countryside the Hôtel du Golf rises like an island from the green sea of Deauville Golf Club. Built in the characteristic Normandy style with a rich chocolate and cream exterior; internally you will find all the charm and elegance that you would expect from this chicest of resorts. Classic bedrooms are on the top two floors, looking out across the golf course to the Seine estuary at Le Havre. These room are adequate in size, however Superior and Deluxe rooms on the lower floors are larger (at a small supplement) if you feel you would like more room.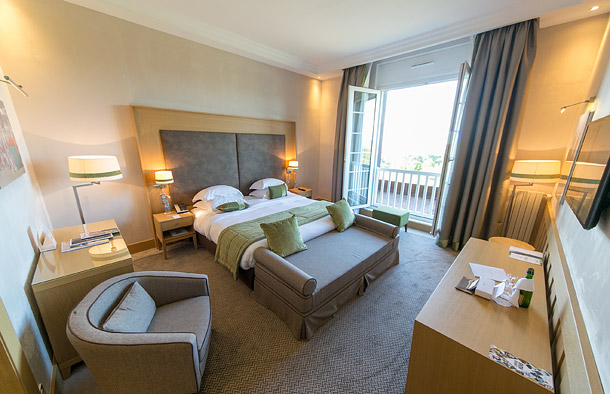 The first Tee of Deauville Golf Club is just across the car park and there are very good practice facilities available too. And with golf included every day at a variety of local courses, this really is a Mecca for golfers heading for Normandy. There are several options for dining at the hotel, the restaurant is excellent (with lovely sunsets too), there is also a brasserie type menu available in the bar for lighter dinners and very good lunches are served in the Clubhouse.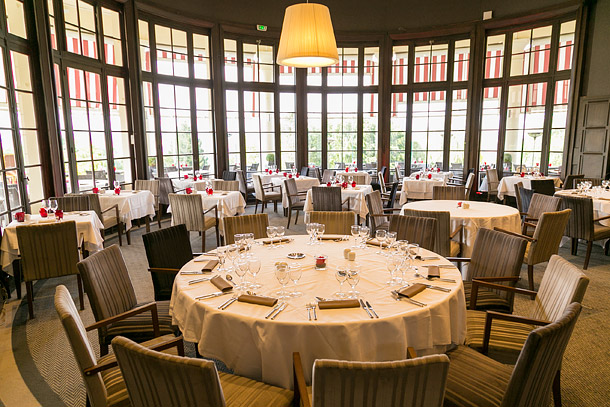 Deauville with all of its refined chicery is just at the bottom of the hill, just a little too far to walk: Trouville just across the mouth of the river Touques (bridge or one-minute ferry) is a livelier seaside resort. In either town, there are numerous locations to dine and we will recommend a few for you to try when we send out your tickets.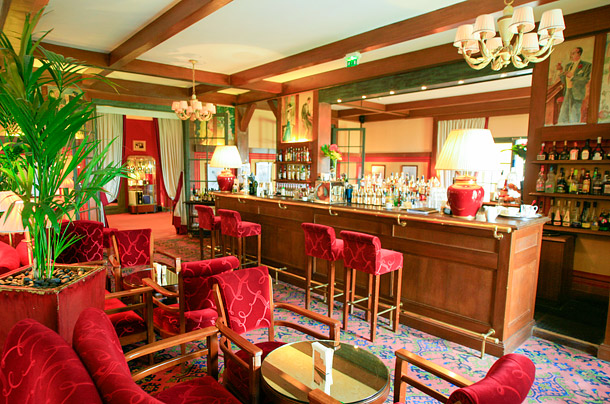 Included for every night of your stay are eighteen holes at Deauville, St. Julien, Amirauté, Omaha Beach, Champ de Bataille or Dieppe.
Plus, Golf Par Excellence guests receive a 30% discount on beer and wines at the Clubhouse bar!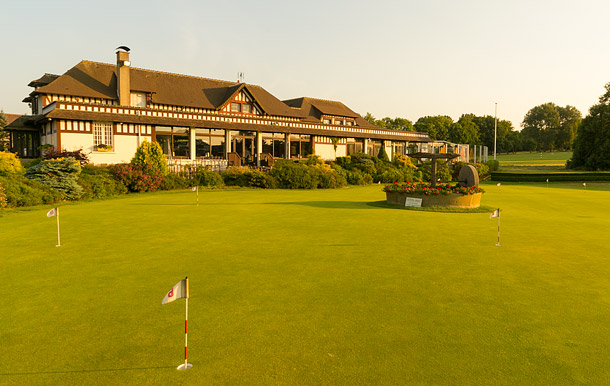 Hostellerie du Vallon****
- Trouville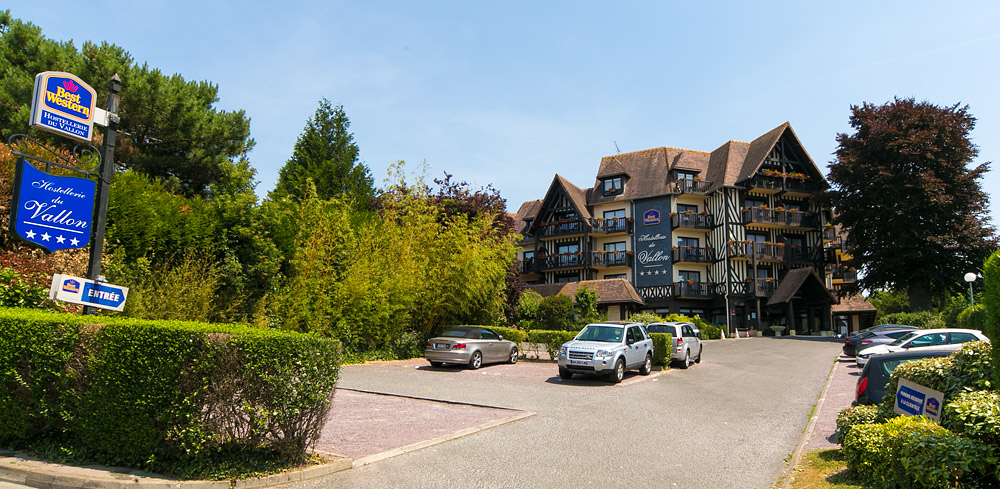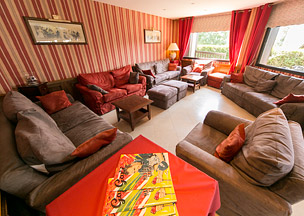 If you prefer to stay in town on your golf holidays then the Hostellerie du Vallon in lively Trouville is the corner of Normandy for you. From here, all the restaurants, bars, cafés and shops of both Trouville and Deauville are within strolling distance. Plus the Hostellerie has a large, free, car park so dead easy for coming and going.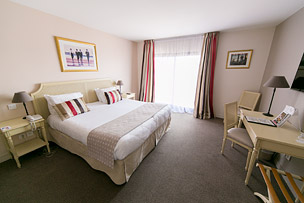 Although built in the traditional Normandy style of brown beams and cream render, the hotel is in fact quite modern. Bedrooms therefore are all the same size and offer plenty of room for two, along with bright bathrooms.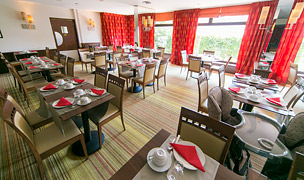 Downstairs there is a large breakfsat room, serving a large breakfast, plus a lounge, bar and sun terrace. Ideal for foregathering prior to venturing out to browse the myriad restaurants of Trouville (no restaurant at the Hostellerie).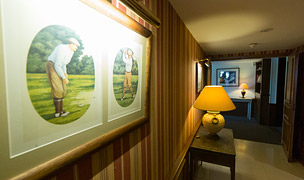 A very nice little extra at the Hostellerie du Vallon is the indoor swimming pool and spa area, complete with whirlpool, sauna and gymnasium. The perfect place to unwind those swing muscles. All-in-all, we believe it's the best place to stay in Trouville for golfing breaks in the Deauville area of Normandy.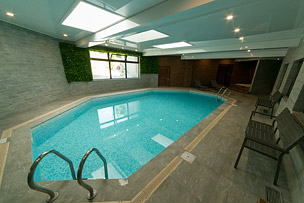 Auberge de l'Abbaye***
- Bec Hellouin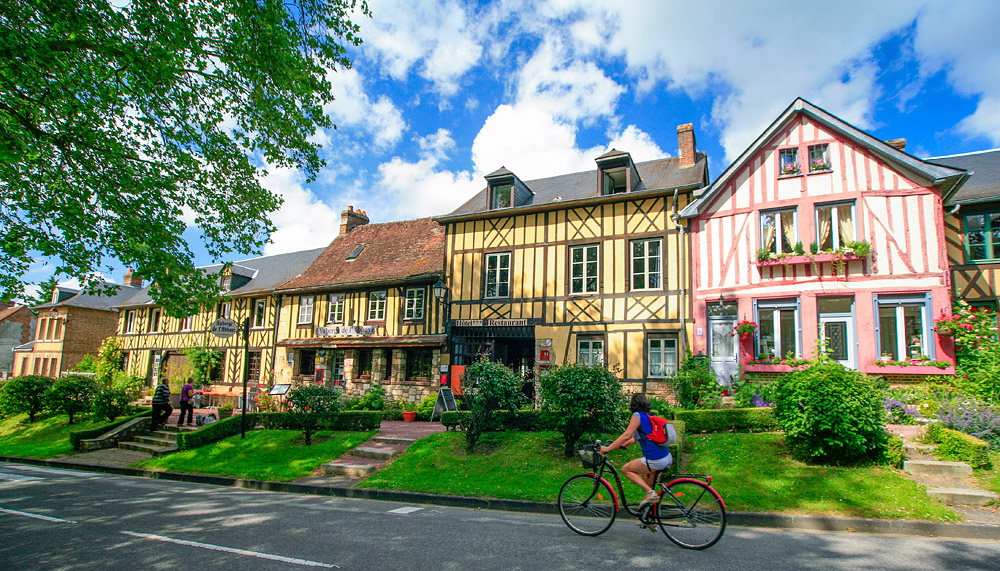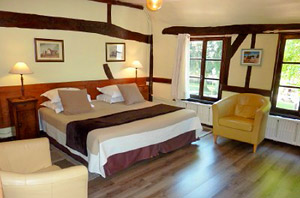 Bec Hellouin is a tiny hamlet wrapped in the lush green folds of the Normandy countryside southwest of Rouen. This haven of tranquillity was chosen by the Cistercian monks for their monastery and abbey back in 1034 and which is still in use today and the main reason why people come to Bec Hellouin. The construction of the fabulous Champ de Bataille golf course just ten kilometres away means it now doubles as a wonderful golf retreat too.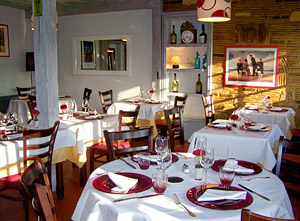 The family owned and run Auberge de l'Abbaye occupies four old Normandy houses in the main (only) street. The auberge has bedrooms of varying shapes and sizes so please call to discuss the best arrangements for your party. The recent refurbishment has added a lighter, brighter touch to the bedrooms and restaurant, without disposing of any of its original character.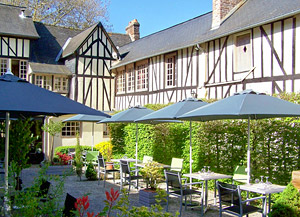 The hotel restaurant serves classic Normandy cuisine that fits perfectly with its traditional French setting. Although Bec Hellouin is a sleepy little village there are two other restaurants, so you can add variety to your dining without having to resort to four wheels.

Acadine***
- Le Neuborg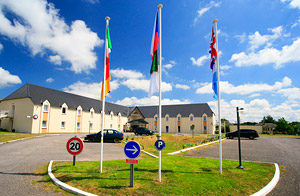 Le Neuborg is the closest town to Champ de Bataille and favoured by devotees of this outstanding course. This market town is a reasonable size with three or four options for dinner, but by no means a tourist centre.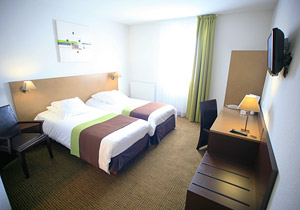 Just a mile from the high street, the new Acadine hotel is a functional establishment, offering solid accommodation with very few frills. Its principal advantages are a big private car park, a small bar and its proximity to Champ de Bataille.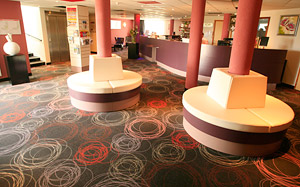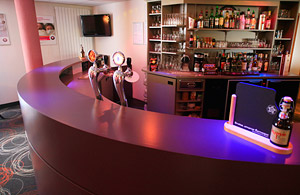 Bourgetheroulde*****
- Rouen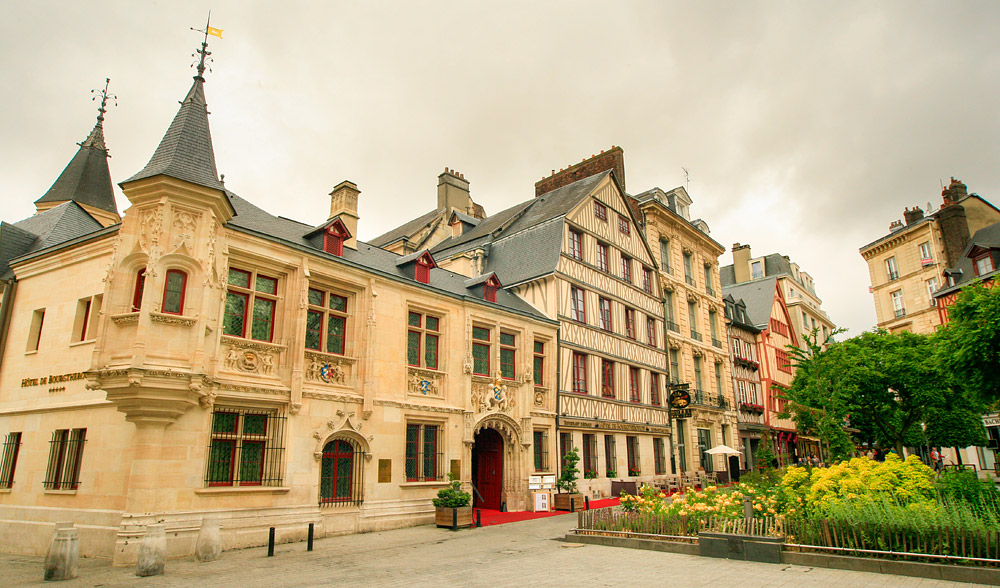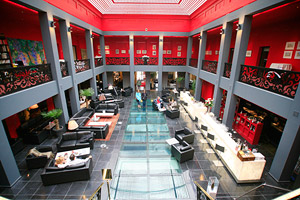 Rouen, the capital of Normandy, has an historic centre that is well worth visiting and the size of the city is not so great as to make it an unfeasible base for your golf holiday in Normandy. Converted from one of Rouen's oldest buildings, the Bourgetheroulde hotel offers a fascinating blend of ancient and modern - the dazzling lobby bar that greets your eye as you enter through the stone doorway is quite a surprise!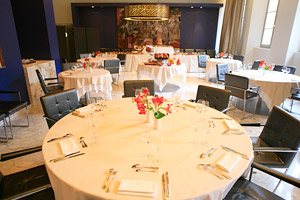 Bedrooms are very modern too so you are assured of a comfortable stay and a good night's sleep. Plenty of the original stonework is still very much in evidence however around the Reception area and the two restaurants. Underground is the pool and spa area, which receives daylight via the glass floor in the lobby.