The best golf courses for holidays in Provence and the Camargue
Including: Montpellier, Grande Motte, Servanes, Grand Avignon & Nimes.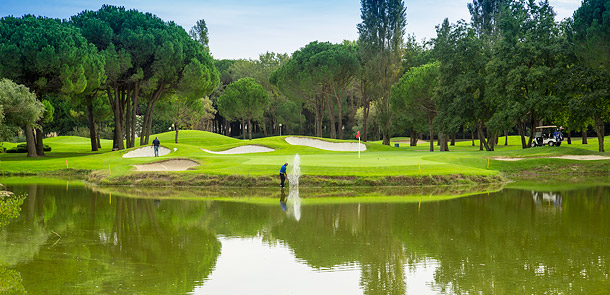 La Grande-Motte Architect: R. Trent Jones Snr. 18 holes: 6,161m: par 72.
La Grande-Motte is a testing parkland course now that the trees that were with planted to define the Fairways have fully matured. Despite its position on the coast south of Montpellier, the course doesn't run alongside the sea anywhere: however, Mr. Trent Jones brought plenty of water into play by positioning numerous lakes around the course! Level going so easily walked, short 18-hole course too.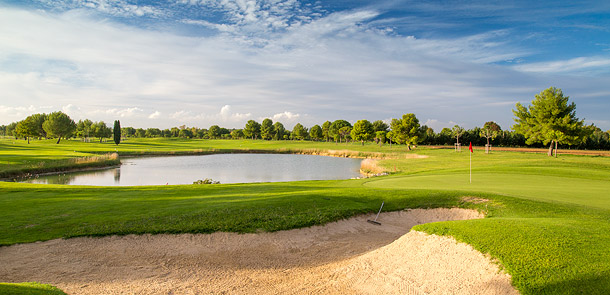 Montpellier-Massane Architect: R. Fream. 18 holes: 6,550m: par 72.
The Domaine de Massane is a large golf and holiday resort in the Provençal countryside east of Montpellier, just outside the small village of Baillargues. The course is of modern US design: long and tough with plenty of sand and water to negotiate, yet with a nice variety to the holes. Starting beside the large golf academy next to the hotel and apartments, the course sets off into the countryside albeit with some new housing here and there along the way. Flat terrain and not too many long walks to Tees (apart from the 1st!) it is easily walked.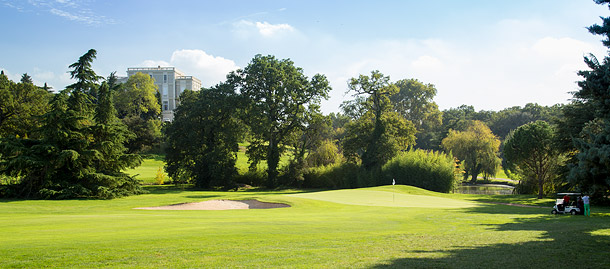 Nimes-Campagne Architect: D. Harradine. 18 holes: 6,135m: par 72.
Nîmes Campagne is a golf course that is not as old as it feels! David Harradine had an expanse of ancient forest in which to weave his spellbinding course. Consequently The layout has a very English feel to it with Fairways that rise and fall to Greens tucked away in little pockets amongst the oaks. A truly charming course - with an astonishing clubhouse, although sadly the pool is now defunct.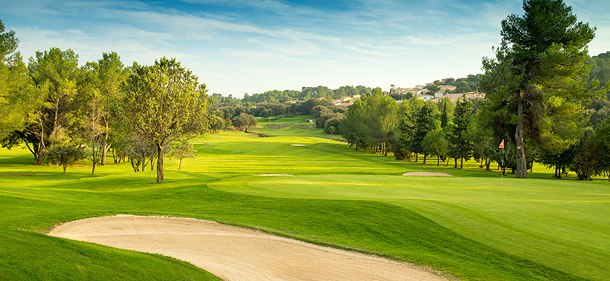 Nimes-Vacquerolles Architect: D. Harradine. 18 holes: 6,135m: par 72.
A more recent addition to the golf course scene around Nîmes, Fontcaude is a busy, fairly commercial set-up but with a healthy membership too. A parkland course that extends along a long shallow valley generating some elevated Tees and Greens as the course nears the walls of the valley. Unsurprisingly there is a small stream running through the valley that is cleverly brought into play in a few places. An enjoyable course, but beware of all the long par-3s if you play from the back Tees!

Other courses to consider:
Montpellier-Juvignac (Fontcaude)
Architect: C. Pittman.
18 holes: 6,292: par 72.
Northwest of Montpellier a course with an attached hotel that runs out along a ridge with a slightly awkward layout of holes sliding down both sides into the valleys. Busy hotel and quite a commercial feel to the whole establishment.
Carcassonne
Architect: J-P. Basurco (1988).
18 holes: 5,758m: par 71.
Beside the medieval tourist attraction of Carcassone a course that is nicely woven into the countryside, providing a nice enjoyable round.
St. Thomas (Beziers)
Architect: P. Lambert (1980).
18 holes: 6,131m: par 72.
An open, natural setting for a decent parkland course, albeit with quite a bit of water to negotiate. With very little building around the perimeter you are assured of a peaceful game.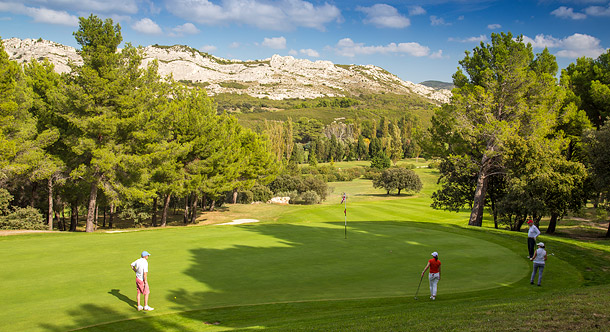 Servanes Architects: Sprecher & Watine (1989). 18 holes: 6,041m: par 72
Quite simply one of the most attractive golf courses in France. Servanes is the very essence of Provençal golfing, tucked away quietly in the shelter of the Alpilles, it offers epic views all around. Water comes into play in a big way around the middle part of the course and even these aquatic hazards are to be admired with their gleaming white stone surrounds and tall pampas fronds billowing in the breeze. As you might expect, there are a few inclines to surmount along the way, but plenty of buggies are available if required. Hotel on site too if you fancy a Provençal escape.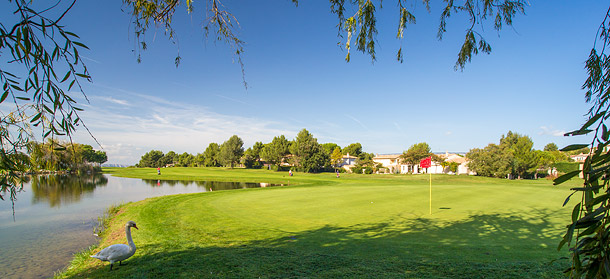 Pont-Royal Architect:: S. Ballesteros (1992). 18 holes: 6,069m: par 72.
Señor Ballesteros sets a tough test. Spread over a couple of hillsides with the hotel and villa complex at its centre, Pont Royal golf course will examine anybody's golf, but in a very enjoyable manner! The holes twist and turn initially down alongside the river (and Moulin de Vernegeus hotel) then climb abruptly to the upper section with many dog-legs woven around the houses. There is plenty of sand to contend with and a few long carries - the 200yard par-3 11th across a ravine (into the teeth of le Mistral) for instance!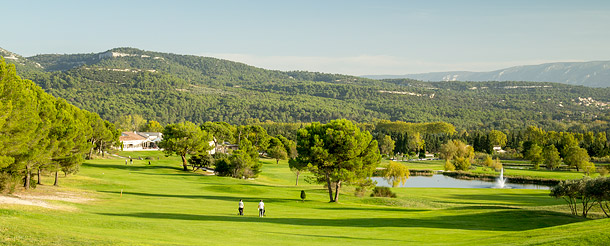 Provence Country Club Architect: J. Garaialde (1989). 18 holes: 6,099m: par 72.
A setting that is pure Provence amidst a landscape that is largely undeveloped offering superb natural vistas from the upper parts of the course: hills and pines for miles around. Although there is a hotel attached to the course, you will soon distance yourself from any disturbance and be out amongst the peace of Provence. Originally a 9-hole course, the recent extension fits seamlessly with the older holes and provides a memorable trip through the Provençal landscape.

Mannville Architect:: M. Hawtree (2014). 18 holes: 5,502m: par 72.
Another setting that is pure Provence amongst the outcropping limestone, olives and vines underneath the old fortified town of Les Baux de Provence. Due to some unusual environmental constraints, Mannville has a slightly unusual appearance with rectangular bunkers and Greens that jar slightly with the rounded hills around the outside (no doubt the sharp edges will soften in time). That apart, the design extracts the best possible 18 holes from some interesting terrain. A luxury hotel has now been added too (see our hotels page), making Mannville a very upmarket Provençal retreat.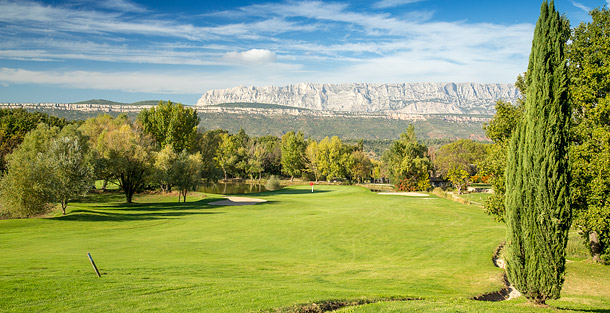 Ste. Victoire Architect: R. Trent Jones Jnr. (1985). 18 holes: 6,095m: par 72.
One of the more recent additions to the Provençal golf portfolio on a quite convoluted stretch of land. This has meant that the holes are broken up into three sections with a stroll between them (plenty of buggies are available if you prefer). The effort is worth it though as the holes themselves offer a huge variety of shapes and have been well thought-out to make best use of the contours. The 18th (above) is one of those classic French finishing holes, tumbling down the hillside towards the distant Alpilles and the (much closer) welcoming old château Clubhouse.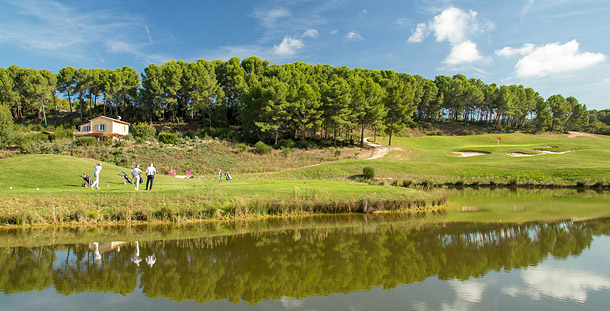 Aix-en-Provence (Set Club) Architect: R. Fream (1998). 18 holes: 5,054m: par 70.
Not far from the centre of Aix-en-Provence is the Set Club - a Country Club founded on tennis and horse riding, but with a golf course too - hence the two names. The land left for the golf course is hilly and a mixture of thick woodland or open plain; from the latter there are some lovely views over the surrounding landscape. The course has a few quirks (back-to-back par threes for instance and some long walks to Tees): taken individually however, the holes are good and will test both your golf and your stamina!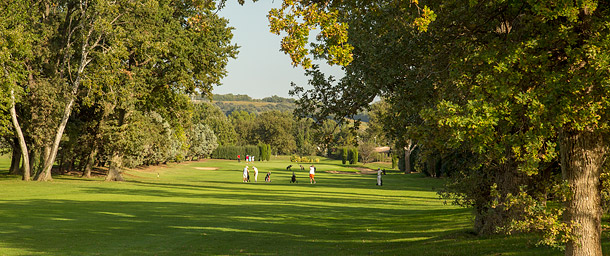 Grand Avignon Architect: G. Roumeas & J. Garaialde (1983). 18 holes: 5,828m: par 72.
Grand Avignon is a long-established good Members Club, where the gentlefolk of Avignon can be found at weekends, playing or practising on the driving lake. Over level, wooded terrain, it is not a spectacular course, just good honest golfing. There are some generous water hazards that spice up a few corners of the action (such as the tricky First!). Nice Clubhouse and a warm welcome.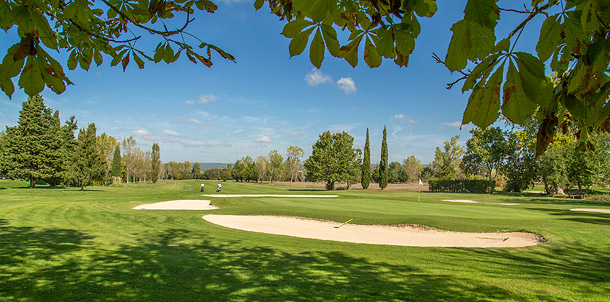 Aix-Marseille Architect: P. Cannon (1970). 18 holes: 6,191m: par 72.
The course at Aix-Marseille is one of those that grows on you the more time that you spend getting to know it. At first sight it seems a straightforward place with holes running side-by-side over level terrain divided by carefully placed trees. Once you set foot on the Tee though the latent appeal begins to reveal itself and it becomes a fun place to play golf. One of the very first golf courses in Provence, it retains its olde worlde charm and established club feel with Members gathering every lunchtime under the spreading planes on the patio. True to its roots, the Green-fee at Aix-Marseille is a Day Ticket, so after 18-holes and a generous portion of confit de canard you can do it all over again!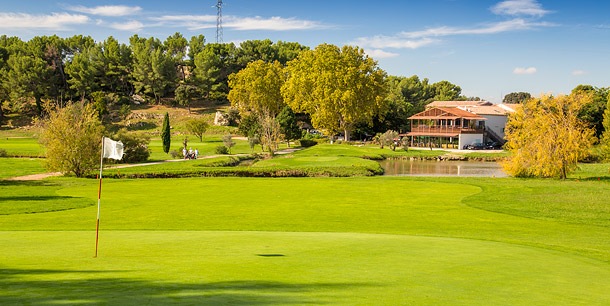 Miramas Architect: S. Giraud (1993). 18 holes: 5,619m: par 72.
Miramas is one of the newer additions to the Provence golf scene and has somewhat of a 'home made' feel to it. An expanse of low lying ex-grazing land has been turned into an unassuming course with a very relaxed ambience around the course and Clubhouse. A river runs across the flat central section of the course, which is pooled into ponds that add interest to the holes. The course rises around the perimeter into the woods where holes are a little tighter. Easy going golf.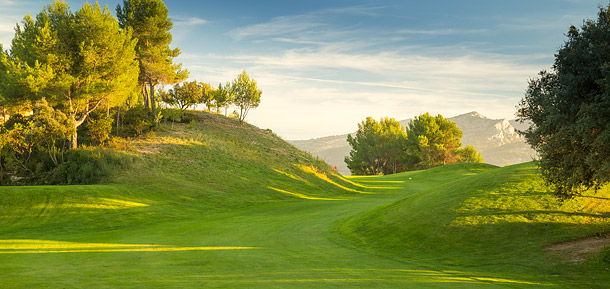 Marseille-La Salette Architect: M. Gayot (1985) 18 holes: 5,106m: par 70.
Never has more tortuous land been handed to an architect to fashion a golf course! Up and down and roundabout the holes writhe around the hillsides and between the trees. Some pretty corners, but plenty of wacky ones too!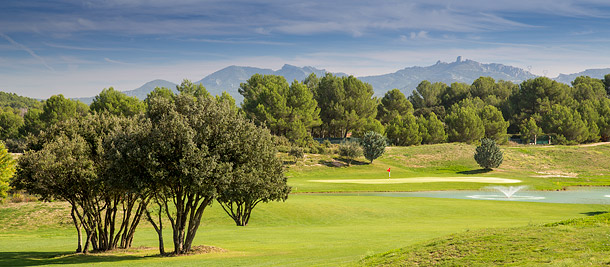 Cabre d'Or Architect: H. Lambert (2008) 18 holes: 6,216m: par 72.
In the hills between Aix-en-Provence and Marseille, Cabre d'Or is part of a new development by the local Mairie to develop houses, schools and sports for the locols. The course itself has interesting holes and some great views, once it settles in it is sure to be a great test of golf as the design is tight and demanding.

La Sainte Baume
Architect: R. Berthet.
18 holes: 6167m: par 72.

Heading East almost into the Cote d'Azur, La Sainte Baume is a pretty parkland course around the central Château that forms the Clubhouse and hotel..