The best Golf Clubs for Bologna golf holidays
Including: Bologna, Le Fonti & Modena.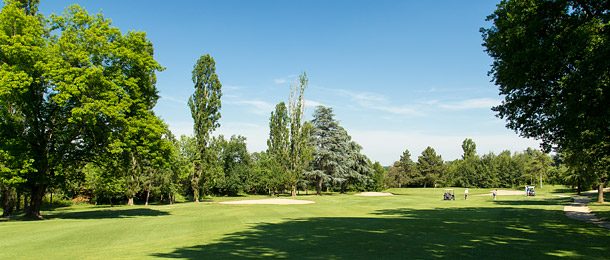 Bologna Architect: H. Cotton & D. Harris (1959). 18 holes: 5,947m: par 72.
A good old-fashioned woodland course, that climbs and falls through some gentle hills close to the centre of Bologna. Bologna is uncomplicated golfing, where what you see is what you have to hit/avoid! Holes are lined with a nice variety of trees and the only other hazards are low-lying bunkers. There is a new lake/reservoir beside the eighth Tee, which is very pretty but it is not really in play (at least it shouldn't be!). Greens are smaller than their modern counterparts and many are slightly elevated, so holding them can be tricky in the warm dry Summer months when the course firms up. Clubhouse (and of course swimming pool) is a small but classy affair, serving food of the highest quality.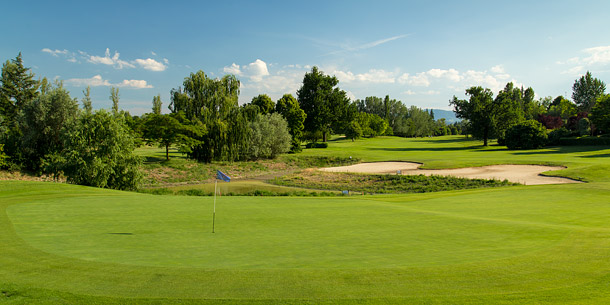 Modena Architect: B. Langer (1991). 18 holes: 6,423m: par 72.
Modena golf course has clearly been cleverly thought out to offer plenty of strategic challenges all the way around: should you fail any challenge - it's very pretty too! A delightful combination of varied trees and shrubs, holes of almost all shapes and sizes, plus a generous splash of water in places make Modena a superb example of parkland golf at its best. Nice one Bernhard.
N.B. The Ferrari factory is very close by and visits are possible. Please let us know if you would like us to arrange a visit for your party?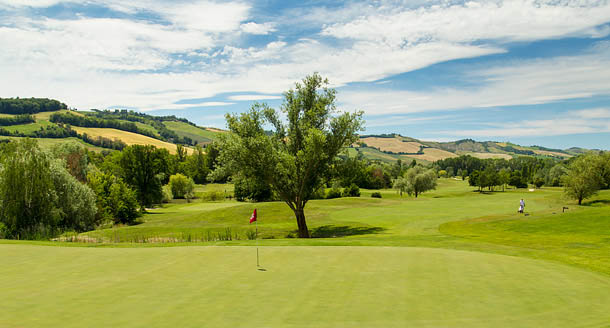 Le Fonti Architect: I. Serrantoni (1988). 18 holes: 6,145m: par 72.
A beautiful setting for a golf course, Le Fonti lies just east of Bologna in a lush green valley with a spine of hills bordering the full length of the course and a small brook meandering its way alongside several holes. Le Fonti is one of Italy's most enjoyable courses, the holes are interesting with plenty of room for a little thought along the way. At the far end of this out-and-back layout the brook has been pooled into a couple of serious water hazards which add both to the test and the aesthetics. Around the Clubhouse there are a few dwellings, apart from which it's just gorgeous greenscapes.