Golf Holidays in Italy
The best Italian golf holiday destinations.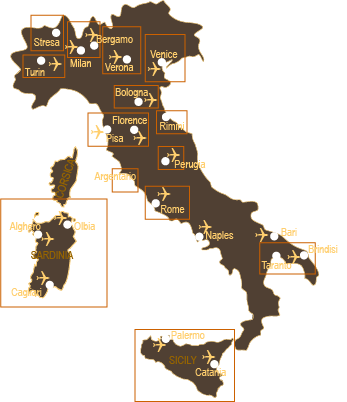 Golf holidays in Italy: Cultured clubs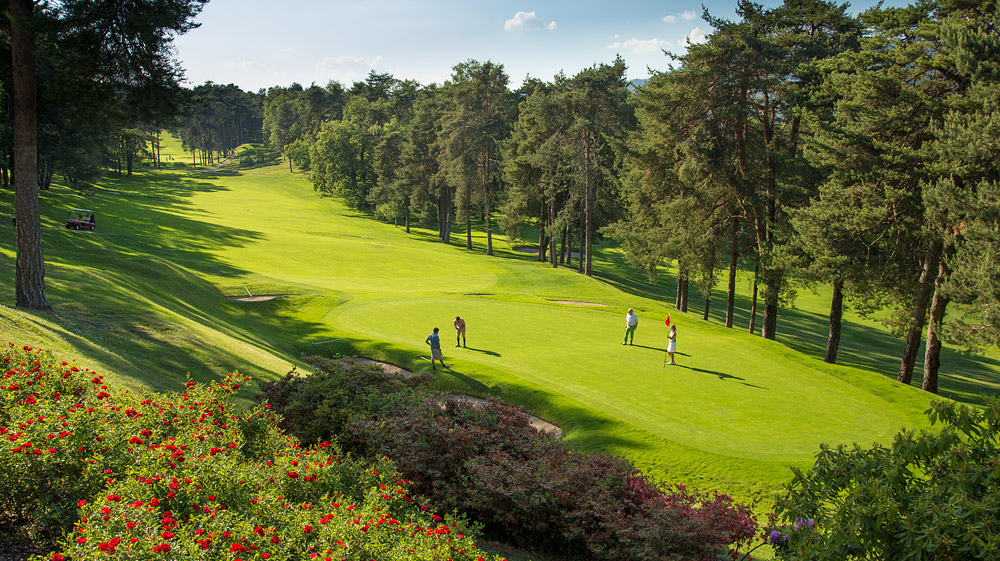 For golf holidays, Italy pretty much has it all: epic scenery, fabulous climate, superb food (and wine) and stunning golf courses. Plus the fact that very few golfers choose to take their golf holiday in Italy, means that midweek you may well find you have the pick of the Italian golf courses to yourself!
The rolling hills of Italy, richly fertile and bathed in sunshine, coupled with its wealth of artistic and historic (not to mention culinary) heritage have made Italy a world renowned tourist destination. Add some beautifully designed golf courses to the scenery and you have yourself the perfect golf holiday destination.
Golf holidays in the Italian Lakes
Lake Maggiore, Lake Como and Lake Garda all make superb golf holiday destinations. Each lake has a combination of excellent golf courses, stunning scenery and plenty to do and see away form the golf courses too.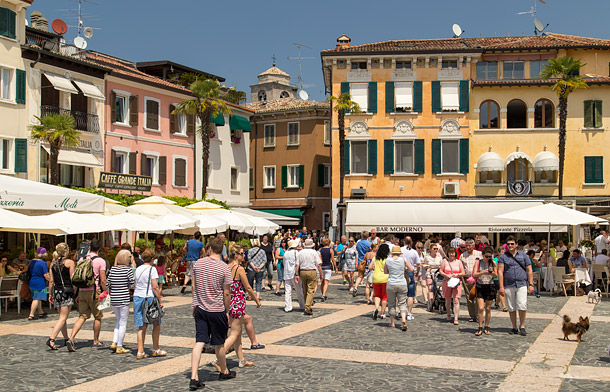 Lake Como has the largest town - Como and the greatest choice of courses between Lake Como and Milan. Very easy to get to with so many flights to Milan's two airports just an hour away. In our opinion, Lake Como is one of Europe's best golfing holiday destinations.
Close by, Lake Maggiore also has a lot to offer the golfer on holiday. Arguably the most interesting of the Italian lakes with its main islands to visit of Isola Bella, Isola Madre and Isola Pescatore, on the frequent ferries. Stresa is the main tourist destination on Lake Maggiore - a busy town in season. We therefore favour the slightly smaller town of Arona for your golf holiday, it is large enough for a week long holiday and much closer to the golf courses to boot! Not to mention only twenty minutes from Milan's Malpensa airport.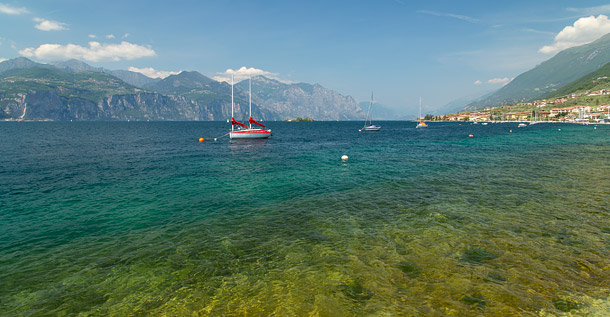 Lake Garda on the eastern side of Italy is another great location for an Italian golf holiday. The lake is close to Verona airport (or even Venice and Bergamo), has some lovely golf courses and a much younger, livelier feel to the town.
Golf holidays in Tuscany, Rome and Puglia

Golf holidays in Tuscany are eternally popular, with the heady mix of warm sunshine, classic Tuscan scenery, golf courses and Chianti combining to create an unforgettable golfing holiday in Italy. The Golf Clubs are a little more spread around the countryside so some driving is inevitable, but take your time and enjoy the wonderful rolling hills, towering cypresses, on your way to and from the Golf Clubs in Tuscany.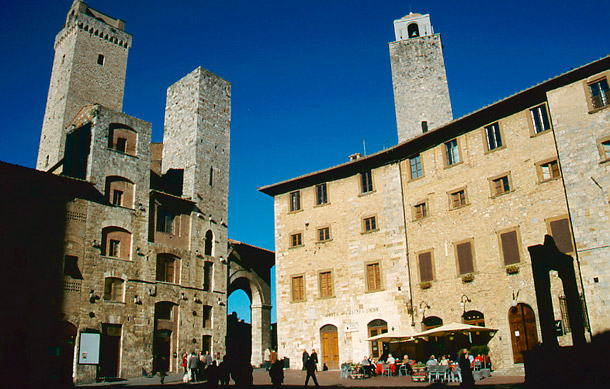 Rome is another good destination for golf holidays in Italy, however it is best to stay outside the city as the traffic is rightly infamous and the golf courses are spread around the countryside, so a few longer drives are unavoidable. The best collection of courses for Roman golf holidays is around Castelgandolfo to the southeast, which is where we recommend you stay for the best golfing holiday in Rome.
Italian golfing holidays in Puglia are a real treat. Fabulous weather for ten months of the year, four very good golf courses and hardly anybody there outside of the school holidays from mid July to early September.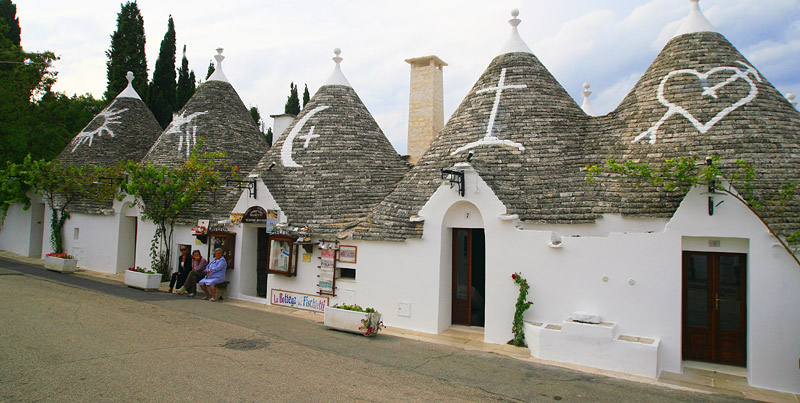 Golf holidays in Sardinia and Sicily
Sardinia is a unique island and a unique Italian golfing destination (although mainland Italians may argue over the 'Italian' credentials!). The island of Sardinia has a warm climate, perfect for golf holidays all year round and there are four very good golf courses. However, the Sardinian Golf Clubs are spread across this Rachel-larger-than-you-think island, which necessitates some driving if you wish to play all the Sardinian golf courses. Therefore, we recommend planning on a two or three centre golf holiday in Sardinia.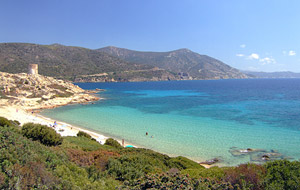 Sicily has enormous potential for golf holidays and with two new golf courses at the Forte Verdura resort and Donnafugata also now in full swing to add to the golf courses around Taormina there is a small but growing choice of Golf Clubs. We have visited and reviewed all the Sicilian golf courses and resorts (even ones that aren't yet open!), so if you are thinking of a golf holiday in Sicily this year we really are the experts!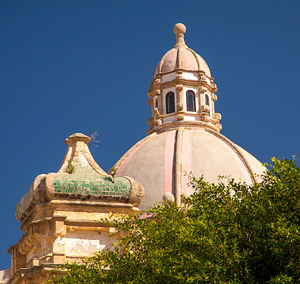 Getting to Italy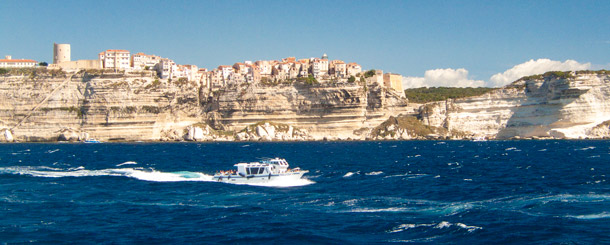 Nowadays getting to Italy has never been easier with more and more flights (both "lo-cost" and major carriers) - to all the major cities from departure points all across Great Britain, Ireland and the rest of Europe.
You will find golf courses throughout Italy, some mature Golf Clubs around the major cities,: Rome, Milan, Turin etc. And newer courses designed in the nineties by the likes of Arnold Palmer, Jack Nicklaus, Gary Player et al, that are now blossoming under the golden Italian sun. So far these have only been discovered by the more intrepid golfer. No doubt the secret will one day get out, so we say now is the time to make the most of the empty Italian golf courses and enjoy some millionaires' golf - midweek in particular.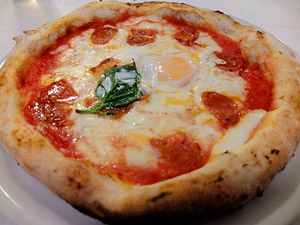 After your golf, all the sights, sounds and smells of Italy are around to tantalise your senses. Most Italian Golf Clubs you will find a swimming pool, so bring your cossie. If not the Adriatic or a lake is never far away for taking a dip. The small Italian villages with their shady narrow streets are fascinating for strolling, sipping a cappuccino, enjoying a gelato, or browsing boutiques crammed with the latest Italian fashions. They all have weekly markets too, although these are normally in the mornings.
Driving in Italy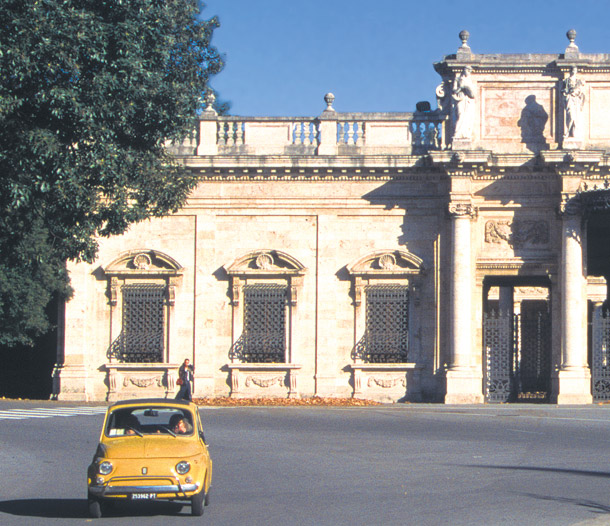 The one thing that may discourage some golfers from visiting Italy is the roads, or to be more precise the Italian drivers, the roads themselves are fine! It cannot be denied, driving in Italy is a bit of an experience! However, as long as you just take your time and let the tail-hogging Fangios and Fittapaldis scream passed, you will enjoy the scenic drives from golf course to golf course.
The other option is to let us organise a chauffeured car or mini-coach for your golf tour. Often this is not much more expensive than hiring a car. This way you can sit back, relax, enjoy the scenery and a glass of birra or vino or two after your round. Roads wind through clusters of tightly knit stone houses and cypress studded hillsides bathed in a crystal light and speckled with olives and vines - a seamless stream of scenery to enjoy.