The best golf courses for Lake Garda Golfing holidays
Including: Garda Golf, Palazzo Arzaga, Verona, Chervo & Franciacorta.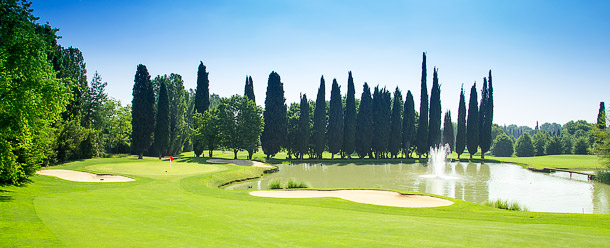 Garda Golf Architect: C. Cotton, Pennick & Steel (1986). 27 holes: 6,505m: par 72.
A tremendously popular Golf Club with Members at weekends, once you see the course and facilities it's easy to understand why! Twenty-seven highly entertaining golf holes are spread out over a broad woodland bowl extending below and above the Clubhouse. The 'Championship' combination is Rosso & Bianco, but keep the Giallo nine in mind as they are not as hilly as the Rosso or perhaps for a short round after a long lunch in the fine and friendly Clubhouse restaurant.
N.B. Buggies must stick to the path all the way around!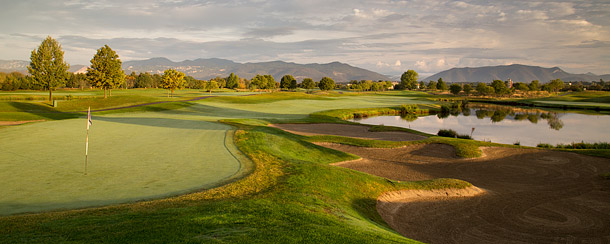 Palazzo ArzagA I Architect: J. Nicklaus Jnr. (1990). 18 holes: 6,062m: par 72.
The 18-hole course designed by Jack Junior that has a very American feel to it with huge bunkers and water hazards everywhere you look. The Greens are enormous too - easy to hit, but you can quite easily leave yourself in the dreaded 3-putt country...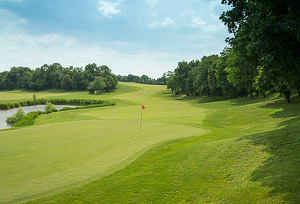 Palazzo Arzaga II
Architect: G. Player (1991).
9-holes designed by Gary Player in similar style to Jack's course, although slightly hillier terrain in places. Due for extension to 18-holes at some stage, although unlikely to be anytime soon.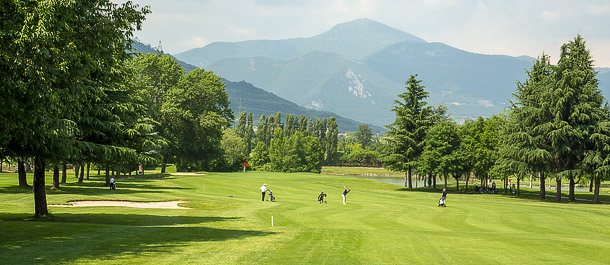 Franciacorta Architect: P. Dye & M. Croze (1986). 18 holes: 5,924m: par 72.
A little further flung from Lake Garda, Franciacorta lies amongst the Lombardy vineyards close to the pretty little lake of Iseo and blazes with colour in the Autumn. Pete Dye has an uncompromising style of design, plenty of water, island Greens etcetera. At Franciacorta it was tempered by the gentle influence of local favourite Marco Croze to produce a balanced yet thrilling course, albeit slightly hilly in places: not that that's a bad thing!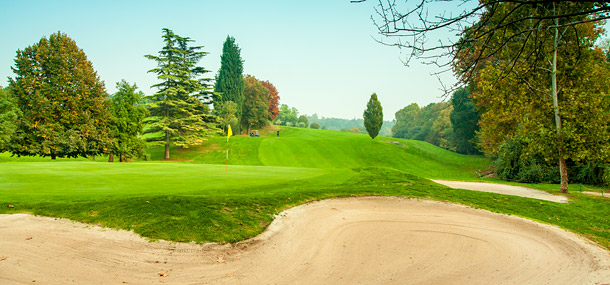 Verona Architect: J. Harris (1963). 18 holes: 6,037m: par 72.
A well established course and long-standing private Members' Club. The front nine run through mature woodland, across reasonably hilly terrain; the back-nine has more elevation changes along with a few twists and turns. A very smart Club (tremendous Clubhouse): a setting fit for the gentlemen of Verona. N.B. Very close to Verona airport - an ideal Club for your arrival and departure day - or an evening visit to Verona perhaps?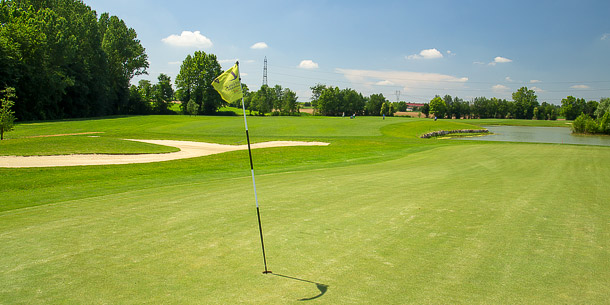 Chervo Architect: K. Rossknecht (2011). 18 holes: 6,346m: par 72
A modern golf course, just a few kilometres south of Lake Garda in a peaceful rural setting. Originally farmland the ground has been gently moulded to define Fairways and create water hazards of sizeable proportions making Chervó an enjoyable golf course where errant shots are retrievable from adjoining Fairways (as long as you avoid the water!) and large Greens very hittable from various angles. Although once aboard the Green you may find yourself with some long, interesting putts...
N.B. There are 27-holes at Chervó, the main course comprised of the Red and Yellow nines. In addition there is a White nine, which is a little shorter at just under 3,000m and there is also a par-3 course (Blue). After your game the large stylish Clubhouse is a very comfortable spot for lunch or an aperitivo.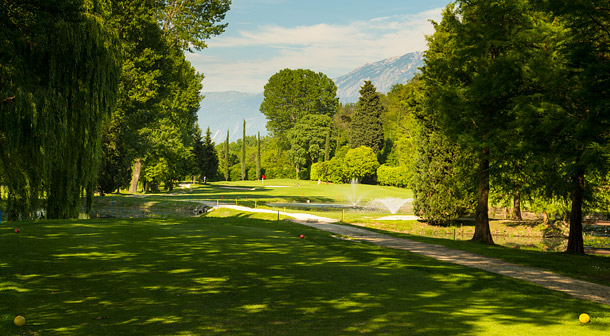 Bogliaco Architect: A. Albergatore (1912). 18 holes: 5,122m: par 69.
What a difference a few hectares makes! Once a short, tight and twisty track, the recent purchase of land and the total redesign of a dozen holes has transformed Bogliaco into a delightful place to play golf in a secluded, semi-Alpine setting. Still a course that requires accuracy rather than brute force, Bogliaco is a venue that will delight the thinking-golfer - so long as you don't let the scenery and birdsong distract you!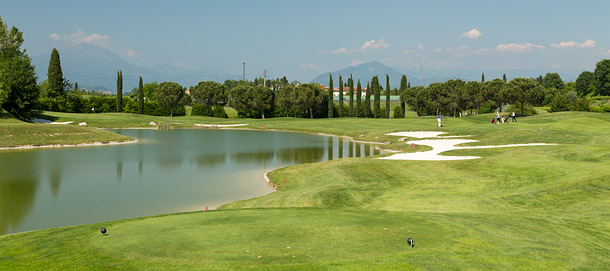 Parco Paradiso (del Garda) Architect: J. Fazio 18 holes: 5,498m: par 71.
Inland from Desenzano and easily reached due to its proximity to the main motorway intersection; Parco Paradiso (or Paradiso del Garda as it is alos known) is a recent hotel, apartment and golf course development. Designed by the renowned American designer Jim Fazio it has an obvious US style with moulded Fairways and strategically placed (large) water features. Level terrain so easily walked; simple Clubhoues facilities as most golfers here are resident in the hotel.

Other courses to consider: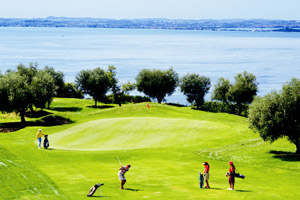 Ca' degli Ulivi
On the eastern side of the lake and managed by a large German Tour Operator, (so rounds ccan be a little slow). A course that has a real alpine feel about the place creating some slightly unusual holes, but offering great views over Lake Garda.