Golf Holidays in Puglia
An introduction

to golfing in Italy's deep South.

The warm sunny south of Italy, in particular the stiletto heel of the Italian boot, is a promontory of flatter land with a coastline of rocky bays and sandy coves that just invites exploration. The land rises in a gentle slope from the coast to the low hills of the interior and is covered in a rich red earth beneath the olive trees, vines and citrus groves. Uncultivated areas are thick with wild thyme and rosemary adding a glorious scent to the warm air. Predominantly an agricultural way of life that moves at nature's pace and you will soon find yourself relaxing into the slower pace.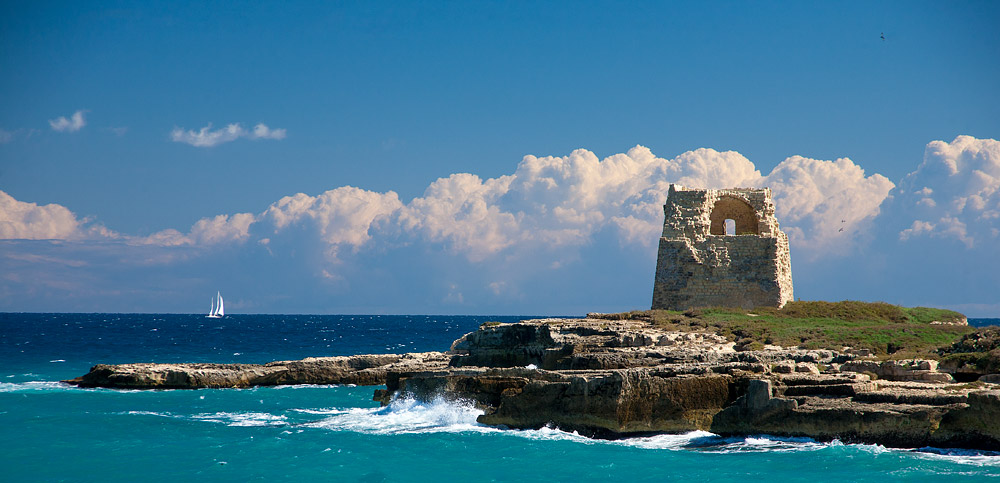 Golf is to be found in three areas: Riva dei Tessali on the Ionian coast where there are two nicely contrasting courses; San Domenico between Bari and Brindisi on the Adriatic side, which is becoming quite a luxurious destination; and the simply stunning course at Acaya further south near Lecce, quite possibly the best course that you have never heard of in Europe - a rare treat.
Puglia kind of divides into two sides with San Domenico and Acaya being just an hour's drive apart and the two courses at Riva dei Tessali across the other side of the peninsula about two hours away. Splitting your trip over two (or even all three) golf resorts is of course possible and would enable you to enjoy the sheer luxury of San Domenico, the stunning course at Acaya and the rural golf retreat at Riva dei Tessali.
The map below should give you a better idea of course and airport locations, full details of the courses and hotels in each area can be found by clicking on any of the three resorts.
Puglia's golf destinations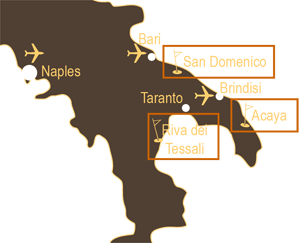 Riva dei Tessali
The friendly golf resort, with two full length courses close to Metaponto on Puglia's southern coast and border with Basilicata: natural peace amidst the pines.
San Domenico
Choose between the height of luxury at Masseria San Domenico or the height of contemporary hotel design at Borgo Egnazia. Plus a golf course that is not too demanding but always in beautiful condition.
Acaya
One of Italy's (if not Europe's) finest new golf courses, in tandem with a very comfortable modern hotel near the coast south of Lecce.
Getting to Puglia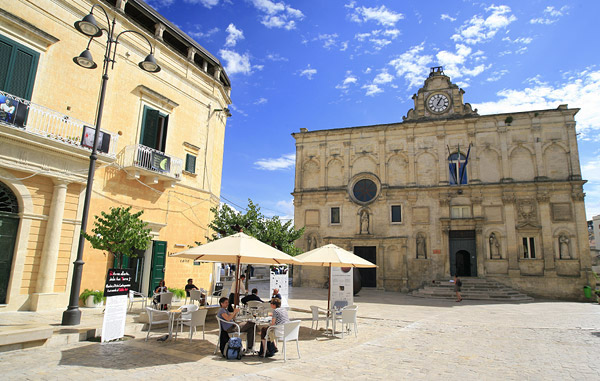 Two main airports serve Puglia: Bari just to the North of Lecce and Brindisi around to the South of Lecce. In the Summer months there are plenty of direct flights to both airports from the British Isles, flights in the Winter (which is perfect golfing weather in Puglia) are a little more scarce, but still available if you are flexible on dates of travel. Alternatively you can always fly to Naples and drive over the hils to the east coast of southern Italy.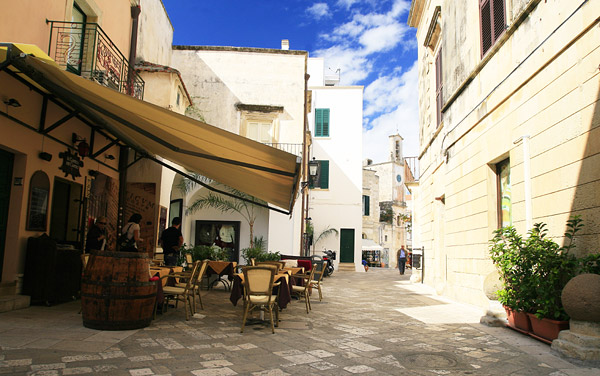 The Towns and Countryside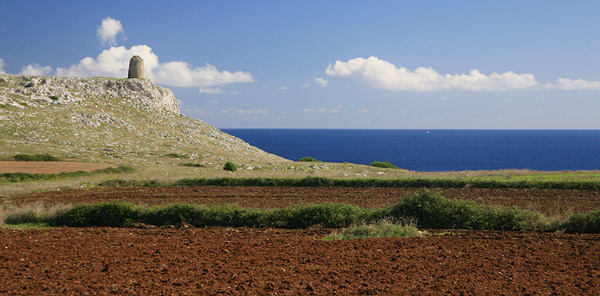 Puglia's rich ruby-red soil meets the crystal waters of the Adriatic along a rugged coastline of bleached limestone punctuated with ancient watchtowers every few kilometres and occasional sandy bays suitable for swimming. North of Otranto the seascape softens somewhat with long sandy beaches smothered in beach clubs during the peak Summer months who will rent you a lounger and parasol for the day. On the Ionian (southern) coast the general landscape is flatter with long sandy beaches that are deserted once you get away form the towns.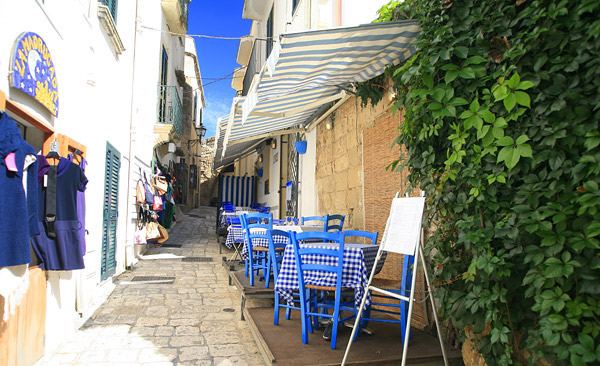 The architecture of Puglia contrasts markedly with other areas of Italy - the influence of past African invaders clearly to be seen in the square, moorish style of building. Many towns are piled high on a hillside with whitewashed houses cheek by jowl and maze-like narrow alleys running between: Otranto, Ostuni and Locorotondo all fit this style of town planning.
Pugliese Food and Drink
The rich fertile soil, coupled with hours of uninterrupted sunshine and plenty of water coming down form the hills, means that just about everything grows in abundance in Puglia. Pugliese cuisine has a few local specialities, but is in general as delicious as anywhere else in Italy - i.e. mouth watering!
Local specialities to look out for are:
Orechiettehand made pasta in thimble shapes traditionally eaten with rape tops (alle cime di rape) and a generous splash of chilli oil (peperoncino).
Burata and buratina - unctuous pockets of fresh mozzarella and cream, rich isn't the word!
Fave - a broad bean puree, normally served with chicory leaves and olives.
Tarallini - small twists of crisp bread often infused with olives or wild thyme.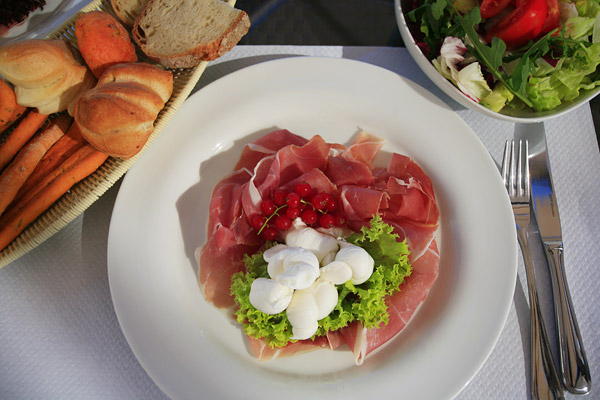 Plus with a huge coastline there is fish and seafood available in abundance; for carnivores, good quality lamb and beef from the lush hilly hinterlands is always to be found.
There are plenty of, sensibly priced, good wines too. The strong sun ripening the grapes to provide the local full bodied reds. Look out for Primitivo, Negroamaro, Aglianico and Malvasia (Nera) all worth investigating. Blends of Negroamaro and Malvasia makes a rather tasty glassful.
Sightseeing in Puglia
There are some fascinating places to visit in Puglia. Two of the best known are:
Alberobello, with it's quaint Trulli houses - round stone dwellings with strange magical signs painted on their beehive-like roofs.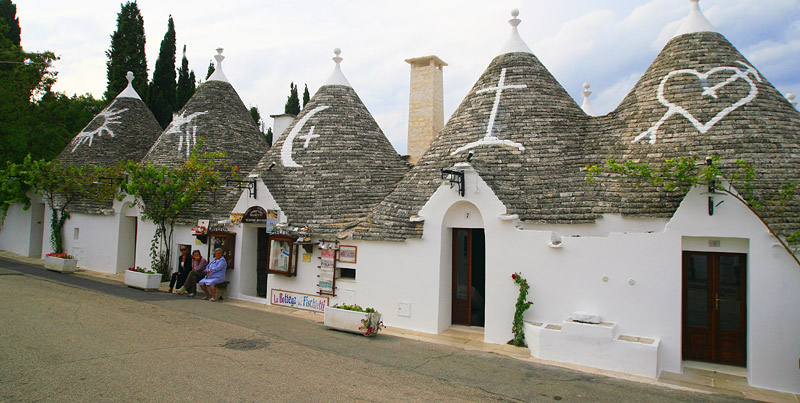 The other is Matera - a striking sight with its cave houses dug into the steep rock side of the gorge facing the higgeldy-piggeldy houses of the town that tumble down the opposite side.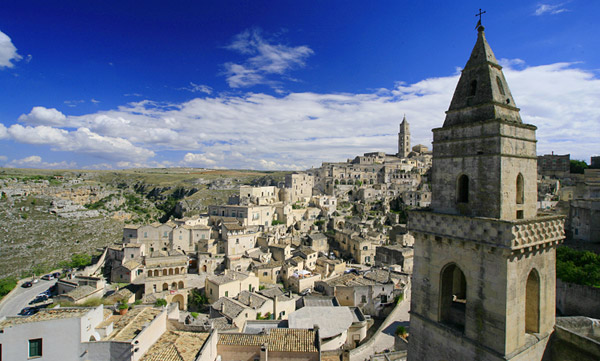 Either of these towns may be reached in an easy drive from all three of the golf resorts in Puglia.