Golf holidays on Sicily's East Coast
Golfing holidays from Taormina down to Siracusa via Mount Etna!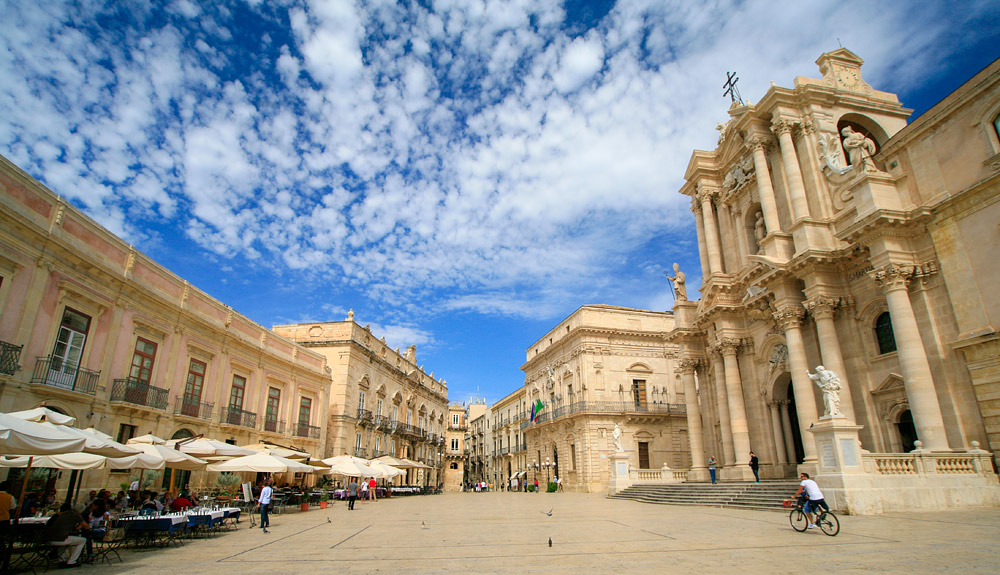 Golf courses on Sicily's east coast
There are currently two courses open for play on Sicily's east coast: Il Picciolo the oldest Club on the island and I Monasteri the youngest Club on the island! You will see from our map (link at top of page) that these two courses are quite well linked by the autostrada, so playing both from one base can be done.
N.B. There are another two courses due to open soon on the East coast of Sicily; we will let you know as soon as they are ready for action.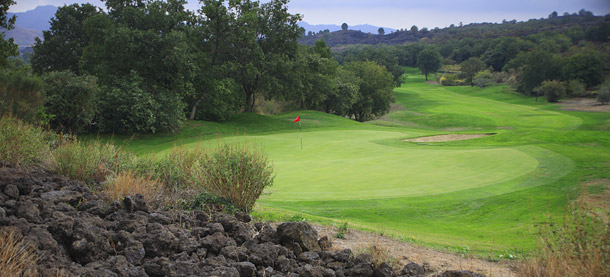 Il Picciolo Architect: M. Croze 18 holes: 5,947m: par 71.
The original Sicilian golf course of Il Picciolo is a lovely traditional old Club. The course is right on the slopes of Mount Etna and you will come across plenty of old lava flows as you work your way around the course. The holes are tight and tricky with plenty of twists and turns, water and out of bounds to negotiate. Add to this small fast Greens and it really is a course for tacticians rather than big hitters.


I Monasteri Architect: D. Mezzacane 18 holes: 6,284m: par 72
Opened in the Spring of 2013, I Monasteri is a young but stern test of golf. Although the course runs over level terrain, it is long and very tight in places, so choose carefully which Tees you play from (there will probably be a choice of five or six). The architect has used the local flora well: there are some large cork oaks that come into play and a very different section through plantations of prickly pears. Around the Clubhouse (a lovely old manor farm) some water comes into play to add to the test!

Hotels on Sicily's East coast
On Sicily's east coast there are more options for town-based golf holidays, ideal for golfers who like to be able to stroll to a number of restaurants and bars of an evening. Taormina is the pick of the tourist towns and a lovely place to stay; just north of Mount Etna, it's close to Il Picciolo Golf but about an hour's drive to I Monasteri.
The cities of Catania and Siracusa are also well placed, with plenty to do, eat, drink and see during your stay. However these are much larger places than Taormina so getting in and out can take a while...
For resort style golf holidays one answer is to stay at Il Picciolo Golf Club either in their quiet rooms in the old Clubhouse or in the recently added Etna Resort beside it; or at the new hotel on the new course at I Monasteri, close to Siracusa.
Il Picciolo - Foresteria**

Foresteria is roughly the Italian equivalent of Dormy House and in the old Clubhouse at Il Picciolo there are a dozen simple, comfortable rooms. Breakfast is served downstairs in the Clubhouse and the Clubhouse restaurant is also open for lunch and dinner. Just across the car park is the modern Etna Golf hotel with its pool, spa and restaurant (see below), all of which you will be able to take advantage of during your stay.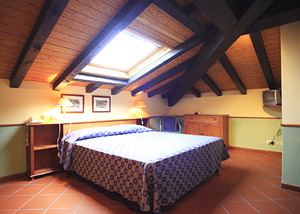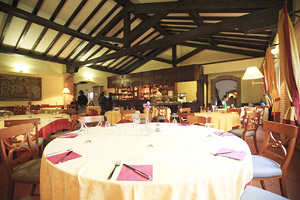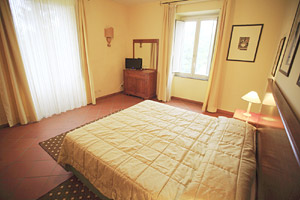 Etna Golf Resort****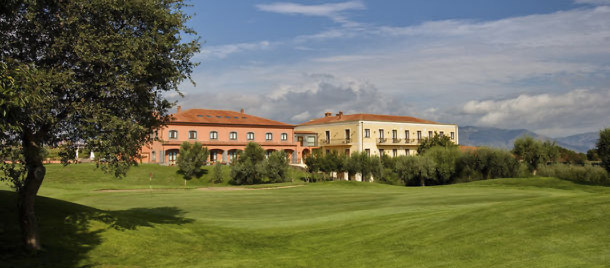 The Etna Golf Hotel is quite a surprise: a large modern hotel tucked away in this quiet corner of the Etna National Park. From the moment you enter the open plan lobby and lounge there is a feeling of spaciousness, echoed by the wide corridors connecting the rooms upstairs.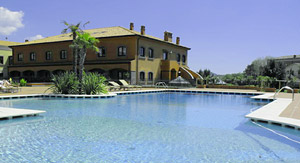 Everything about the hotel is pretty much brand new, bedrooms being well sized and nicely furnished. Outside there is a pool with plenty of sun-decking, the restaurant on the first floor is a large room, but divided down into more cosier areas depending on the numbers for dinner.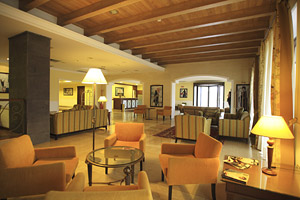 The Etna Golf Hotel also has a very nice spa that takes up the majotity of the ground floor and offers an indoor pool, sauna, steam room, gym and plenty of massages and other therapeutic treatments.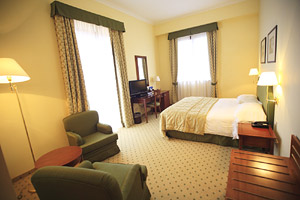 The towns around the Etna Golf Resort are all fairly small with few real restaurants to speak of. Dining out will therefore involve a car trip to the coast.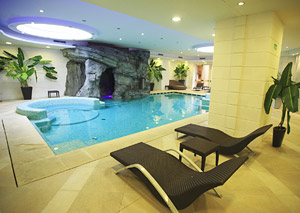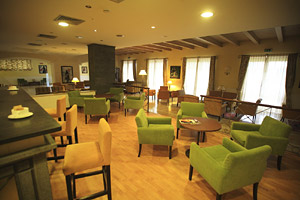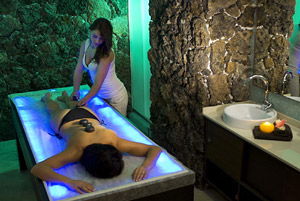 San Domenico Palace***** - Taormina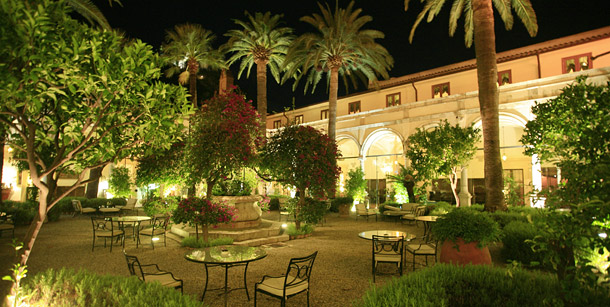 One of the loveliest hotels in all of Italy, let alone Sicily. An ex-monastery coupled with an ex-convent right in the heart of Taormina converted into a wonderful hotel that oozes class from every ancient statue and antique furnishing.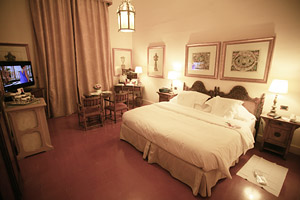 Treat yourself to one of the larger bedrooms in the monastic section with their big balconies looking out over the sea - you'll be glad you did when you see the view! The San Domenico Palace has two or three restaurants in operation (dependent on the time of year), one of which has two Michelin stars, fine dining indeed.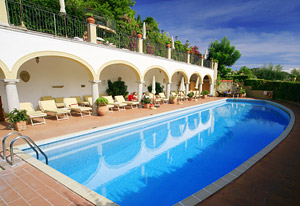 Outside amongst the bougainvilleas in the garden you find the small swimming pool. There is no spa as such, just one treatment room with its attendant beauty therapist. A very special place.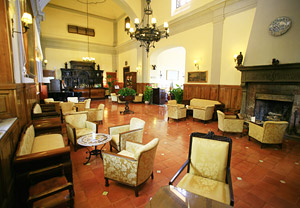 Taormina, Etna, Catania & Siracusa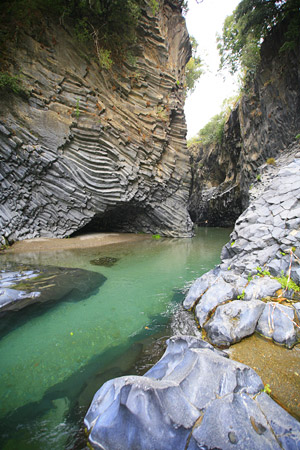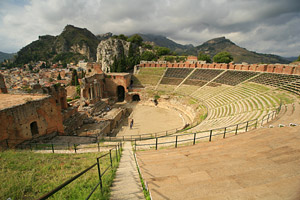 The big sight on this side of Sicily is of course Mount Etna. It's everything you'd want from a volcano: a snow clad smoking cone that can be seen from miles around. You can drive up to about halfway across weird black lava fields, then take the cable car up for a closer look at the cone and a snowball fight if you like!
In Taormina the ancient Greek amphitheatre is a very impressive arena - still in use today for special events (they don't build 'em like they used to).
Elsewhere around Etna there are many many off-course attractions: National Parks, the gorge at Alcantara, pistacchio groves at Bronte, wine tasting at Nero d'Avola, ruins and baroque churches at Siracusa and Catania, or just shopping and strolling in Taormina.