Verdura Golf & Spa Resort
Western Sicily's 36-hole five-star golf resort.

The Verdura Golf & Spa Resort
The Verdura resort was conceived by Rocco Forte as a tribute to family luxury, golf and spa holidays on Sicily's south coast.
Although a lot of the land is occupied by its two golf courses, it is quite clearly aimed at more than just golfers with a whole host of other activities on offer too such as: watersports, tennis, football et cetera. It might best be described as a resort with golf, rather than a golf resort. Great for golfing families with young children who need a little more entertainment than is provided by our genteel game of golf!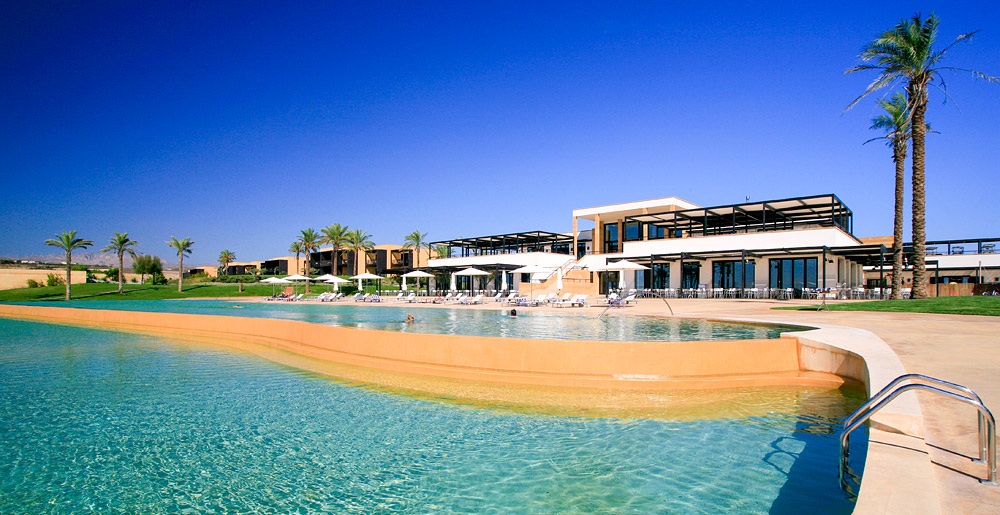 The Verdura golf courses
The two courses* at Verdura are broadly similar in style stretching from the entrance gate at the main road across flattish land to eventually wrap around both sides of the resort providing some pleasing seaside scenery. There are practically no trees on the courses (a few pines border a couple of holes on the West) so the layouts are more akin to links golf - without the pot bunkers and twenty degrees warmer!
Earth has been moved to add some shape to the wide Fairways and rough helps the definition; although the latter is kept well under control. Bunkering is of the large white sand variety, lending a USA look to some of your approach shots; however there is very little water in play, even on the seaside holes.

Verdura - East Architect: K. Phillips (2010) 18 holes: 6,056m: par 72
Arguably the more testing of the two courses with the majority of holes inland although the sea is always in view. A brief excursion to the seaside at the 6th and a final waterside flourish to the 18th.

Verdura - West Architect: K. Phillips (2010) 18 holes: 6,138m: par 72
The more attractive and entertaining of the two courses, running along the beach around the turn and over the tightly-knit closing holes. It also brings a few of the trees around the perimeter into view, hopefuly not into play!
*Verdura "Championship"
Verdura has hosted the Sicilian Open on a composite course of the best of the West and the East (basically the twelve prettiest holes nearest the sea plus six from the inland section). This loop is put in play twice a week so you should be able to play this course at least once during your stay. It will certainly be appreciated by established golfers looking for the best test of golf.
Verdura - the resort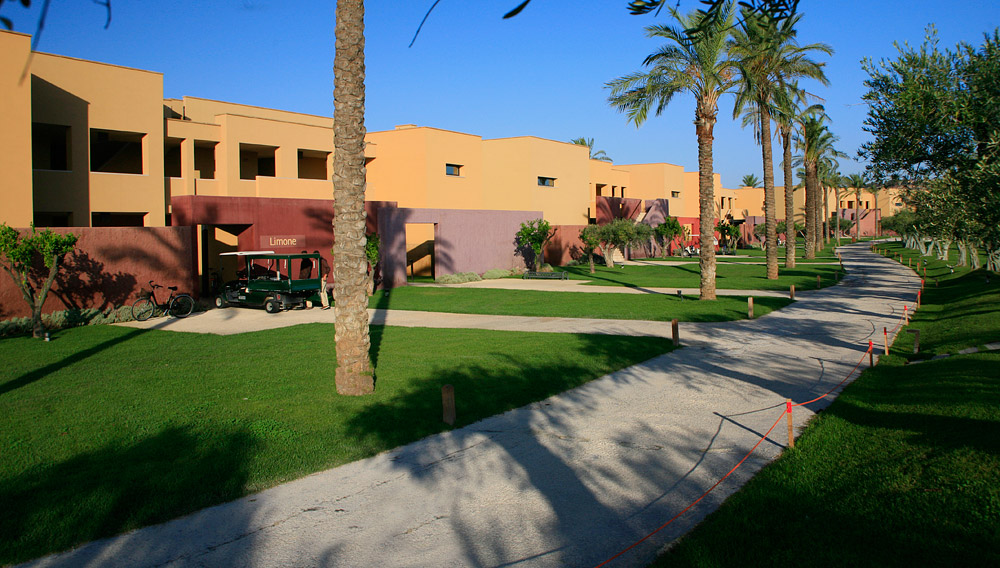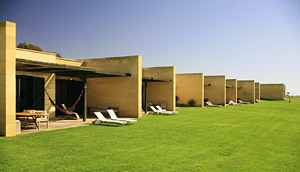 The Verdura golf resort is a very modern construction built from scratch on on empty land; there are no old parts at all. The overall design is very angular: rectangular blocks of rooms flank a central concrete and glass reception building.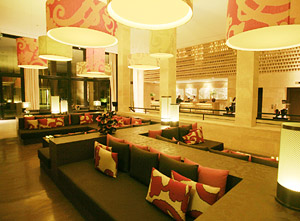 Verdura has been designed to satisfy the demands of the luxury activity holiday market and consequently attracts many families with sporty children looking to enjoy the various watersports on offer as well as tennis and other activities organised by the children's club each day.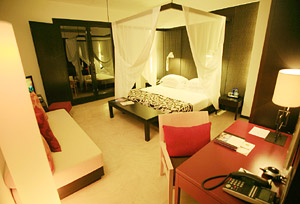 The central reception area is bright and spacious in front of an enormous swimming pool (60m wide) and lawn that extends down to the man made beach beyond. Breakfast is served here and is one of the best buffets we have ever seen: even down to five varieties of bottled water! There is a hot red bar with a cool terrace outside overlooking the pool, often with entertainment in the evenings.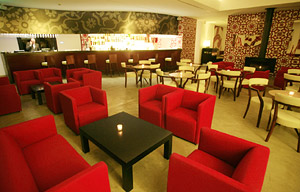 Bedrooms are a good size and all have either balconies or small patio areas facing the sea. There is a walk-through wardrobe leading into very large (although sparsely decorated) bathrooms that have both bath and rain shower. Suites have an extra sitting area and kitchenette (although any thoughts of self-catering would be misplaced!).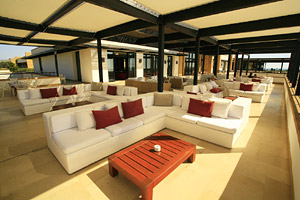 Getting around at Verdura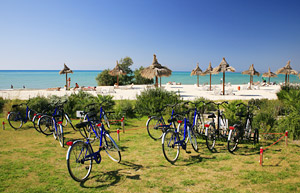 Verdura is very much a car free resort. So on arrival you will need to transfer your belongings into a golf buggy to be transported to your room: golf clubs may be stored at the Clubhouse (about 500yds from reception). There is then a valet parking service for your car.
With a resort that spans such a vast area, walking just won't cover the ground quickly enough. To overcome this, there is a fleet of bicycles liberally spread around the resort, just grab one and go!
P.S. There is also a tandem mixed in amongst the choice of steeds: even more of a test of partner than foursomes!
Dining at Verdura
The Verdura resort has three restaurants to choose from (although not all are open from October through to March, the prime golf holiday season).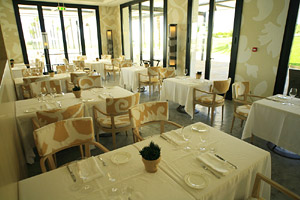 La Zagara - Verdura's fine dining restaurant on the ground floor of the Reception building and extends outside onto the pool terrace on warm evenings i.e. most evenings!. Very fine food and wine, not open at lunchtimes.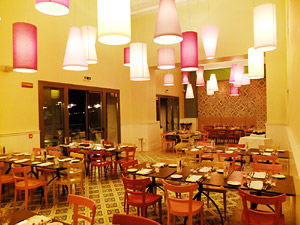 La Torre - essentially the golf clubhouse with an attached restaurant (Liola - but everyone calls it La Torre!) that serves pizza and pasta; a much more relaxed atmosphere.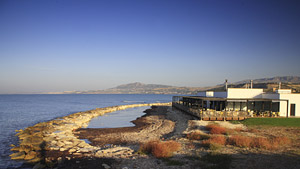 Amare - Verdura's specialist seafood and fish restaurant in a small white outpost right down on the beach. Closed during the Winter, but would possibly open for larger groups.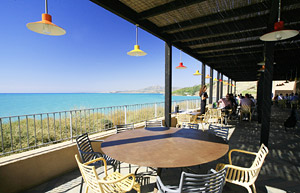 Clubhouse - open for golfers lunches with a nice array of snacks and a healthy buffet.
Verdura spa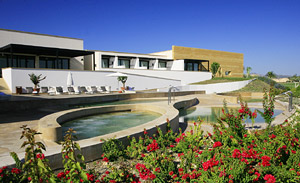 The spa at Verdura occupies its own, rather large, building opposite the Reception block. Here, in addition to the warm indoor pool there are four outdoor hydrotherapy pools with an assortment of water jets to pulverise various parts of your anatomy.
Back indoors you will find a gigantic mixed steam room, about the size of a squash court; plus single-sex saunas next to the respective changing rooms.
If all this isn't enough for you there is also a full gym and a range of treatments and massages available, plus a full beautician service.
During the day there are various exercise and yoga classes on offer too run by the extremely enthusiastic sports staff.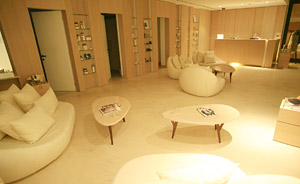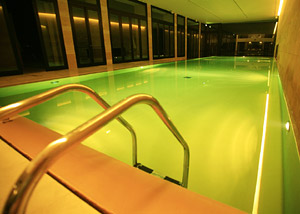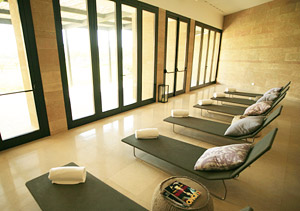 Around Verdura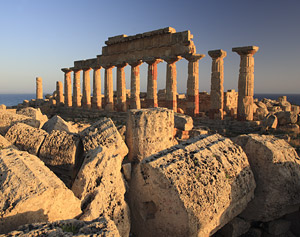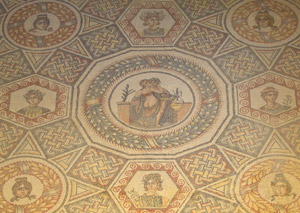 The nearest town to Verdura is Sciacca, a quiet little Sicilian town although it has a busy fishing port to keep it going.
Other sights within an hour or two's drive are the fabulous Greek ruins at Agrigento and Selinute, plus purists will enjoy Eraclea Minoa - one of the very first Greek settlements where foundations of the houses and the layout of the town around the hill top theatre are clearly exposed.
Further inland, the spectacular Roman villa at Piazza Armerina is well worth visiting, mainly for its huge expanse of superbly preserved mosaic floors, but also for a look at Sicily's interior en-route.