The best golf courses for holidays around Venice
Including: Venezia, Padova, Montecchia, Lido di Jesolo & Ca della Nave.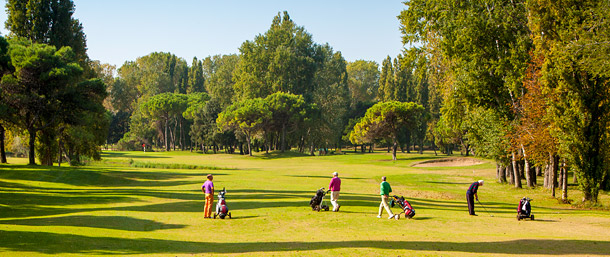 Venezia Architect: A. Cruickshank (1928). 18 holes: 6,039m: par 72.
The most distinctive of settings imaginable on the southern tip of the Lido di Venezia, only reachable by ferry (straight down the Grand Canal) from the mainland. Venezia is a wonderful olde worlde Golf Club that revolves around its original Clubhouse. The golf course entices you out to play and despite being comparatively short by today's standards, still provides a very entertaining test of golf. Fairly flat land (unsurprisingly!) through beautiful old trees with one or two little quirks to the terrain - like the blind drive at the First. Characteristically for the location, water comes into play in many places although it is not overdone; the course's main defence being small well bunkered Greens.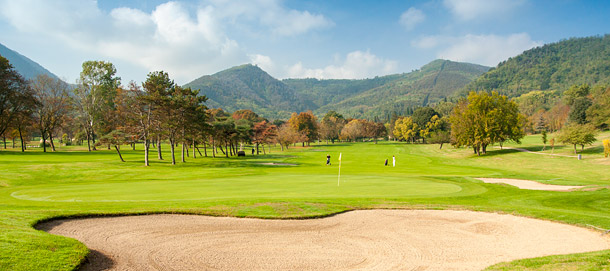 Padova Architect: J. Harris (1962). 27 holes: 6,153m: par 72
Probably the most exclusive of all the Veneto Golf Clubs, Padova is a private club that sits in a wide valley surrounded by the Eugaean Hills. This geography creates a peaceful golf course with some lovely vistas from the Tees and Fairways. Padova is a refined golf course with Fairways separated by avenues of varied, mature trees. There are three loops of nine holes at Padova: Red and Blue nines are the flatter two - but also have the most water in play; Yellow nine has more relief to the terrain - but is dry!


Montecchia Architect: T. McAuley (1988). 27 holes: 6,3184m: par 72.
A busy Golf Club with 27 holes, a big Clubhouse and plenty of members who are most welcoming and keen to show off their fine Club. Another flat expanse of land so all three nines are easy to walk and with a strong membership they are maintained in excellent condition. Many of the trees pre-date the course so there are plenty of fine arboreal specimens to avoid. The usual 18-hole course is the Rosso & Bianco, which are the prettier holes and have plenty of water in play; the Giallo nine are good holes too though - and a lot dryer if you are an hydrophobic golfer?!?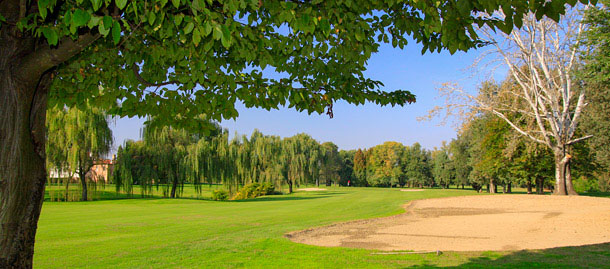 Villa Condulmer Architect: J. Harris (1963) & M. Croze (1983). 18 holes: 5,900m: par 71.
A game of two halves if ever there was one! The first nine holes were developed beside the luxurious Villa Condulmer (now a five-star boutique hotel) in the sixties and are a curious mix of short, tight, intricate holes with a couple of lengthy par-5s thrown in and all with diminutive Greens. The second nine is twenty years younger and a totally different course with more consistency in style, width of Fairways and area of Green: attractive parkland golfing.


Ca della Nave Architect: A. Palmer (1985). 18 holes: 6,041m: par 72
When the course was created in 1985 Mr. Palmer had a wide-open tract of ex-farmland to work with. Not surprisingly, rather than waiting 25 years for trees to grow, he decided to use water and sand to define the course - which he did in no uncertain terms! Huge lakes and vast bunkers have been created leaving just enough grass for the occasional Fairway here and there: the 14th has both an island Fairway and an island Green! Spectacular, US style golfing set behind the lovely old villa that nowadays makes a fine Clubhouse.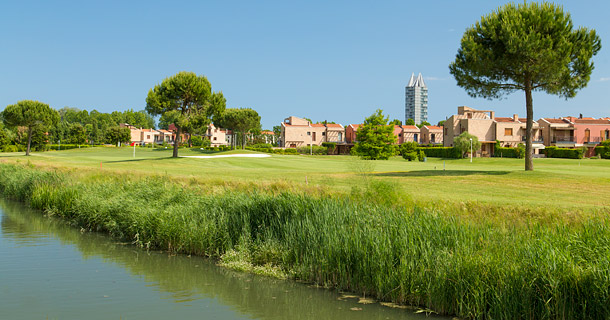 Lido di Jesolo Architect: M. Croze (2001). 18 holes: 6,288m: par 72.
The Lido di Jesolo is basically a holiday camp island with apartwents and hotels stretching the length of this thin peninsula on the northern side Venice. Marco Croze is an excellent designer and has created a course that is playable and enjoyable for all levels of golfer. Flat land with a little moulding of Fairways, big white bunkers and sensible use of water here and there.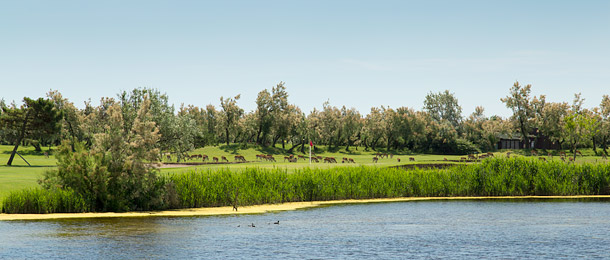 Albarella Architect: J. Harris (1972). 18 holes: 6,130m: par 72.
Albarella is a private island that sits in the fascinating wetlands of the river Po delta to the South of Venice. Amongst the houses the golf course forms a natural haven for the wildlife that is allowed to roam freely across the island (mainly fallow deer and exotic birds). The course itself is presented in a very natural state, is flat and fairly straightforward with low-growing trees and bushes interspersed between the Fairways. A little water comes into play on four or five, which are probably the most memorable. Simple hotel on-site if you wish to stay and enjoy the delta.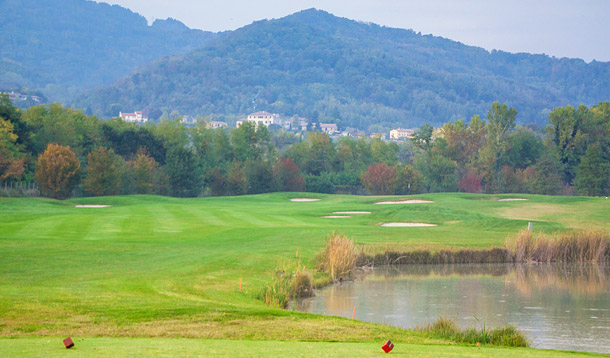 Asolo Architect: European Golf Design (1986). 3 x 9 holes: 6,299m: par 72.
Well on the way up into the Dolomites, Asolo is not quite a mountain course but is getting close to it. The course has plenty of hills both on it and around it and a real alpine crispness to the air. Three loops of nine again (a popular format amongst Veneto Golf Clubs) spread around the central modern Clubhouse, bedrooms and self-catering apartments (all available for stays). The course is heavily wooded throughout so most holes are played in isolation, which adds to the remote feel (despite the nearby main road). A tough challenge both golfingly and physically with nearly every hole having some degree of rise or fall.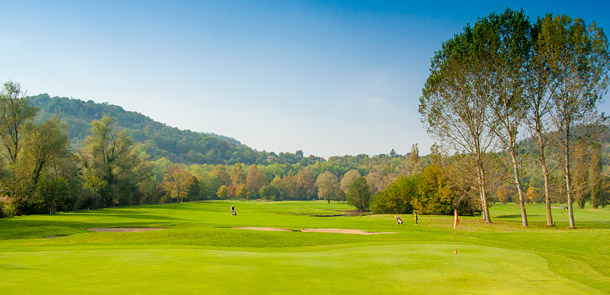 Frassannelle Architect: M. Croze (1988). 18 holes: 6,180m: par 72.
Tucked away in a very rural setting, Frassannelle has a quaint rustic charm about it. The course feels like part of the landscape with holes placed where nature intended with just a gentle hand from man here ant there. And nature is practically all you will hear as you wend your way through the tranquil countryside.

Other courses to consider:
Asiago
Way to the North of Veneto a mountainesque course over rolling hills - pretty scenery in the crisp alpine air but strenuous going.
Colle Berici
Short and very hilly course perched on top of a high, sharp ridge - the lane up to reach the course alone is not for the faint-hearted!