GOLF HOLIDAYS IN OBIDOS & PRAIA D'EL REY
Golf breaks with history, northwest of Lisbon.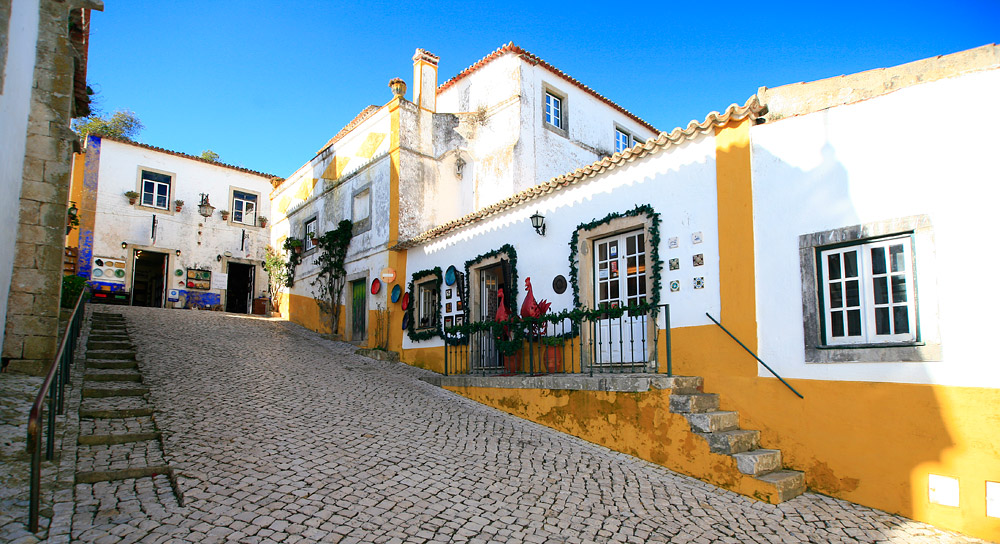 Golf holidays on the northwest Lisbon coast - Obidos & Praia d'el Rey
There are some superb golf course to be found north of Lisbon, some have (or will soon have) hotels on-site but for golf holidays with a taste of real Portugal there is no better place to stay than Obidos. A perfectly preserved (although thankfuly modernsied) medieval walled town complete with castle and fortifed gateways, Obidos is a journey back in time.
Assumedly unwittingly, Obidos just happens to have been built in the perfect location for golfers: equidistant from the three finest golf courses in the region: Golden Eagle, Royal Obidos and Praia d'el Rey.
Golf holidays in Obidos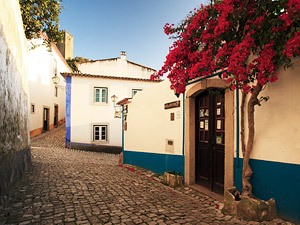 The whole town is an intoxicating blend of colours with the tiny whitewashed houses trimmed in various shades of golden yellow, deep turquoise, sky blues and scarlets. In between the black and white cobblestones cover every square centimetre of ground. At the very top of the hill the castle dominates the skyline standing guard over the pan-tiled roofs and church spires.
The narrow cobbled streets of Obidos are crammed full of places to dine and all are good as they vie for the tourist Euro. Being Portugal, fish is of course in plentiful supply but there are also many meatier dishes on offer as this is really an inland community surrounded by lush farmaland. You will also find some late-night Tapas bars.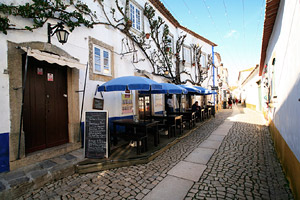 The streets of Obidos also offer plenty of places for a refreshing beverage and in the more wintry months some darkened doorways that enter into dimly lit bars with roaring fires and cheery barmen.
Getting to Obidos
Getting to your golf holiday in Obidos could hardly be any easier with so many flights to Portugal's capital city: Lisbon. From the airport you head north on the motorway and in just under an hour you will be arriving at your hotel (or striding towards the first Tee). Obidos is located just five minutes form the motoway, it really couldn't be much easier!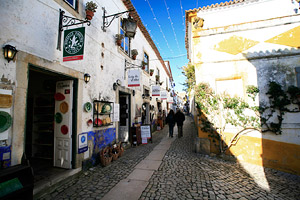 We can arrange flights for you to Lisbon with British Airways, TAP or any of the lo-cost airlines or we are equally happy to let you book these yourselves if you prefer?
We can arrange a hire-car for the duration of your holiday, alternatively we have a very reliable coach and minibus company that we use if you prefer to be chauffeured from golf course to hotel and back during your golf holiday in Obidos or the Marriott Praia d'el Rey.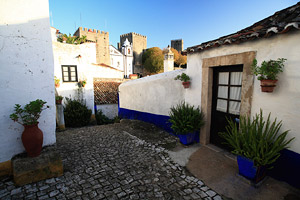 Around and about Obidos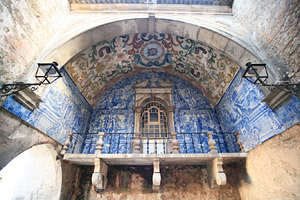 The region has some fascinating sights, not least the Santuario just outside the town. There is also the Lagoa d'Obidos nature reserve, a huge lagoon with walks and fishing spots that you will drive past on your way to the golf courses, or the beach.
The coastline has huge sandy beaches with plenty of activities occuring all year round. At Foz do Alghero there is a vast sandbar that seals of the Obidos lagoon from the ocean at low tide - a lovely spot for lazing away a sunny post-golf afternoon. Or ripping your arms out of their sockets with some kite-surfing!