THE BEST COURSES FOR GOLFING HOLIDAYS IN SOUTHERN BRITTANY
Including: Baden, St. Laurent, Odet, Val Queven & Ploemeur-Ocean.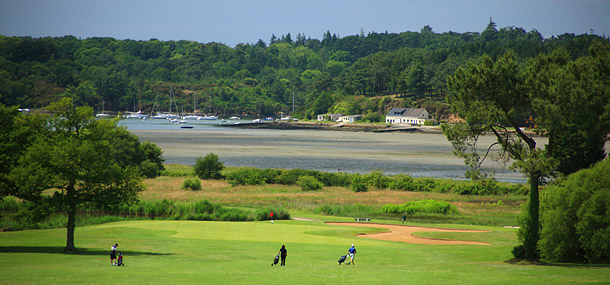 Baden Architect: Y. Bureau. 18 holes: 5,952m: par 72.
One of our favourite courses in France for the sheer variety of golfing challenges and landscapes that confronts the golfer at Baden. From the first hole that falls away from the Clubhouse down to the Gulf of Morbihan to the long closing hole between the sand and pines back up to the Clubhouse, the course is hard to fault. A few gentle slopes but generally very walkable (buggies are available if required). One not to miss if you are in Brittany!


Ploemeur-Ocean
Architect: M. Quenouille.
18 holes: 5,819m: par 72.
Out on the scenic rocky coastline, Ploemeur-Océan is a marvellous combination course of nine varied inland holes and nine genuine links holes exposed to everything that the Atlantic can throw at them! The inland holes are almost parkland in style as the sandy soil gives way to terra more firma and there are some tight Fairways to negotiate, especially where the river courses through. The oceanside nine have been designed in true links style and can be benign and beautiful on a still day but will test your game severely when the wind gets up: on days such as these, you may need to call on the calming influence of the broad ocean vistas...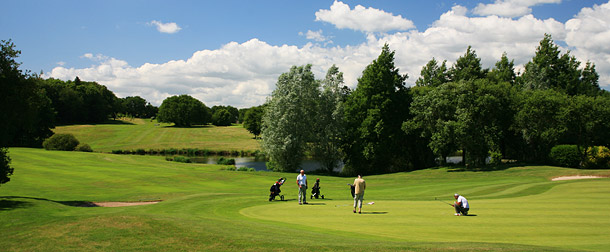 Val Queven
Architect: Y. Bureau.
18 holes: 6,107m: par 72.
Enfurled in the pastoral heartland of Brittany, Val Queven is more about la terre than la mer. The course rises and falls across what were once open pastures and arable land and has a great sense of space about the course. The course plays to it's full length as Fairway grasses are generally kept quite long, so plenty of unreserved driver flexing will be required. Another feature of Val Queven is the vast acreage of Greens with plenty of borrow. Unless you possess a set of laser-guided irons, you are more than likely to have some memorable putts at Val Queven.


St. Laurent
Architect: M. Fenn.
18 + 9 holes: 6112m: par 72.
This classic parkland course has twice hosted the French P.G.A. Championship. The front nine has the most interesting and testing holes with slightly wider Fairways and some water coming into play on holes six & seven. The back nine has some gentle slopes and narrower Fairways with a few dog legs that demand accurate driving.
St. Laurent - 9 holes
2,510m: par 34.
We would strongly recommend considering the nine-hole course too, which has arguably the most interesting set of holes at St. Laurent. If you like, we can always request the front nine and the nine-hole course for your day at St. Laurent. Or better still, stay for a good lunch and then take it on as a digestif?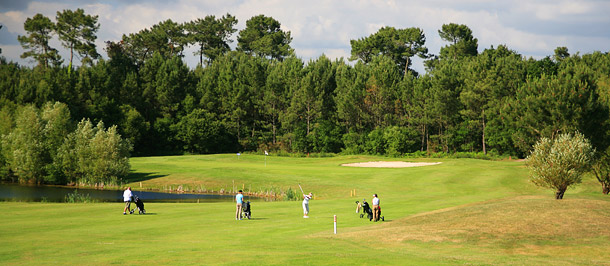 Odet
Architect: Y. Bureau.
18 holes: 6100m: par 72.
Close to the seaside resort of Benodet, Odet is an inland course that invites judicious use of the driver to conquer its longer holes (and there are some). The course is on fairly level terrain that wanders in and out through the ancient woods and stone walls that once divided the land in this part of Brittany. There is a good variety of holes and water creeps in here and there to keep you on your toes. Another feature are the Fairway hummocks that are apparently natural but can provide an interesting twist of fate to your Tee-shots and make for some semi-blind approaches. That said, Odet is generally an even-handed course where good play will get you a good score.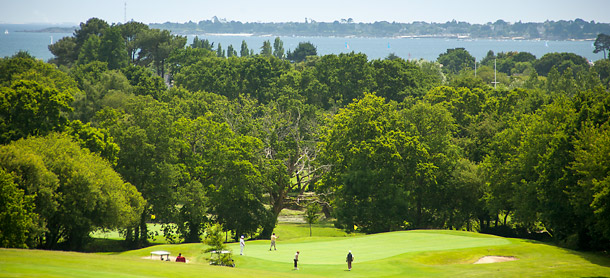 Cornouaille Architect: F. Hawtree (1959) 18 holes: 5,682m: par 71.
Practically in the centre of the town of Forêt Fouesnant, Cornouaille Golf Club is a slightly shorter course amongst beautiful woodland, indeed it is arboretum-esque in places. However it will set you the full array of golfing tests, with water encroaching on the lower section and one large hill in the middle of the back nine that you need to play up and down. Back in great condition and the joyful little white Clubhouse aptly reflects the Club's spirit.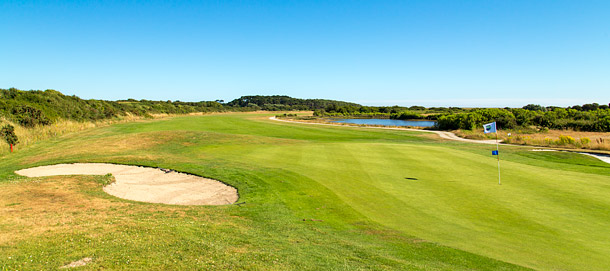 Rhuys Kerver Architect: O. Brizon. 18 holes: 6,016m: par: 72.
A tight course that picks its way between the lakes, ponds and pools of a wetlands bird sanctuary. This also means that it is kept in a very natural state with little use of herbicides et cetera, this lends a certain rustic charm to the narrow Fairways of Rhuys Kerver. Tricky golfing so proceed with caution, but at least you will see some rare birdies (sorry).

Other courses to consider
Rennes-St. Jacques
Architect: R. Berthet.
18 holes: 6,135m: par 72.
A good parkland layout justs south of Rennes, with a healthy membership that ensures it stays in good condition year round..
La Freslonniere
Architect: A. du Bouëxic
18 holes: 5,650m: par 72.
An old manor farm (now the warm and cosy Clubhouse|) that has been turned into a fun little golf course just to the West of Rennes.