THE BEST GOLF COURSES FOR HOLIDAYS IN FONTAINEBLEAU
Including: Fontainebleau Golf Club, Cély & Chateau d'Augerville.



Fontainebleau Architect: T. Simpson (1909). 18 holes: 6,074m: par 72.
In the depths of the forest of Fontainebleau, ensconced in silent ancient woodland it is sometimes hard to believe that you are playing golf so close to Paris. Tom Simpson fitted the course to the surroundings perfectly giving the whole place the look and feel of the best traditions of golf. The course itself is not the longest (and unlikely to be lengthened) but the small tricky Greens will have you fighting for your score. N.B. No buggies (but the course is easy walking).


Cely
Architect: Adam & Fromanger (1990).
18 holes: 5,874m: par 72.
One for golfing tacticians. A modern style course on a gently sloping hillside with plenty of water in play and large fast Greens with plenty of borrow: positioning your ball all around the course is vastly more important than sheer length. The original trees have been added to with new plantings to help delineate Fairways and these have now filled-out nicely lending each hole a little more privacy. Clubhouse is a mock-château affair - complete with moat!


Augerville
Architect: O. Dongradi (1995).
18 holes: 6,294m: par 72.
A fun course that will have you trekking through the hills and forest around the white château that serves as Clubhouse and hotel. Certainly not an easy course and one that has a few quirks and surprises here and there, but kept in good condition by its enthusiastic owners. A great course for matchplay (as long as everybody or nobody has prior course knowledge!).


Val Grand (Bondoufle) Architect: M. Gayon (1991). 18 holes: 5,893m: par 71.
A broad plain studded with trees onto which a golf course of modern design has been etched. Wide Fairways skirt around some large water hazards and between bright white bunkers - there's a very US feel to Val Grand.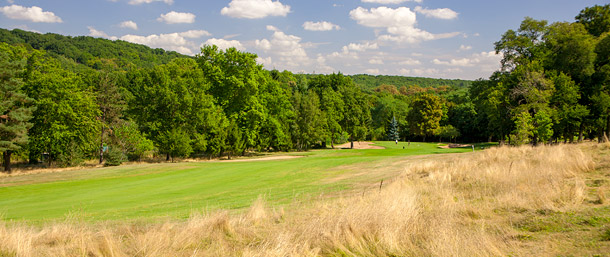 Coudray Architect: C. Cotton (1960). 18 holes: 5,761m: par 71.
The clubhouse and first few holes sit above the majority of the course and have quite a towny feel to them as they are ringed by houses. However the course soon descends away from the buildings through avenues of fully grown oaks onto a quiet wooded river plain.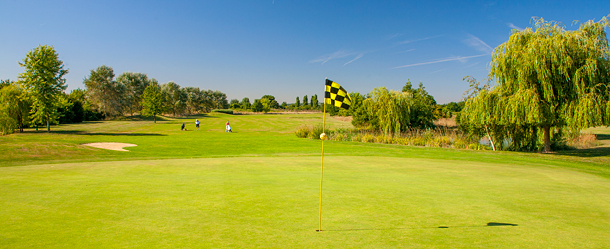 Mennecy-Chevannes Architect: Gaia Concept (2011). 18 holes: 6,277m: par 71.
A very rustic, almost home-made, feel to this quiet little club with its wooden clubhouse tucked away amongst agricultural land behind the small village of Chevannes. The course is very flat, so easily walked and although long from the back tees it is a much gentler proposition from the forward tees. The fairways are wide, bunkers have been constructed without faces and there is only a splash of water here and there: a relaxing course for those new to the game.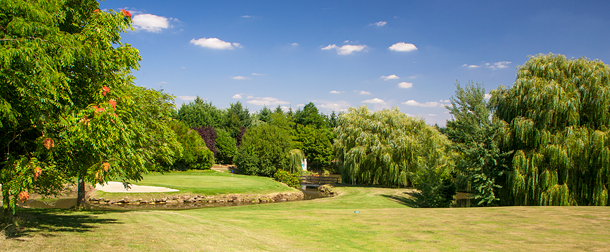 St. Germain les Corbeil Architect: P. Drancourt (1989). 18 holes: 5,462m: par 70.
The Club's soubriquet "Garden Golf" gives you a good idea of what to expect at this short, pretty golf course. Lots of specimen trees, shrubbery and flowers as you wind your way around the gentle slopes of this residential development on the southern outskirlts of Paris.


Montereau La Forteresse Architect: P. Drancourt (1989). 18 holes: 5,880m: par 72.
A very mixed bag of golf holes with some on the open sloping hillside in front of the old farmhouse (now the clubhouse) and others tucked away in the copse at the top of the hill. A small, isolated Club with a friendly welcome but limited resources.

Belesbat


Architect: Adam & Fromanger (1990).
18 holes: 6,033m: par 72.

A rare setting for a golf course within the walls and grounds of the Chateau de Belebat. This constrains the length and shape of certain holes but adds a huge amount of visual appeal.

Closed until further notice, sadly.