THE BEST GOLF COURSES FOR LAKE MAGGIORE GOLFING HOLIDAYS
Including: Castelconturbia, Bogogno, Biella-Le Betulle, Iles Borromées & Le Robinie.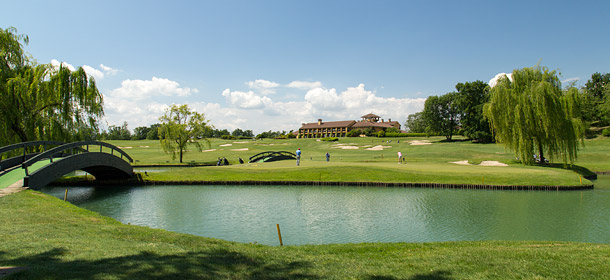 Castelconturbia Architect: R. Trent Jones Snr. (1987) 27 holes: 6,230m: Par 72.
There are three excellent loops of nine holes around the wondrous burnt sienna Clubhouse that looks out over the surrounding forest. The course has a few elevation changes: the Greens have lots, so landing your approach in the correct quarter of the Green is a distinct advantage (unless you name is Harry Potter). A beautiful place to play golf.


Bogogno - del Conte
Architect R. Von Hagge (1996) 18 holes: 6,485m: Par 72.
Playing out in front of the luxurious Clubhouse and under the gaze of Monte Rosa, the course appears at first glance to be the more expansive of the two, with huge sandy bunkers and deceptively wide, level fairways. But be warned, there are plenty of strategically placed water hazards awaiting you amidst the distant woods…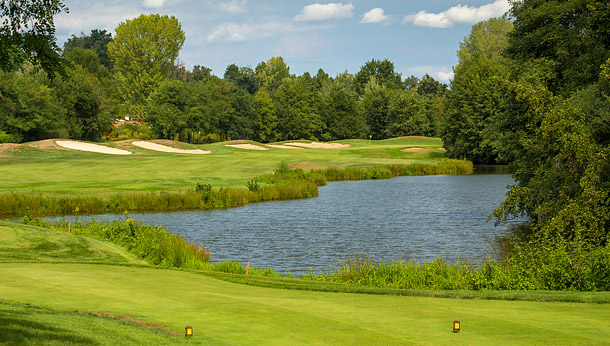 Bogogno - Bonora
Architect: R. von Hagge (2000).
18 holes: 6,284m: Par 72.
A huge variety of holes on this exceptional course that takes you on a fantastic journey away from the Clubhouse and down through a lush river valley in the Piemonte countryside. The course has been shaped in places but predominantly follows the natural contours of both the land and the river, so a hillier alternative to Del Conte, where a buggy might be considered useful.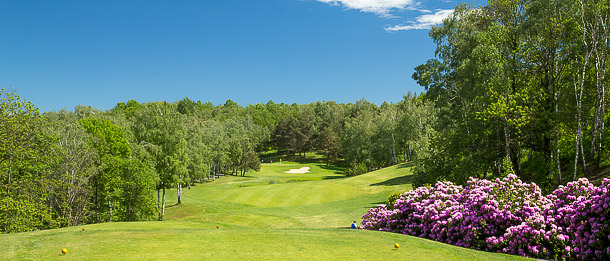 Iles Borromees
Architect: M. Croze (1987).
18 holes: 6,122m: Par 72.
A roller coaster ride of outstanding natural beauty in the crystal clear alpine air high above Lakes Maggiore and Orta: the scenery alone can't fail to touch your soul. The course itself is kept in superb condition and you will need every ounce of your skill and imagination to negotiate the twists and turns of these testing holes. Walkable, but buggies are recommended.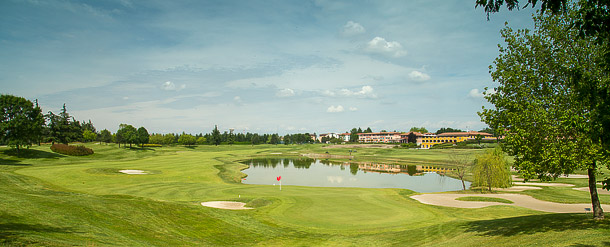 Le Robinie Architect: J. Nicklaus (1992). 18 holes: 6,520m: par 72.
As one might expect from Jack Nicklaus Esq., Le Robinie is a rather good test of golf. The plentiful (and sizeable) hazards, composed of sand and water, are plain for all to see. Stadium style in design the course has a very modern feel to it which contrasts nicely with the traditional private Clubs.
P.S. If you have a few days to spare, try your hand at Jack's devilish putting course...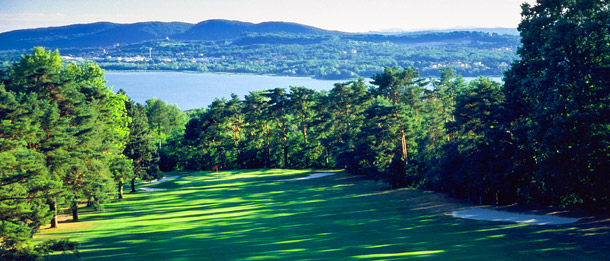 Varese
Architect: C. Blandford & P. Gannon (1934).
18 holes: 6,105m: par 72.
Not far from Arona on the shores of Lake Varese, a course that warrants a little effort to reach and a little more to play. On the slopes of the hillside running down to the lake of Varese a truly beautiful course between mature trees. Although hilly, most of the holes are on flatter areas with ascents and descents between Greens and Tees. And we guarantee that you will have never seen another Clubhouse like this!

Turin golf courses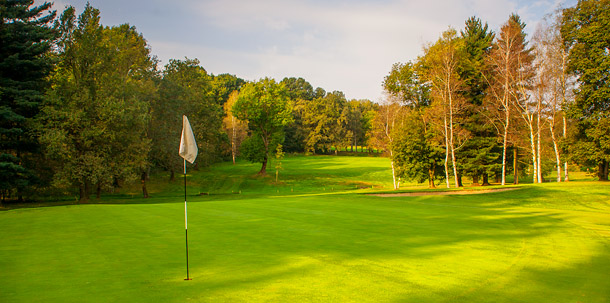 Biella - Le Betulle
Architect: J. Morrison (1958).
18 holes: 6,497m: Par 73.
The almost secretive Le Betulle is often touted as Italy's prettiest course and there is no denying that its setting in the tranquil wooded hills above Turin is delightful. Although quite a lengthy trip from Arona the combination of a devilishly difficult layout that follows the twists and turns of the countryside and a glorious setting makes it worth considering the drive. Alternatively there are rooms available in the charmingly small Golf Hotel on-site (with a great restaurant) if you fancy the idea of a golf retreat?

Royal Park 'I Roveri'
Close to Turin, a burgeoning Club that now has two courses (and two names!), a large Clubhouse and plenty of Torinese members - yet still very welcoming to visiting golfers.  Despite having different designers, the two courses are quite similar in style, due no doubt to the similarity in the terrain they had to work with. Although the courses are long they are easily walked making 36-holes here a possibility if you like to end the day with your legs fully stretched (buggies are also available).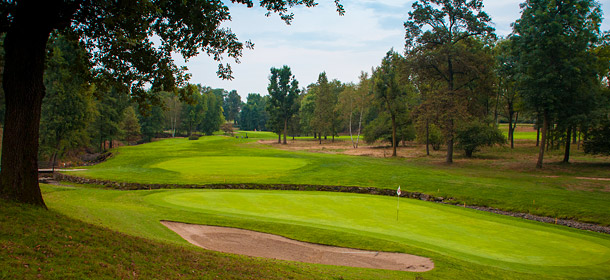 Royal Park - Trent Jones Architect: R. Trent Jones Snr. (1999). 18 holes: 6,218m: Par 72.
The original course at I Roveri so not surprisingly it has fully established woodland and Mr. Trent Jones purloined the most interesting land for his course with some gentle rises and falls and made good use of a stream that cuts across several holes.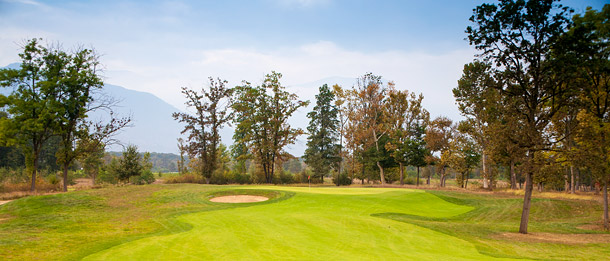 Royal Park - Hurdzan Fry Architect: Hurdzan Fry (1999). 18 holes: 6,165m: Par 72.
Slightly blander land for the second course at I Roveri but some gentle earth shifting has improved the relief and new plantings have filled-in the more open areas that are now filling-out nicely but still give great views of the nearby mountains. The course is generally more forgiving than the Trent Jones although it may not appear so at first sight with its huge lakes!