THE BEST GOLF COURSES FOR GOLF HOLIDAYS IN TUSCANY
Including: Ugolino, Montecatini, Poggio dei Medici, Le Pavoniere & Castelfalfi.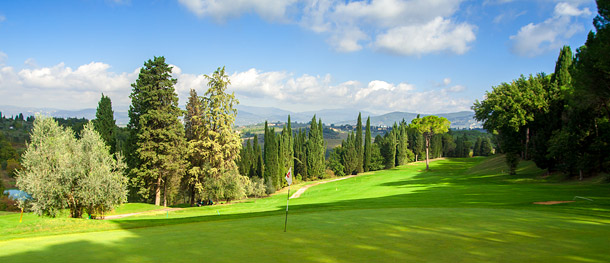 Ugolino Architect: P. Mancinelli. 18 holes: 5,676m: par 72.
In the very heart of Chianti country, Ugolino is one of the birthplaces of Italian golf, occupying its current site since 1933. A club rich in heritage. The front nine is a little quirky as it swoops up and down through the cypress clad hills. If you can shape your shots to hold the Fairways it will greatly help! The back nine however is more straightforward and plays over level elevated terrain offering both some scoring opportunities and Tuscan vistas over Chiantishire.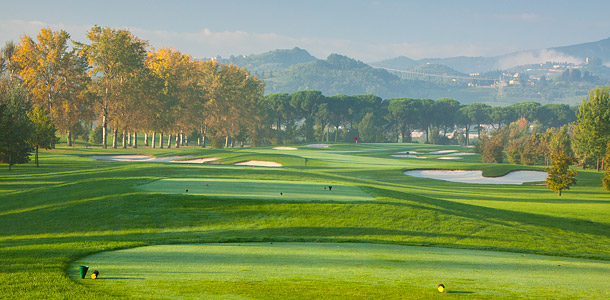 Le Pavoniere Architect: A. Palmer. 18 holes: 6,137m: par 72.
This Arnold Palmer masterpiece sits, in fabulous condition, on a plain surrounded by rolling Tuscan hills hidden away behind the town of Prato, halfway between Montecatini and Florence. Predominantly flat land has been given some gentle relief to shape the holes and plenty of water has been worked into the design - visually and strategically; coupled with large bunkers and a decent length from the back Tees, Le Pavoniere can be a stern test of golf. However respite awaits within the lovely Clubhouse.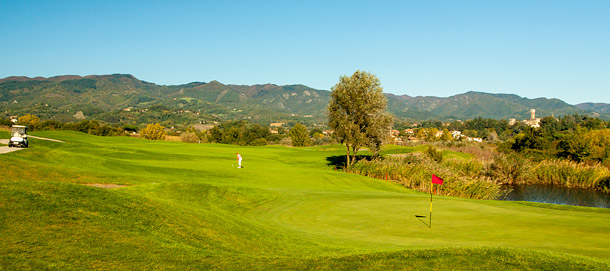 Poggio dei Medici Architect: B. Dassú. 18 holes: 6,220m: par 72.
The purest of Tuscan settings with cypress clad hillsides all around for this great test of golf. A modern design which utilises the contours of the swooping terrain to create testing holes where some deceptive elevation changes make club selection tricky yet vital to get right if you want to stay out of the extensive bunkers and avoid landing yourself in three-putt country on the considerable acreage of rolling Greens.
Frequent host of the Italian Ladies Open.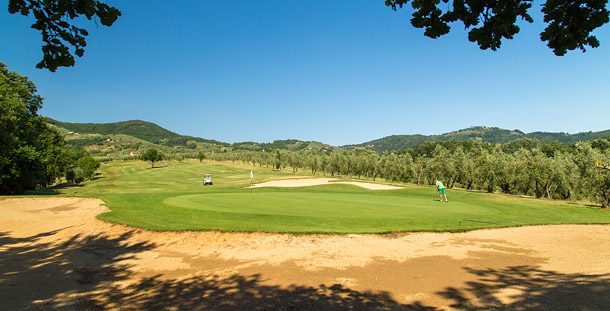 Montecatini Architect: M. Croze (1988). 18 holes: 5,857m: par 72.
Possibly the quintessential Tuscan golf course. Set amongst olive groves, mixed woodland and the occasional specimen cypress. The gently rolling slopes of the Montecatini golf course provide classic Tuscan panoramas. The course is thoroughly enjoyable, with a few tricky corners here and there but generally not too long or tough, with holes running generally through the valleys and along the ridge tops.
Lovely stone clubhouse (with half-a-dozen bedrooms if you would like to stay on-site) where a warm welcome and home cooking awaits.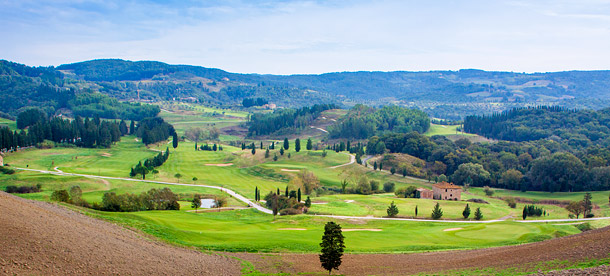 Castelfalfi Architect: P. Mancinelli. 18 holes: 5,869m: par 73.
Away to the southwest of Florence, practically lost amongst the endless folds of Tuscan hills lies the Castelfalfi resort. Here there are 27 well kempt, entertaining, rather hilly, holes of golf along with an hotel and soon to be finished apartment complex built into a new Borgo around the old castle. Owned and managed by the giant German holiday company 'Tui' it also has an ambience that is more Teutonic than Tuscan.

Golf courses near Pisa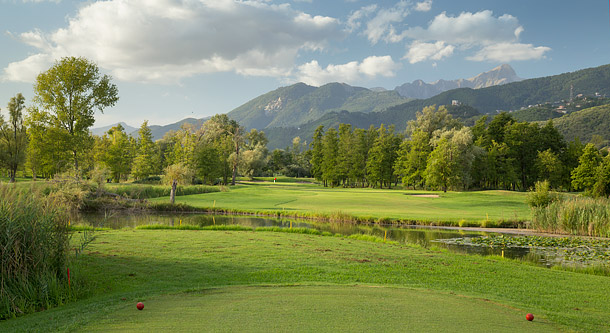 Versilia Architect: J.M. Olazabal (1990). 18 holes: 5,873m: par 71.
A pretty course, almost a botanical garden in some areas, where most holes should be reachable in regulation (in fact they only have Yellow and Red Tees). The holes are quite tightly knit around the numerous lakes and streams that criss-cross the course. Level terrain makes for easy walking so 36 holes in a day here is very achievable - as long as you are not waylaid by the glittering Clubhouse's Michelin starred restaurant...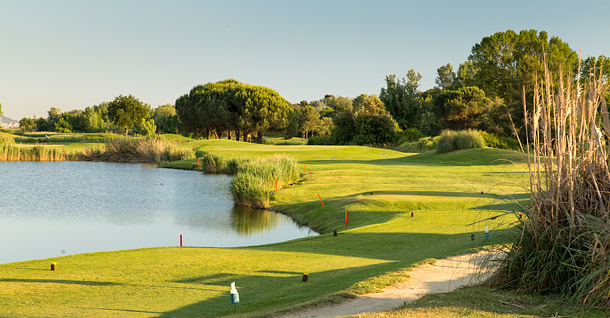 Cosmopolitan Architect: D. Mezzacane (1992). 18 holes: 5,830m: par 72.
Cosmopolitan is a modern course across level ground that was originally very open. This terrain has since been extensively moulded to delineate holes, lakes added and trees planted, to become an attractive and enjoyable test of golf. Another feature of Cosmopolitan Golf Club is its amazing circular Clubhouse almost surrounded by a moat-like swimming pool! Cosmopolitan sits close to the seaside resort of Tirrenia, just south of Pisa and under an hour from Montecatini: very handy for a game if you are flying in or out of Pisa.