LAGOS & PENINA GOLF CLUBS
Our recommended courses on the western Algarve.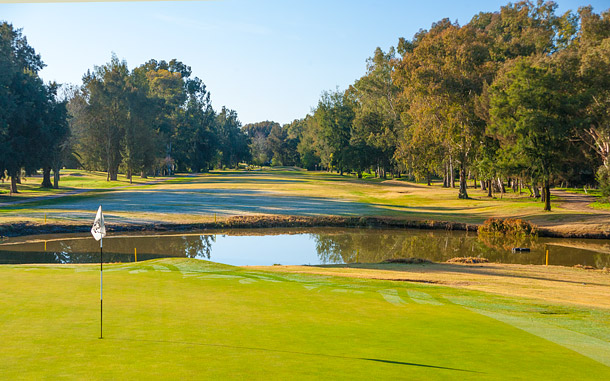 Penina Architect: Sir Henry Cotton (1964). 18 holes: 6,505m: Par 72.
When Sir Henry Cotton laid out Penina back in 1964 he can't possibly have imagined the golfrush that would follow along the length of the Algarve. His original course stands just as he intended - English parkland under the eternally warm Portuguese skies. Level ground all the way around, with plenty of woodwork separating Fairways and water coming into play in a couple of areas. Not the longest by today's standards (although the par-3's are all strong) it is still an enjoyable round of golf.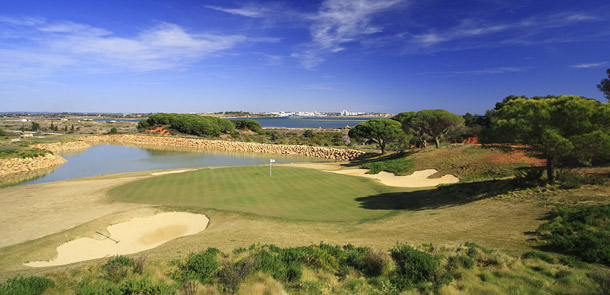 Palmares Architect: R. Trent Jones Jnr. (2008). 27 holes: 6,133m: Par 72.
The original Palmares course was taken over by the luxury hotel chain Onyria in 2008, since when Palmares golf course has enjoyed a large injection of cash and a complete makeover. It must now be the finest 27-hole complex on the Algarve. There are three loops of nine holes; broadly speaking two of these are quite hilly (buggy maybe?) preened parkland through parasol pines overlooking the sea, the third a pure links nine that runs along at sea level with a wild natural feel. The eighteen you play will vary on a daily basis, so two days here is really not a bad idea at all.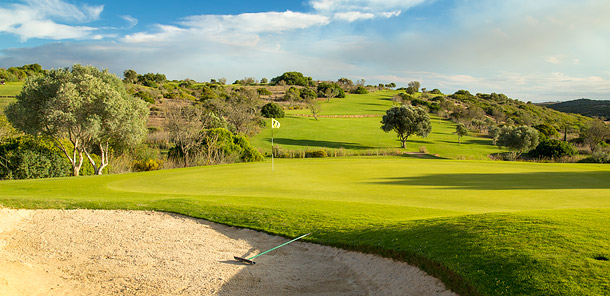 Espiche Architect: P. Sauerman. (2012). 18 holes: 5,862m: Par 72.
A very distinctive new course on the western Algarve, designed from the outset to be 'at one with nature'. So, delightfully (and unusually), there are no buildings around the course (apart from the stone and glass Clubhouse) just wide expanses of open terrain that lend Espiche a wild and rugged beauty. Amidst the dark bush, bright green Fairways rise and fall in a series of tight testing holes that means it plays a lot tougher than the length alone suggests:a venue for the thoughtful golfer. Grasses have been selected that will flourish naturally with a minimum of chemical help: the first of the new breed of eco-courses?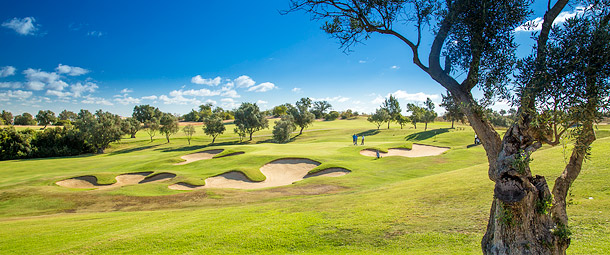 Vale da Pinta Architect: N. Price. 18 holes: 6,127m: Par 72.
A well cared for course that is good fun to play and has a nice natural feel. The land has plenty of relief to it and is covered by olives and cork oaks through which the holes twist and turn. Not long, but thought and accuracy are required to pick your way around the hills, valleys and abundant trees.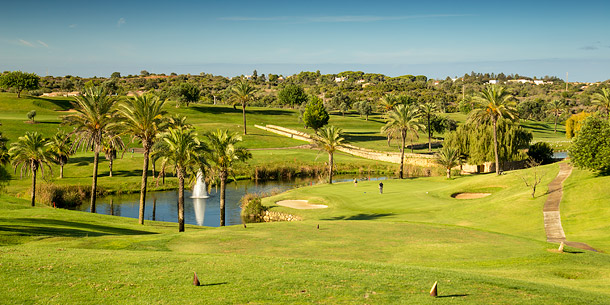 Gramacho Architect: R. Fream. 18 holes: 6,107m: Par 72.
Gramacho is a medium length course that stretches over moderately hilly terrain in an area of holiday homes although they do not impinge too greatly on play. In some ways Gramacho has a slightly 'manufactured' feel to it with its pretty water features and palm plantations, however it's all very nicely done. It also has some unique features such as the two Greens on the short par-4 14th. Maintained in superb condition it is an entertaining and relaxing place to play.


Silves Architects: J. Matias & P. Booth (2006) 18 holes: 5,615m: Par 70.
After a straightforward start beside the Clubhouse, Silves crosses a country lane, climbs onto a small plateau and metamorphoses into a visual feast with some beautiful holes around several small lakes. The eleven holes on this side are well spaced out (villas will one day fill the gaps no doubt as its part of the Pestana property group) so at the moment Silves has a broad, open-air feel as you wind your way across the Algarve hinterland.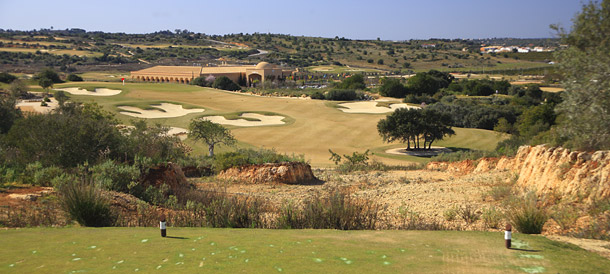 Amendoeira - Faldo Architect: Sir. N. Faldo (2007). 18 holes: 6,598m: Par 72.
Given some tough land to work with: dry inland hills; Sir Nick has etched a demanding course on the landscape with little respite from either golfing demands or the heat of the midday sun. The course twists around behind the swanky Clubhouse and practice ground in a rather tortuous fashion initially, then runs away to the distant hills where it becomes more like a green big-dipper, carved (literally in places) through the limestone bedrock. A real test, great for matchplay.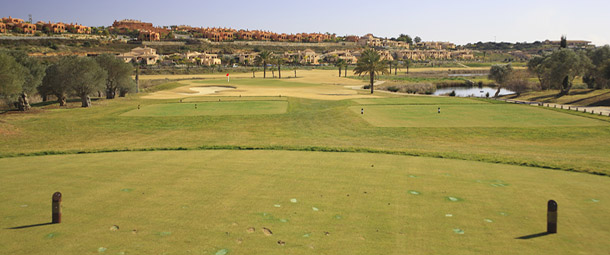 Amendoeira - O'Connor Architect: C. O'Connor Jnr. 18 holes: 6,708m: Par 72.
Christy O'Connor was given the gentler land at Amendoeira to conjure with and he came up with a much more relaxing style of golf course on flat land where the hazards are more traditional in nature: sand and water. The course does run close to the obligatory residential development to which the access road runs over the course at head height on a salmon pink flyover, which detracts from a few holes, but in general the course is pleasing in the Algarvian style.

Alamos and Morgado are part of a large development including hotels and villas that has gone slightly awry due to the economic crash of 2008. The golf courses are currently open for play and the hotel is now finished, but there is unfinished construction work around the periphery of the Morgado course.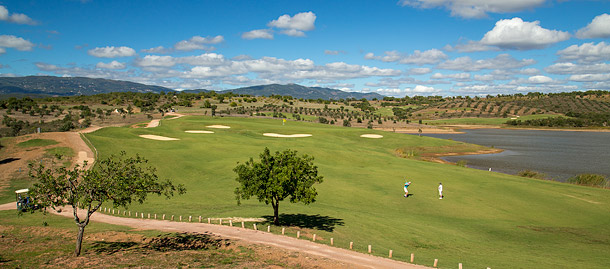 Alamos Architect: European Golf Design. 18 holes: 5,683m: Par 71.
The Alamos course is less affected by the above as it starts over the road from the Clubhouse and after the first hole skirting the huge lake/reservoir traces its course through some wild open land. The course has an unusual rhythm to it with two areas of large expansive holes connected by a stretch of shorter tighter holes through a wooded gully that have a very different feel to them.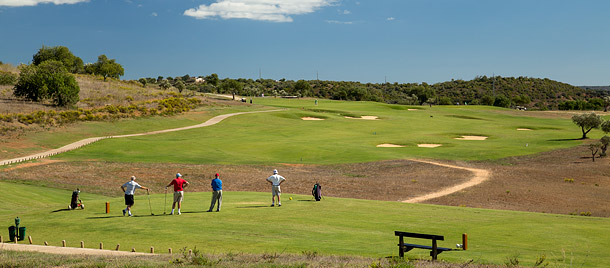 Morgado Architect: European Golf Design. 18 holes: 6,399m: Par 73.
The Morgado golf course is more uniform in style of holes, long and wide with plenty of big white bunkers to attract your eye and possibly your golf ball... Generally flat with one small rise and fall the hazards are plain to see from the Tee, so you can expect to play to your Handicap as long as your putter behaves on the large slick Greens.


Salgados Architect: P. Vasconcelos 18 holes: 6,079m: Par 72.
A popular holiday course (hotel on site) that offers an easy walking round on flat land where the Fairways are divided by strips of palm trees and omnipresent waterways.

Other courses to consider:-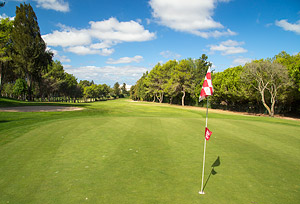 Alto
Architect: Sir H. Cotton (1966):
18 holes: 5,555m: Par 72.
One of the oldest courses on the Algarve and a little bit of history too as it was Henry Cotton's last opus. Alto is short and sweet: seventeen closely packed diminutive holes and one monster par-five - 16th! Once the longest hole in Europe at 570 metres, the Club will still buy you a beer if you make par! Very close to Alvor, so lots of holiday golfers.

Boavista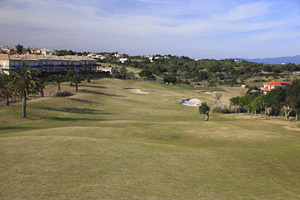 Architect:
18 holes: 6,111m: Par 72
Part of a holiday development where many holes are lined by villas along their full length. Hilly terrain with a central section that is more open. Ravine to cross halfway round that forms their "Signature" hole a par-3 that is do or die!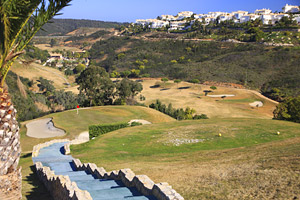 Parque da Floresta
Architect:
18 holes: 6,238m: Par 72.
Some extraordinary holes on the front nine that make you wonder whether a golf course is appropriate use of this land?!?
Back nine better.