THE BEST GOLF COURSES FOR HOLIDAYS IN NORMANDY
Including: Deauville, Champ de Bataille, Etretat, Dieppe, Le Havre & Omaha Beach.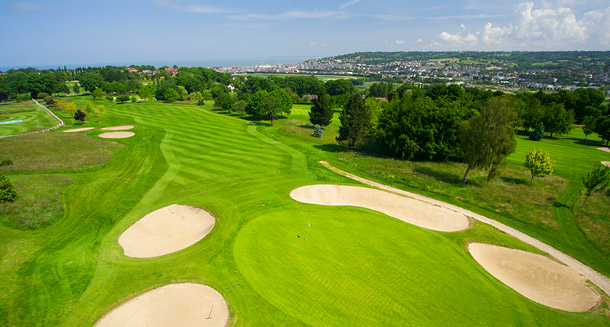 Deauville Architects: T. Simpson & H. Cotton (1931). 18 holes: 5,934m: par 71.
On the hillsides around the Hotel du Golf Barriere, high above Deauville, this classic parkland layout has a quite British feel to it: hardly surprising given the architects! Nearly all the holes have some degree of elevation or descent with the back-nine being generally trickier as the sloping Fairways need a little interpretation from the Tee. There are some delightful Deauville views on the way around too. The nine "Bleu" holes are ideal for an after lunch round or there are always the sun-loungers by the pool...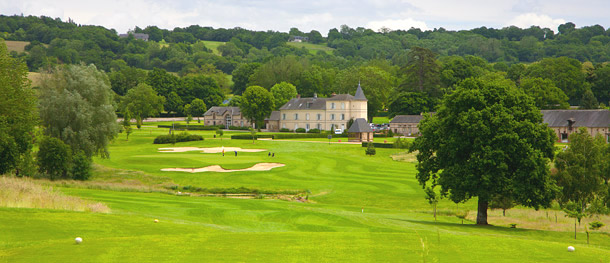 St. Julien Architect: A. Prat. 18 holes: 6,291m: par 73.
Recently remodelled the course is now amongst the best golf courses that Normandy has to offer. A reasonably hilly course, but sensible "tweaks" to the layout have made the most of the natural relief to create a pretty, yet challenging course through the agricultural Pays d'Auge countryside. A peaceful corner of Normandy in which to enjoy a day's golf - and the charms of the small château Clubhouse!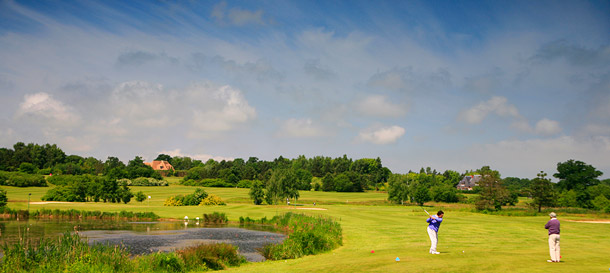 Amiraute Architect: B. Baker. 18 holes: 6,017m: par 73.
A real US style course on the river flood plain. Huge bunkers and water hazards and excellent greens. Rather uniquely, the owner has punctuated the course with some sizeable singular sculptures: good golf - if somewhat unusual and rather under-played.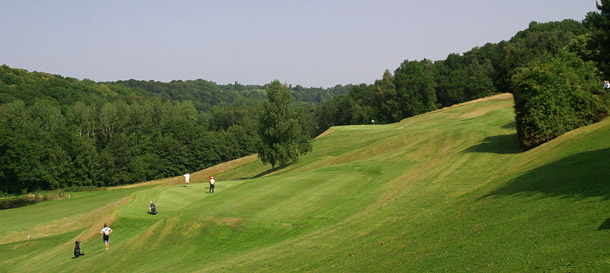 St. Gatien Architect: O. Brizon. 18 holes: 6,200m: par 72.
Big Norman Clubhouse surrounded by forest and farmland with nine level holes plus a very tricky and very strenuous nine that clamber up and down the slopes around the wooded hillside behind. However, a much easier third nine on the flat allows the hills to be avoided.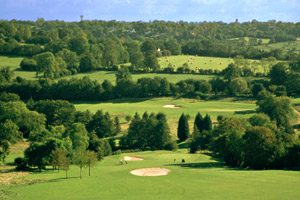 Houlgate
Architect: P. Alliss.
18 holes: 5,558m: par 72.
Front nine plays over level terrain with just a couple of water hazards to keep you on your toes.
The back nine climbs steeply for a hole or two onto a high plateau offering views of quintessential Normandy countryside. This is followed by a hair-raising descent down the 16th Fairway and a return to the diminutive Clubhouse.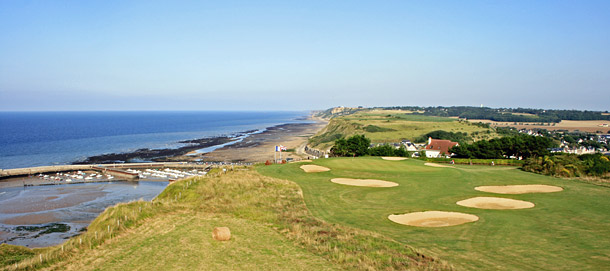 Omaha Beach Architect: Y. Bureau. 18 holes: 6,200m: par 72.
A little bit of a drive if you are staying around Deauville, Omaha Beach is out to the West of Caen overlooking the D-Day landing beaches. In most respects a woodland course across the rolling hills from the inland Clubhouse (and hotel) out to the historic clifftops of Omaha Beach. A good test of golf and a good trip too!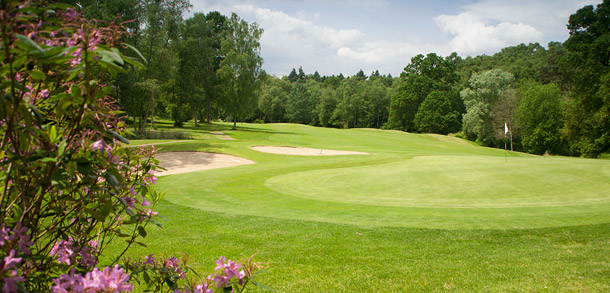 Champ de Bataille Architect: R. Nelson. 18 holes: 5,983m: par 72.
Once played never forgotten. Just over an hour from Deauville but more than worthy of the drive. Lying in the grounds of the impressive Château (that once formed the Clubhouse), Champ de Bataille is a heavily wooded, demanding, yet thoroughly enjoyable golf course: just as golf should be. Holes are separated from each other by dense forest, so the only thing you're likely to hear during your round is birdsong. Many of our golfers make their pilgrimage here year after year. Spectacular in May and early June with the floribundant Rhododendrons.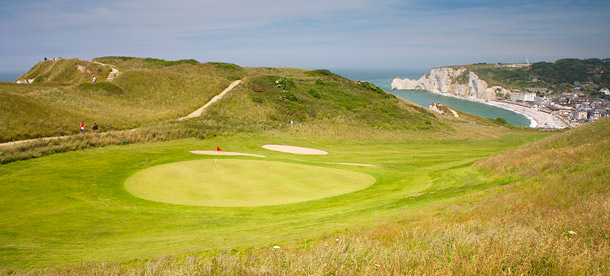 Etretat Architects: Chantepie & Fruchet. 18 holes: 6,072m: par 72.
Atop the chalky cliffs, Etretat has some quite stunning scenery. The Channel is in view from every hole and the sheer drop of the towering chalky-white cliffs is literally breathtaking. Very handy on the way to/from the ferries at Le Havre.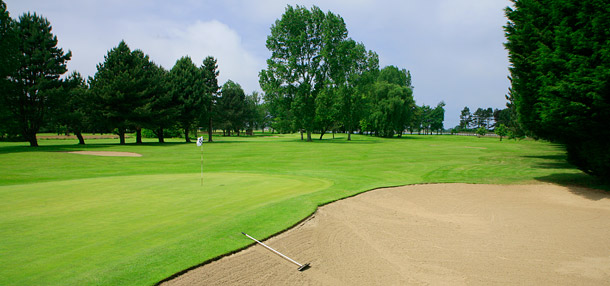 Le Havre Architect: The Members. 18 holes: 5,878m: par 71.
A course that maybe lacks little in length - but lacks nothing in entertainment! Testing holes lined by fully grown trees where you will need to be accurate with your irons to hit the very small Greens. Flat terrain and a charming Normandy Clubhouse embedded in an apple orchard make Le Havre a perfect spot to start your week or enjoy a 36-hole day.


Vaudreuil Architect: F. Hawtree. 18 holes: 6,412m: Par 73.
Level terrain so easy walking, this honest course has all its hazards in view. Mind you with its Pinehurst style raised greens you can't afford to relax until the putter is in your hands...
Huge Normandy farmhouse Clubhouse - which was moved piece by piece to it's current site!


Lery-Poses Architect: H-J. Baker. 18 holes: 6,242m: Par 72.
A modern course to the South of Rouen very close to Vaudreuil. Although a public course has a healthy Membership who keep the course in great condition and lend the Clubhouse a real "locals" feel:' fun and friendly. Fairly level terrain with a few man-made elevated tees and greens.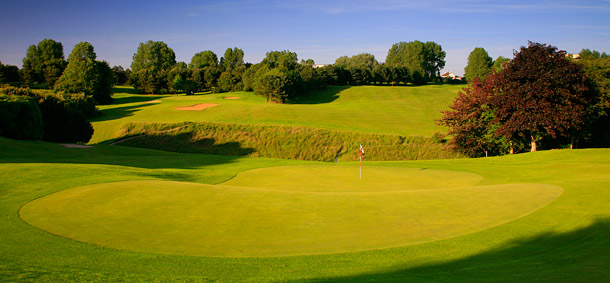 Dieppe-Pourville Architect: W. Park. 18 holes: 5,763m: Par 70.
From the small Clubhouse on the cliffs above Dieppe, the Dieppe course turns inland and is much more of a parkland course than a clifftop links (which you might have expected?). Generally a flat course with a few "big dippers" here and there - particularly the gully at the far end of the course. An ideal venue to play if you are sailing via Le Havre or of course Dieppe!


St. Saens Architect: D. Robinson. 18 holes: 6,004m: Par 71.
Just to the North of Rouen St. Saens is a little bit of a "Curate's egg". Starting below the classical château with five holes on the flat riverside, it then climbs significantly up and away through the forest above and behind the château, a few holes on top of the hill, before the closing holes descend back down to the Clubhouse: buggy recommended.