OBIDOS GOLF COURSES
The best places to play north of Lisbon.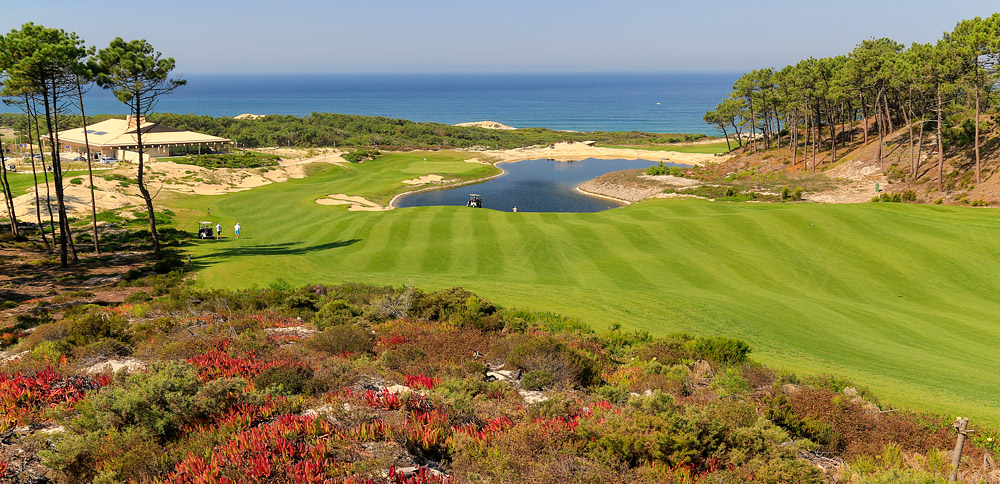 West Cliffs Architect: C. Dye (2016) 18 holes: 5,889m: par 72.
The new kid on the Obidos block and what an upstart! West Cliffs is an amazing setting for golf with the entire back-nine overlooking the Atlantic Ocean generating some stunning views. The front-nine is more inland, yet still interesting with some water added and strongly shaped Fairways and Greens. The course cuts its way through the tall pines that reach to great heights on the sandy soil around here. In the clearings, the dreaded 'witches fingers' stretch their greedy digits in all directions although heather has been introduced as well, adding a splash of purple to make the Rough both colourful and impenetrable! Some long walks to Tees (the 1st for instance) so a buggy is advisable.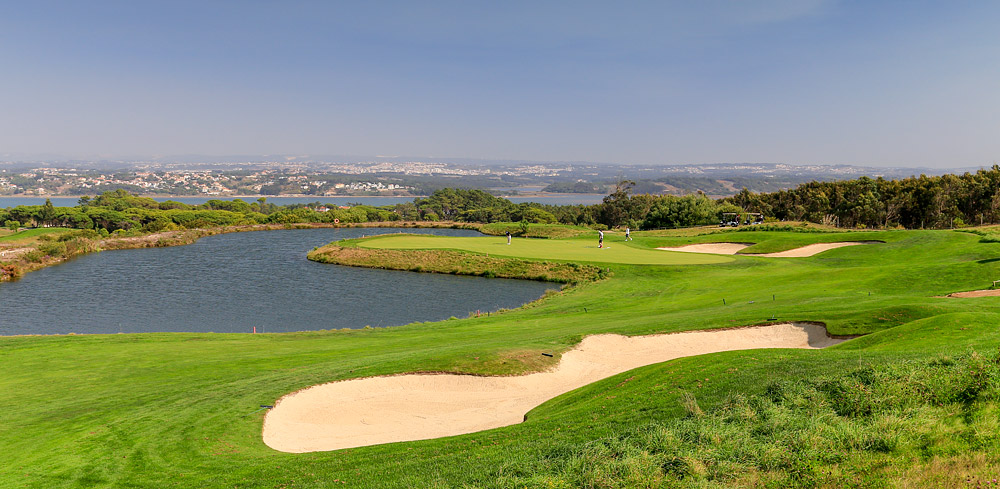 Royal Obidos Architect: Severiano Ballesteros (2010) 18 holes: 6,303m: par 71.
Seve's last course and a suitably astonishing legacy left by the Spanish legend. Royal Obidos is a long testing golf course where you will need your "A-game" (and possibly a buggy) to survive. Alongside big white bunkers, plentiful quantities of water are to be found around the course with some risk/reward opportunities for the brave. Greens are large and fast, sown with bent grasses (as is the entire course) creating a beautiful playing surface. Front-9 is predominantly constructed in a Nature Reserve overlooking the Obidos lagoon, back-9 is in a large shallow bowl in front of the Clubhouse. Building plots will will be developed around the very perimeter, but this is unlikely to be commenced for a good few years; by 2014 however there will be a small boutique hotel and apartments around the Club entrance.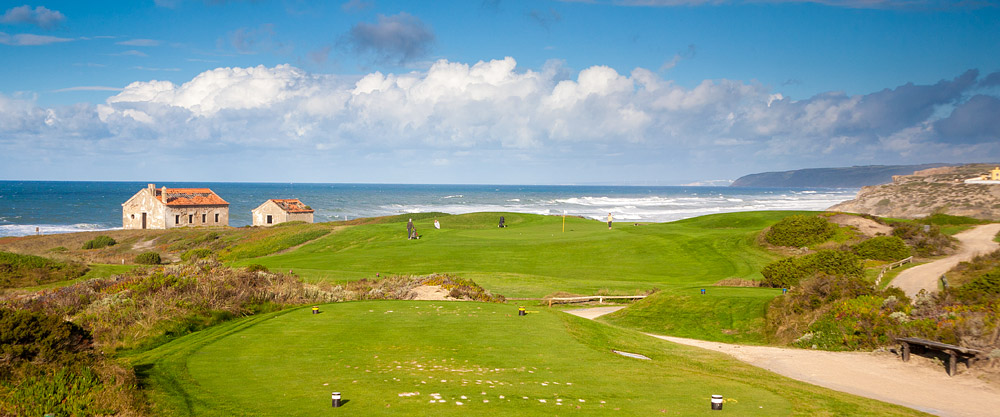 Praia d'El Rey Architect: Cabell Robinson (1997) 18 holes: 6,405m: par 72
A combination course that begins in amongst the parasol pines and residential properties of the Praia d'el Rey estate emerging out onto the sand and small dunes of the beach at the start of the back-9. These links holes, exposed to the full force of the Atlantic breezes, are the ones that everybody comes to Praia d'el Rey for and they are true links holes just twenty degrees warmer! The inland holes should not however be disregarded are really rather good too, tight and twisting through the pines in a traditional Portuguese style.


Bom Sucesso Architect: Donald Steel (2010). 18 holes: 5,774m: par 73.
Bom Sucesso is a weird and wonderful eco-developmnet on a hillside where a gaggle of architects have indulged themselves in creating a brave new housing world. In amongst these low, angular buildings are 18 holes of golf that are enjoyable and a little less testing than the three others above; although no pushover as water comes into play here and there. The course does get away from the houses in places and the views broaden out, no more so than the 17th and 18th spiralling down around the edge of the hillside to below the Clubhouse (and planned hotel).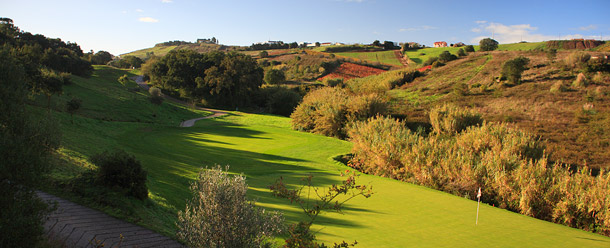 Campo Real Architect: Donald Steel. 18 holes: 6,009m: par 72.
Campo Real is an attractive golf course in a valley not far north of Lisbon surrounded by farmland (both agricultural and wind). The course starts with a couple of holes on level ground, after which it is all up and down, twists and turns around the hillsides. Many holes are played through narrow valleys where accuracy and judgement of distance is paramount. There are a few blind drives and sloping Fairways to contend with too. A good course for matchplay.
Big hotel complex on site with houses and villas clustered around it and the course.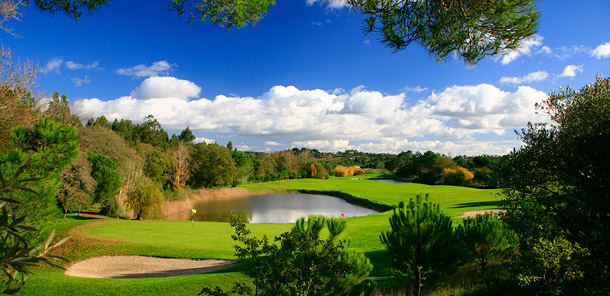 Golden Eagle Architect: Rocky Roquemore. 18 holes: 6,083m: par 72. - Closed until further notice...
One of the finest new courses in Europe that combines a wonderful natural setting* with some outstanding golf holes that exploit every nuance of the terrain. There are some spectacular looking Tee and approach shots with big bunkers, lakes and streams to flight the ball across or around. An enchanting course, not least for its setting and a "must play" course if you are anywhere near Lisbon!
*The Golden Eagle resort was planned as a residential development, however so far only the course and a simple Clubhouse has been built (originally named Quinta do Brincal). Consequently the land all around the golf course is still untouched forest - play it now before the builders move in...